Sri Sri on Meditation

Search results
The rest in meditation is deeper than the deepest sleep that you can ever have Meditation is not an act; it is the art of doing nothing! The rest in meditation is deeper than the deepest sleep that you can ever have. When the mind becomes free from agit ...

Q-1: How to quiet the voice inside my head while meditating? Sri Sri Ravi Shankar: There are several things you can do about it. First is accepting it and not fighting with it. You fight with it and feel that you should not have this noise. The more you ...

Patience and sharpness of mind can be developed with meditation For a good manager, it is important to be in the present moment with patience and poise! If you are intelligent, you may not be able to bear the lack of intelligence in others. The manageme ...

We all need a few minutes of silence, a few minutes of reflecting on the truth and on our lives! We all need time for reflection. I think every human being needs to sit back for a little while and find that inner peace; it is possible to do this every d ...

If you smile, you will feel energised throughout the year Our body has the capacity to sustain the vibrations of bliss and peace much longer than negative emotions. That is because positivity is in the centre of our existence. Just as, in the structure ...

Through meditation, we can tap the field of creativity already present in us The more we relax into ourselves; we bring out creativity and happiness. See, creativity is already present in every point in consciousness and it can be evoked. If there is no ...

All world problems, from military conflicts to domestic conflicts, are caused by violence. Through meditation we can remove the cause of violence, thus bringing peace to the world. Any action that is undertaken without inner peace only leads to regret. ...

We all like to go to nature for peace, happiness, relaxation. Why does nature have this power- it is nature's naturalness! All of us like small babies- because of their naturalness. Everyone likes people who are natural. It is important to be yours ...

If you look at all the pleasures you get in life, they all come with a 'tax'! This tax is sorrow. Every event, however pleasant, causes pain in the end. Greater the joy; greater is the pain. Longing for an event or waiting for a pleasurable ev ...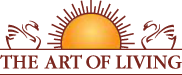 Founded in 1981 by Sri Sri Ravi Shankar,The Art of Living is an educational and humanitarian movement engaged in stress-management and service initiatives.
Read More