About Us
Search results
I did my first Art of Living course in Kolkata, about 14 years ago, and that time I had never heard about the organization. So, when my mom gave me 500 bucks to do a Reiki Course, I was heading towards the room on the 3rd floor of a building and on the 2n ...

Freedom and bhakti may be some of the tenets of the spiritual path, but for Swami Shivchaitanya, the path has also opened up a wellspring of skills and talents. One of the first skills that bloomed was the skill of performing the Rudra pooja. The story be ...

We are happy to present a webinar titled "Closeness to the Master and Progress on the Path" on May 20 at 9:30 PM EST (May 21 at 7:00 AM IST) with none other than Bhanu Didi. Register for FREE Bhanumathi Narasimha, popularly known as Bhanu Didi, ...

0 Sky is the limit for Plakor who continues to serve society Bundling up memorable times Proudly posing with his team at the Berlin Olympic Stadium during World Cultural Festival Nurturing the seed of yoga in his participants Coming from a world of clubbi ...

Itanagar Center, Arunachal Pradesh Bangalore International Center, Karnataka Vasad Center, Gujarat Pune Center, Maharashtra Poland Center China Center Bad Antogast Center, Germany Montreal, Canada Center Potsdam Ashram--> ...

Glimpses of Sri Sri's day as he attends meetings, heads a service project or meets people through 'A day in Sri Sri's Life'! Mobile App for Day in Sri Sri's Life- (to install open www.artofliving.org/m/apps.php from your mobile br ...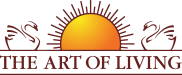 Founded in 1981 by Sri Sri Ravi Shankar,The Art of Living is an educational and humanitarian movement engaged in stress-management and service initiatives.
Read More