2010
Search results
Apr 22 2010

  Stress. Fear. Anxiety. Sadness. Some say these arise from a mind that has overexerted itself. With today's fast-paced lifestyle, a healthy body helps us keep up with tasks that require energy, but what about the tasks that require awareness and a sharp m ...

May 21 2010

By Sri Sri Ravi Shankar Only a human values oriented approach in education can impart true intelligence. Today, every parent envisions that their child grow up to be a well educated and happy human being with good values. However, education often fails to ...

On the spiritual path there are three factors: Buddha, the master or the presence of the enlightened, sangha, the commune or group, and dharma, your true nature. Life blossoms naturally when there is a balance between the three. The Buddha is a doorway, a ...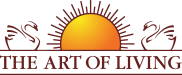 Founded in 1981 by Sri Sri Ravi Shankar,The Art of Living is an educational and humanitarian movement engaged in stress-management and service initiatives.
Read More