Wisdom
Search results
  Life springs from love – the origin is love and life seeks love.  The goal of life is also love and, in between, life is sustained by love.  There is not a single creature or living entity on this planet that has not known love or is devoid of love.  Si ...

Recorded in 1991 at the Art of Living International Center in Bangalore, India, the Ashtavakra Gita is an extraordinary series of enlightening discourses give by his His Holiness Sri Sri Ravi Shankar.  The Ashtavakra Gita examines the mind, ego, conflict, ...

Daily Sutra Subscription Wisdom Post Subscription Enter your email address: ...

Click on the topics below to read | Knowledge of the moment! A Anger Atheism Anxiety Ayurveda Austerity Aggression Abundance Attachments Appreciation G God Guru Grateful Generosity Guru Poornima Ganesha Festival M Maya Mind Mercy Misery Mistakes Memories ...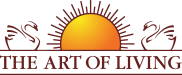 Founded in 1981 by Sri Sri Ravi Shankar,The Art of Living is an educational and humanitarian movement engaged in stress-management and service initiatives.
Read More