Mega Events
Search results
A special 1 day celebration, a reconnect for all those who have graduated from the Divya Samaj Ka Nirman (DSN) program. The DSN Mah​o​tsav will have a special knowledge session with Sri Sri. The participants will also get to experience new processes and m ...

f2f-for-website_0.jpg--> Join us for an amazing adventure at   Face2Face with Sri Sri! Date: June 23rd 2013, Place: Facebook, Duration: 90 minutes Time: 7:30 pm IST | 9:00 am EST | 2:00 pm GMT   Who will be there? People from 120 countries across the g ...

Navaratri is a time when many homes in the southern states of India—parts of Tamil Nadu, Andhra Pradesh, Karnataka, and Kerala—feast on colors, light, music, and food. Visitors are greeted with gleaming dolls, colorful Kolam (Rangoli; that is, floor decor ...

Sri Sri Ravi Shankar, renowned humanitarian and spiritual leader, works towards a violence- and stress-free world through bringing about the inner growth of individuals. During Navaratri, this gets highlighted through Devi Mahatmyam or Durga Saptha Sati. ...

Providing a platform for encouraging ethical approaches to business enterprise  In recent years, business increasingly has been viewed as a major cause of not just the global economic crisis but also major social and environmental problems. This calls int ...

Navaratri means "nine nights" and also "new night". Creation happens in the darkness, in the womb of the mother and underneath the soil. Nine months in the womb are like nine long nights where the spirit takes human form. Night provi ...

Homas Homas Homas Homas Homas   Homa Navratri is traditionally celebrated in honor of Devi, the Divine Mother. The Divine Mother is a form of energy, a manifestation of the Divine itself. Therefore, sometimes, the form taken by this Divine may be that o ...

Google+ Hangout with Sri Sri- 26 Jan 2013, 8:30 pm IST Ask Sri Sri your Question! Just Connect! Make a Global Connection Google+ Hangout with Sri Sri on 26 th  Jan 2013 Register for event Who all were there: William Foster, Hon. Congressman, USA Jo Lein ...

We are honoured and delighed to invite you to Sri Sri Ravi Shankar's 57th birthday celebrations at the Art of Living International Center, Bangalore, India. Events with Sri Sri: Weeklong Part-2 course:  07- 13 May 2013 (Open for International partici ...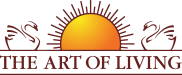 Founded in 1981 by Sri Sri Ravi Shankar,The Art of Living is an educational and humanitarian movement engaged in stress-management and service initiatives.
Read More