Responsibility
Search results
You need to charge your mobile phone with the charger, but you don't leave the phone on the charger, otherwise how will you use it?! Similarly, when your charge is down, you have to come here again and charge yourself. For me the whole world is my ash ...

One who is completely enlightened has no needs and no responsibilities. Also one who is inert has no needs and no responsibilities. In between these two, everyone has some needs and some responsibilities. If you sit and make a note of all your responsibil ...

Listen, Arjuna did not even ask a doubt, he simply said, 'I do not want to fight', that is it. It was Krishna who first asked the question. He said, 'Arjuna, you are miserable, you are crying for things which you should not cry for, and you are talkin ...

You have no choice. Do you have any choice? Sooner or later everybody has to do that. You cannot take credit for your good qualities because that is how you are. Now this sunflower cannot say, 'I am yellow.' It didn't do anything to become yellow. It i ...

Dharma is something that upholds you, prevents you from falling and helps you to come up. ...

Yes, you do Kriya, that is good enough and afterwards if you are being initiated, do the Gayatri Japa. Gayatri Japa means – Let my intellect be inspired by the Divine. It is our intellect which blocks the vast Divinity from e ...

No, it cannot come in between. Guru will only tell you to fulfill your responsibilities in the proper way. All the Gurus will say the same thing, do your household responsibilities well, but sit for some time and do meditation taking some time out for your ...

Do you know why the earth is shaped like a globe? (Silence) So you can kick it and it will roll away! (Laughter) From the moment you wake up in the morning you are always with people and your mind is caught up in worldly thoughts. So sometime during the d ...

Always know that the Divine never gives you a responsibility you cannot fulfil ...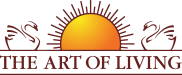 Founded in 1981 by Sri Sri Ravi Shankar,The Art of Living is an educational and humanitarian movement engaged in stress-management and service initiatives.
Read More