Sri Sri Ravi Shankar maybe in the North, South, East or West part of the world, but you are just a click away from His astounding tips on life!
Sri Sri's discourses and a wide-range of knowledge from his journeys around the world will be dropped right into your inbox everyday. Happily subscribe to this daily wealth of wisdom, by simply clicking on the subscribe button of the language of your choice.
A great way to stay connected!
How Others Have Benifited From Sri Sri's Wisdom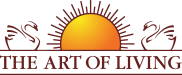 Founded in 1981 by Sri Sri Ravi Shankar,The Art of Living is an educational and humanitarian movement engaged in stress-management and service initiatives.
Read More