Question & Answers with Sri Sri Ravi Shankar

Q: Gurudev, Guruji you often answer my prayers and questions but sometimes I feel you completely ignore me.
Sri Sri Ravi Shankar:
Because you are so special. I pay attention to only ordinary people to make them extraordinary. You are already extraordinary.
Q: Gurudev, Is there death to Atman?
Sri Sri Ravi Shankar:
When you turn off Television do you see waves or not? You don't see it but waves are still there. The same way life is always there. Jeeva atman is eternal. Whether seen or unseen, manifest or un-manifest is a different question.
Q: Gurudev, How to enhance receptivity?
Sri Sri Ravi Shankar:
If you are listening but the mind is still somewhere else then there is no receptivity.
When your mind is clogged with too many ambitions, it does not listen properly if the subject is not linked with your ambition. Even if it is related, it goes on a day dreaming trip. It listens to one sentence and it goes on a trip. For e.g. if someone has an ambition to become a Chief Minister and he is told that you have all possibility of becoming a chief minister the mind immediately goes on a day dreaming trip. So simply listen, just listen.
Also if your mind is stuck with so many thoughts then also the perception is low.
Another reason for alertness of the mind to reduce is vata de-arrangement or kapha imbalance.
When the mind is bombarded with sensory stimuli then also it is not receptive. Have you observed after watching a three-hour movie if someone tells you something you say, 'Tell me later on.'
To enhance receptivity what to do?
Silence, Pranayama, proper food, less ambitions in the mind will all help. If you like a topic/ subjects then you tend to be receptive towards it. Teenagers often face a difficult phase in life when they have to choose a subject - Math, Computer Engineering etc and if someone is good in all of these subjects then it creates even more trouble.
Q: Gurudev, Guruji, the youth is getting disappointed today because of chaos in society and corruption in politics. What is your message to youth?
Sri Sri Ravi Shankar:
All the youth should stand up now and start moving ahead together. When you all work in group then there is no such task that can't be accomplished.
Q: Gurudev, Guruji there seem to be so many single parents these days. Why is that?
Sri Sri Ravi Shankar:
When People are not able to deal with their own stress and negative emotions, they project them onto the people closest to them, usually the husband or wife.
If one's mind is calm and emotions are settled, then there can be love and understanding which is necessary for any marital relationship to work.
Q: Gurudev, What is a soul mate?
Sri Sri Ravi Shankar:
First you meet your soul, then you can find out about soul mate.
Q: Gurudev, What is your advice on the Fatwa against education for women?
Sri Sri Ravi Shankar:
This is ignorance. Fatwa against women going to school is anti-progress.
Women should be given equal rights as men. That is the symbolism of Ardhanaareshvara- half Shiva and half Shakti. Women should not be treated like second class, third class or a servant.
Saying that you cannot sing Vandemataram because it praises the earth as a mother - people are not listening to such dictates anymore.
Women should be given all rights. They should be empowered and should have a say on everything. We should have one common law. Politicians keep dividing society to enjoy privileges, vote bank. They don't want education to reach the poor people so that they can rule over them. This is a rotten mind. We have to go ahead and educate the population. Illiteracy is the reason that wrong people enter politics.
Q: Gurudev, I have learnt to accept people as they are. However we have also learnt the concept of responsibility. I have a 13-year-old son. He is mature, breaks rules, leaves school in between, doesn't learn, doesn't come home on time, and hangs around with friends. That concerns me. How do I complete my role as a mother, accept him and place limits?
Sri Sri Ravi Shankar:
You are already doing it. It is very difficult to manage or deal with teenagers. Sometimes you need to be strict, and sometimes loving as well. It's like riding a horse. Sometimes you can let loose but sometimes you hold on tight. So managing teenagers is like riding a horse.
Q: Gurudev, Guruji when will we witness something bigger than the Silver Jubilee Celebrations?
Sri Sri Ravi Shankar:
Should we do something bigger than Silver Jubilee? (A big yes from the audience) Yes, why not? Next year in 2011, the Art of Living will complete 30 years, 3 decades . Let's see. We will plan something. You also plan. Let us make a pool of ideas.
Q: Gurudev, Guruji, I read somewhere that after death, if you end upin hell, then you are fried in a pan. I felt afraid after reading that. Pleaseexplain.
Sri Sri Ravi Shankar:
Don't worry. When you are established inthe Self while you are here(in this planet), only then no fear is left. Thatwas a way adopted by our ancestors for making people follow the right path and dogood karma. It was said you will suffer a lot after death if you do wrong deedsto set people on the right path. If you follow the wrong path, then wrong karmawill follow.
To some extent, this karma can be changed. If you can'tchange karma at all, than there is no use in doing
Sadhana
. Do your
Sadhana
and
meditation
.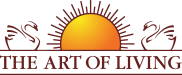 Founded in 1981 by Sri Sri Ravi Shankar,The Art of Living is an educational and humanitarian movement engaged in stress-management and service initiatives.
Read More