Question & Answers with Sri Sri Ravi Shankar

Q: If being vegetarian is prescribed in Spirituality, according to the Bible, Jesus was not vegetarian! How do I reconcile the two?
Sri Sri Ravi Shankar:
I can't really comment on that. There is one complete book in Christianity, The Gospel of Thomas, in favor of vegetarianism. The Gospel of Thomas also talks about Pranayama. The bible was written decades after Jesus, so what should be taken as authentic is itself in question. Take good things from the scriptures. There is no mention of TV or aeroplanes in the Bible. One doesn't ask why I should use these. There are certain things not mentioned in Bible but if it is good for you, you take it. Knowledge is both ancient & modern. Respect ancient knowledge and accept modern knowledge. Modern Science says vegetarianism is the best food practice. So turn vegetarian. In more than one way it is good- both for you & the planet. So accept & acknowledge this wisdom.
Q: What is sattva and what is it's contribution in our lives?
Sri Sri Ravi Shankar:
Sattva means that which brings harmony, that which makes you happy, that which makes you enthusiastic, that which brings knowledge in you. This is all sattva.
Rajas makes you go too much up and too much down. Either you get too excited and you feel I can't even handle this excitement or it is so down. This is rajas.
Tamas is when you feel so lazy and so negative that you don't want anything. You dislike everybody. That is tamogun. So When you feel tamogun get up and start working, then rajogun
will come. Then when you are too much into action, I would say just sit back and
relax then you will get into satva. So, before meditation do some exercise. When
you do all this the restlessness or rajas in you calms down. Then you are able
to meditate. Didn't it happen to you today? (Audience:Yes). How many enjoyed the
meditation. Raise your hands (Lots of people raised their hands). You meditated
nearly 20 minutes.
Q: How is self-dependence different from dispassion?
Sri Sri Ravi Shankar:
How are these two terms related? (laughter). Total self-dependence is not possible. There is mutual dependence. You depend on a tailor for your clothes. A farmer is responsible for growing crops so you depend on him. If you fall ill you are taken to a doctor so you depend on a doctor also. You depend on your teachers for education. There is some extent of dependency in everything. Life is like this. But we also have to take a step ahead. Until we become useful to others, restlessness and sorrow continue to be there.
What is dependency? One day your maid doesn't turn up and you don't clean up your house - then that is dependency. Whatever you can do, continue to do.
It is important that your self-dependency doesn't turn out to be self-pride. "I won't take anybody's help ever and be all by myself".
You are a responsible citizen, you have the responsibility of your family but your responsibility is only what you can do. What you cannot do is not your responsibility. If you are not a doctor then your responsibility is to call a doctor if needed and not to treat.
Whatever we can do and whatever we can do easily, that is our responsibility.
When the mind and intellect are expanded, you take on bigger responsibilities and when you take on more responsibility, more power comes to you. Nature grants you that.
Have you heard the story of 'Prabhupaad'? At the age of 75, his Guru asked him to spread the name of Lord Krishna. At that age, he went to the US. He stayed on a ship for over a month. He lived in such difficult situations, in very cold surroundings, in somebody's basement but that conviction was so strong in him that 1,000 people started to do Kirtan/Satsang (devotional singing) and chanting the Lord's name. When one's sankalpa/ intention is so strong, age doesn't matter. Otherwise 25-30 year old youth say, 'The system is not good, nothing happens.' Ok, then keep sitting at home. Have that conviction I can rise above any situation and I will rise above any circumstances.
Q: What is karma? Why are some people happy, some poor etc?
Sri Sri Ravi Shankar:
You will understand the law behind all this, when you explore your depth.
Q: Beloved Guruji, I have a new job that gives me economic and social stability, it's good. On the other side, it is based on lies and on taking advantage of peoples' faith. The environment is polluted and colleagues poison me with depression and dishonesty. Still I work hundred percent and I give a good example. But I feel this situation is not good for me. What do you suggest me to do?
Sri Sri Ravi Shankar:
In a situation like that consider yourself like an oasis in the dessert. Just imagine even the oasis disappears from the dessert, how will people survive? So, your being there has a good influence on the people and keep influencing and see if you can create even one two, three or four people like you in the same work environment. It can change. You have the power to change your situation. On request from people like you who are in the corporate business environment, we tailored our course and changed its jargon, its processes to fit to the corporate world. We call this the APEX course. Today the World Bank and many other institutions are taking it and they are benefiting greatly by this. Yes? So, do it!
Q: Sometimes, I feel a disconnect with everybody?
Sri Sri Ravi Shankar:
Good, that time close your eyes and smile. I am with you at that time!
Q: Inspite of the fact that ten thousand people became enlightened in the time of Buddha, why is it that Buddhist meditation techniques are not so popular?
Sri Sri Ravi Shankar:
Who said it is not popular? It is very popular. What Buddha said not just stayed only in India. It went far and wide to Vietnam, Korea, Japan, China and Indonesia, it spread all over the East. From Afghanistan to China to Bahamians Buddhas. Recently, till ten years ago the Bahamians Buddhists statues were there. So people had carved huge statues of Buddha on a mountain, it must have been very popular there.
Now today it is very popular in the West. In America so many people are appreciating Buddhism. In India, Buddhism got absorbed in Hinduism because it is the same thing. So Buddha became the ninth avatar or aspect of the same philosophy. Buddhist teaching is the same as Upanishad teaching, there is not too much difference. It's quite popular.
Q: Lord Krishna has spoken about surrender to the only One. What is surrender and how do we surrender?
Sri Sri Ravi Shankar:
Firstly, surrender to only one. Everything is, anyways, only one. Understand that everything is only one and then surrender. When we try to surrender to too many, surrender does not happen. You can travel in only one boat at a time. You cannot travel is many boats at the same time. That is why Lord Krishna said, 'I am only One and surrender to me.'
Q: What is puja, and prayer? What is the significance of Rudra puja? During puja, is it better to watch or meditate?
Sri Sri Ravi Shankar:
Meditation! What is happening outside, is not important. With your eyes closed, you must feel that when the water is being poured on the shiva lingam, you too are getting an abhishekam (sacred cleansing) of chanting. Just sit, and get immersed in the chanting.
Q: What is the difference between being detached or in denial?
Sri Sri Ravi Shankar:
Whenever you get so confused analyzing your own feelings, I tell you, just drop it. Many times you go to get counseling and you get even more confused. The counselor tells you, "Oh, in your childhood your mother didn't take you to the fair so you are feeling that anger." I would tell you, see your whole past as a dream and move on to the future.
Something pleasant happened. Something unpleasant happened. By picking your memory, you spoil your present moment as well. All the past is nothing but a memory. Some of its impact may continue but the event is not there. Wake up. Shake up.
You see these dogs, puppies and cats - how they shake themselves when they get dirty? They shake and move on. We should save our mind.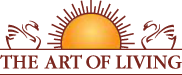 Founded in 1981 by Sri Sri Ravi Shankar,The Art of Living is an educational and humanitarian movement engaged in stress-management and service initiatives.
Read More