Question & Answers with Sri Sri Ravi Shankar

Q: Gurudev, Knowing that my life goes by karma, is it still alright to ask for something after prayer/puja?
Sri Sri Ravi Shankar:
It's like asking should I feel thirsty? If you feel thirsty, you will ask for water. Should I ask for water has no meaning, since you have already indicated that you're thirsty. If a prayer comes, let it come. It just comes up.
Q: Gurudev, They say cats are fiercer than tiger. I am relating this to women. Women nowadays are not open to accept men's opinion. I am concerned about the male species.
Sri Sri Ravi Shankar:
You mean we should start men empowering seminar. (Laughter). Perhaps!!
Q: Gurudev, Why does a simple situation look complicated later on?
Sri Sri Ravi Shankar:
So what? Later, a complicated situation will start looking simplified. Every complication is a test of your skill. When you simplify the situation and get caught in doer-ship, you find it gets complicated again so that your arrogance is checked. When you feel that whatever happens is the will of the Divine, you are free from arrogance.
Q: Gurudev, How to overcome fear?
Sri Sri Ravi Shankar:
Do seva/service.
Q: Gurudev, Do we have to be interdependent and do we need to look for interdependency?
Sri Sri Ravi Shankar:
You don't have to be interdependent. It is just that you need to realize it. The word 'independent' is obsolete. It is nature that we are interdependent on. We have one nature, one ocean, one air, one earth and everyone is dependent upon it. People are one! We are interdependent!
Q: Gurudev, Guruji what qualities should we look for when we choose our life partner?
Sri Sri Ravi Shankar:
Well, (smiling) I don't have the experience! Ask those who have the experience. And you can take more help from the matrimony department!
You know why they say that marriages are made in heaven? It is because the choice is already made for you. You just have to take it and move on. You are free from choices. Move on with what you have on your plate.
You know the best thing is that you don't focus on the drawbacks. Focus on the positive. In a relationship if both the people have their focus on spirituality then they will move ahead together like parallel lines move, without clashing, to infinity. The moment they will shift their focus and focus on each other, there will be clashes. So it is very important that both are on the spiritual path.
Q: Gurudev, You have highlighted the importance of innovation and creativity, but with that comes a lot of risk and uncertainty. It's only after numerous failures that a successful new technology or product is evolved. So how should one manage the failures that come as a by-product of striving for innovation? How to rise up after each failure and restart the journey to discover something new?
Sri Sri Ravi Shankar:
Failure is a part of the process. Meditation will help you to go ahead in spite of failures. Innovation without failure is possible if you are able to use your intuition perfectly. Both should act perfectly to achieve zero failure in innovation. If intuition is not in proportion then failure occurs more often.
Q: Gurudev, When do you call something mature? I am confused?
Sri Sri Ravi Shankar:
When confusion is gone, then you call mature!
Q: Gurudev, Why is there is a rift between migrants and local people?
Sri Sri Ravi Shankar:
Rift between the migrants and people living there... one of the reasons is that the migrants are not mixing with the local people. They remain in their own community and campus. They don't adopt the country they are in. This is a big issue. That is going to keep people separate.There is an old saying, 'Be a Roman when you are in Rome.'So if you are in a country, you should adopt that culture, you should be with the country, flow with the norms of that country. This is essential for migrants to know and understand. Secondly, the fear. Migrants fear that they will lose their roots. This they need not do. They should strengthen their roots as well maintain their original customs – language, culture, religion, tradition. That is fine. They should do that. On the other hand, there is much awareness about cultural diversity. There have not been many festivals which integrate all kinds of people, of all different cultures, civilization, religions. This multi-cultural events, multi-religious events need to happen more often. That would bring people together, their hearts and minds together.
Q: Gurudev, How to see Divinity beyond the objects?
Sri Sri Ravi Shankar:
Don't try to see Divinity. Take it for granted. It is there, like the air. You know that the air is all there. You inhale air and exhale air. You can't see air but you know it is there. Similarly Divinity is all there. Only the heart can feel. Eyes can't see it. When you are totally relaxed you feel that the whole universe is filled with Divinity. When your mind is relaxed, your body is relaxed, you find that the chirping of the birds is Divinity,
the moving of leaves is Divinity,
the flowing of water is Divinity,
Even people fighting, & mountains - all - exuberate Divinity. You will find that beyond all this phenomenon, there is a field or phenomena that exists – that is Divinity.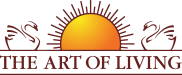 Founded in 1981 by Sri Sri Ravi Shankar,The Art of Living is an educational and humanitarian movement engaged in stress-management and service initiatives.
Read More