Question & Answers with Sri Sri Ravi Shankar

Q: Gurudev, What should we do when nothing is in our hands and we don't understand what should be and what shouldn't be done in a relationship or career?
Sri Sri Ravi Shankar:
You should meditate then. When you are so much deluded and confused, meditate for some time. You will find clarity dawning instantaneously.


Q: Gurudev, It is said that souls chose their parents. Why do abortions and cases of rape etc. happen?
Sri Sri Ravi Shankar:
This is called janam rahasya (secret of birth). Many souls compete to get a body and only one can win. It's like a running race. Like millions of people compete and only one wins, in the same way there is a rush and only one gets a body. That's why it is said that the human birth and life are very precious. Don't waste it on insignificant things. We eat to live and not live to eat. Many people start living just to eat. There are many possibilities – what soul can come and what not? The possibilities are infinite. Nobody knows.
Q: Gurudev, Guruji, what has more significance - doing the Sudarshan kriya or praying to you?
Sri Sri Ravi Shankar:
You are important. You are the one who prays. It's you who does the Sudarshan kriya. All this is for you, so that you can become centered and so solid that no one can take away your smile. This capability is only within you. If you don't want, then nothing is possible. Everything depends on you.
Q: Gurudev, What is time?
Sri Sri Ravi Shankar:
(making a gesture with his hand, turning it upside down) Got it? If you don't get it, you will never get it.
Q: Gurudev, A marriage has two - wife and husband. I love satsangs, but my wife is against sadhana and satsang, how will our marriage move on?
Sri Sri Ravi Shankar:
Use yukti (skill). It's a test of how good a sadhak you are. You stay put, she will gradually come around and she will also become happy. If you drop your practices and go behind her even you won't be happy.
Q: Gurudev, People take afeem (opium) as Lord Shiva's prasad. Should I take it? And if it's not ok, how do I make others understand this?
Sri Sri Ravi Shankar:
You are not to take it. You get more fulfilling prasad here in satsang! Just look at the faces of people who take afeem. Do you find any radiance on their faces? Are they in a very contented and blissful state? It is not at all observed. There is no glow, vibrancy or smile on their faces. One has no option but to be extremely blissful, contented and happy after receiving the prasad of Lord Shiva. But this is not found with such people who take afeem. I don't consider it as prasad.
Use your understanding to make them drop this. Make them experience Sudarshan Kriya.
Q: Gurudev, Could you speak about love?
Sri Sri Ravi Shankar:
It is not possible that a person does not know about love. It's love that gets distorted into anger and anxiety. It is almost impossible to talk of love. Sage Narad said a little and after that he said it is inexpressible - Anirvachniyam.
Q: Gurudev, Please talk about spirituality. People have so many notions of spirituality and meditation. I don't understand what does it actually mean?
Sri Sri Ravi Shankar:
We want to achieve success in professional life. Isn't it? That's why we take up an enterprise or profession. That provides you means to have comforts for the body. Yoga, meditation and spirituality are about giving comfort to your soul. When the room is very hot, you switch on the air conditioner to give some comfort to the body. AC (Air conditioner) for the mind is meditation – Absolute Comfort to your mind.
Q: Gurudev, What is 'stridhan'?
Sri Sri Ravi Shankar:
In ancient India there was a system. The man of the house used to give some money to his wife. This money was not to be touched. The lady's money was always built up. The man would give a portion of his earnings, five – ten percent of his income to the lady at home and the man had no right to touch it. She would build that money up.
This used to be our system. All this is gone. All the good traditions have been ignored and we have adopted all the bad habits.
Q: Gurudev, Is there any formula to have peace at home?
Sri Sri Ravi Shankar:
You have asked a very difficult question! But its answer is very simple. You keep on smiling irrespective of what happens around you. If noise is there, accept it. If somebody is shouting, let it be for some time. Try considering the whole atmosphere of your home as if you are watching any television serial. Do you get upset when you watch television? Some people were telling me that same arguments take place on television which happens at their homes also. Think as if some live show is going on at home. And only a camera is missing. When you remember this thing and see yourself as the director and not actor, then at least you will have peace in your heart. And up to what time others will play their role? They will be tired in sometime. All this trouble is in wake state, neither in dream nor in sleep. God has granted you few hours of sleep and some other routine activities like bathing etc. take some more time. So at least for these ten hours, you are at peace. (Jokingly)And enjoy the other 14 hours show. What else can you do? But if you want to enjoy, remember not to be the actor.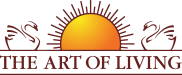 Founded in 1981 by Sri Sri Ravi Shankar,The Art of Living is an educational and humanitarian movement engaged in stress-management and service initiatives.
Read More