Question & Answers with Sri Sri Ravi Shankar

Q: Gurudev, Guruji whenever the Earth is burdened with sins it is said that God will come down. This is Kalyug, why hasn't God come so far?
Sri Sri Ravi Shankar:
The God is inside you. Let Him come out.
It's been so many years since you came on the planet and still you haven't given birth to the one inside you.
Log Kahte Hai Ishwar Nazar Nahi Aata
In Bando Se Poojho Ishwar Ke Siwa Kuch Najar Nahi Aata
People say that we can't see God, Ask people here – They can't see anything else other than God.
God is not an object to be seen. He is the seer. That's why in yoga it is said that "become established in the seer."
Shareer ko aram, man ko vishram, to ban gaye atmaram.
Give rest to the body, relaxation to the mind, and you will become established in the Self.
Q: Gurudev, Dear Guruji, in my prayers I keep asking the Divine for my wishes to be fulfilled, is it selfish?
Sri Sri Ravi Shankar:
No no, keep asking, if you don't ask the Divine where else will you ask? But remember, you will only get when the time comes.
Q: When will matter be united with the spirit? Sri Sri Ravi Shankar:When were they separate? Who is listening to my answer? Is it matter or spirit? Matter listens or the spirit?
Reply from audience - don't know
A dead body also has ears, the sound hits it. But does it hear? Who is listening?
When this small 'I' relaxes, it gets in touch with the Universal Spirit, and that is meditation.
Q: Gurudev, Is it important to take bath in Haridwar during Kumbh or will bathing in Rishikesh suffice?
Sri Sri Ravi Shankar:
It's perfectly ok to bathe in Rishikesh. You can take a dip wherever the Ganges flow.
When such parva comes, Ganga comes to every home. In South India, during Diwali the Ganga snan (bath) is done. The usual greeting is, "Have you done Ganga snan?" If you take a cold water bath in the morning, it means you have done Ganga snan.
On the banks of the Ganges, many sadhus do penance and they transfer all the merit in the waters of the Ganga. Teerth ko Sant Puneet banate hai – Teerthani pounaynti sataha!
Jaise teerth sabko puneet karte hai, sadhu ganga ko puneet karte hai. (Just as the Ganges purifies all, the saints purify the Ganges.)
The Ganges is chaitanyamayi (enlivened) hai, brahma roop hai.
As soon as you bathe you feel fresh and new. All the impurities of the mind are washed away. The mind becomes healthy.
I wouldn't say the same for the Ganges at Kanpur and beyond. The Ganges water should be kept pure. If the Ganges is polluted then its benefit won't be to the extent of its fame.
Q: Gurudev, If the soul is so wonderful then why has God chosen to burden the soul with the material world?
Sri Sri Ravi Shankar:
Have you seen movies? There is a hero and a villain in the movie. Now what is the role of a villain? He creates some kind of entertainment. When do you feel your body is a burden to you? When you feel that your body is a suffering to the spirit. But you can't call it a burden when it is a means to elevate the spirit. When you know the body is given to you as an instrument to elevate the spirit, would you still call it a burden? Shareer maadhyam paro dharma sadhna- This body is an instrument for dharma, all that uplifts the spirit. Don't consider it a burden. Honor your own body. The soul comes to your body after great effort. There is a great rush. Many souls compete to get one body and one succeeds. So our body is a gift and not a burden.
Gentleman asks: Is liberation from the body true liberation?
Sri Sri Ravi Shankar:What is burden? Desires, cravings and aversions in the mind are the burden. Your craving for something or your aversion for something makes you feel it is a burden. Losing your body doesn't make you lose your cravings and aversions.
Question continues: Why is the material world considered to be a world of misery?
Sri Sri Ravi Shankar:It is the mind which makes you feel it is a misery. This world is a part of the divinity. So instead of blaming the world, look inside.
Q: Gurudev, If I as a person can't change myself, how do I expect others to change?
Sri Sri Ravi Shankar:
Do you feel you haven't changed at all? (The person replied: I do find some changes in me). As much as you have changed, don't you think others will also change? Nobody knows everything in the world. We all know something. In fact when you see the magnitude of knowledge, you find it can't be completely known. But aren't you obliged to give others whatever little you know? (Yes was the reply). That is what you have to do. The world doesn't expect you to do service which you are not capable of. The world expects you to do what you can. If you are a doctor then people will run to you in case of an emergency. At that time, your saying no doesn't make sense. And if you are not a doctor and are approached to do something that you can't, you simply say – 'I am sorry. I can't do it.' We do what we can and we ask pardon for what we can't.
Q: Gurudev, Which are the most important values which can transform this universe into a heaven?
Sri Sri Ravi Shankar:
Shift in our vision. This universe is already a heaven. What blocks us from perceiving it as heaven is our own mind. The mind clings on to the past or it wants perfection. It has its own ideas of perfection. This is about the universe. But if you ask me about improving the society, I think this is a question every human being should ask himself. I think we need to have a violence-free and stress-free society. The way to such a society is Yoga, Meditation and Service.
The gentleman continues - But I find 99.9 percent of people in the world are already good. But still that 0.1 percent dominates. Even if 10 percent people come together and say they don't want violence and terrorism in society we can achieve this. How can this happen?
Sri Sri Ravi Shankar: The voice of truth needs to be heard louder. You're right. It is time for the revolution. It has to be loud. People should come together. People should stand up for human values. It will happen.
Q: Gurudev, What is the best way to deal with the problem when you are passing through that phase?
Sri Sri Ravi Shankar:
Why do you want to keep problem to yourself? Drop it here before going. You can come here with problem but you can't go back with your problems.
Q: Gurudev, We talk about serving humanity. As a human being I have limited knowledge and based on that I believe in a cause and work for that cause. But if later, down the line, I realize the cause was not worthy, then being a person with limited knowledge haven't I made this world a worse place than it earlier was? Can we serve the humanity before having perfect knowledge?
Sri Sri Ravi Shankar:
If you wait till you get perfect knowledge, it's not going to happen. When you do service, you gain merit and that merit helps you to go deep into yourself. So service helps you gain merit, merit takes you deep into sadhna(self-effort and practices) and sadhna makes you come up and do more service. It is all cyclically connected. So it is not going to be complete if any one aspect is missing.
Q: Gurudev, How do we survive in a world where most of the people earn a living by illegal and wrong means?
Sri Sri Ravi Shankar:
Do not think that all people survive doing illegal or wrong actions. There are many good people who survive doing righteous actions. One who survives on wrong means has only a very short period of survival.
In our scriptures it is said that a teacher, guru or saint is not to speak lie at all. A king is allowed to speak a little lie. A business man can go a little further. A businessman can say one's product is the best even if it is not. Only that much lying is allowed. It is like salt in the food.
Q: Gurudev, How can we stand together if we can't stand for ourselves and don't have a sense of satisfaction inside?
Sri Sri Ravi Shankar:
when you have inner satisfaction then everything happens effortlessly for you. When you don't have that, even small things become a struggle. Wisdom is about having that inner satisfaction. Wake up and see what is bothering you and why are you not satisfied? You don't have food, you don't have shelter, you don't have money or you don't have a companion? Pin point the area and then deal with it. You think when you have x amount of money or that much fame, then you will be happy. Wake up and see life from a broader perspective and you will see that this is not the truth. This is another illusion. Then you settle down. Meditation is the answer.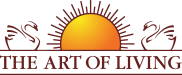 Founded in 1981 by Sri Sri Ravi Shankar,The Art of Living is an educational and humanitarian movement engaged in stress-management and service initiatives.
Read More