Question & Answers with Sri Sri Ravi Shankar

Q: Gurudev, Should one believe in the horoscopes?
Sri Sri Ravi Shankar:
If your mind says you should do it, then you should. But that shouldn't be given too much importance. Sometimes the recorded time or place of birth may not be accurate. There are many issues involved. So neither should we totally ignore it nor should we take it to be exactly right.


Q: Gurudev, Could you speak about love?
Sri Sri Ravi Shankar:
It is not possible that a person does not know about love. It's love that gets distorted into anger and anxiety. It is almost impossible to talk of love. Sage Narad said a little and after that he said it is inexpressible - Anirvachniyam.
Q: Gurudev, What is 'stridhan'?
Sri Sri Ravi Shankar:
In ancient India there was a system. The man of the house used to give some money to his wife. This money was not to be touched. The lady's money was always built up. The man would give a portion of his earnings, five – ten percent of his income to the lady at home and the man had no right to touch it. She would build that money up.
This used to be our system. All this is gone. All the good traditions have been ignored and we have adopted all the bad habits.
Q: Gurudev, Guruji, even after surrendering, the mind gets stuck? What should I do?
Sri Sri Ravi Shankar:
At least for some time the mind gets free. This is the how it is with the mind. The reach of maya is widespread. It holds on to you from so many directions. When you think it gives you some happiness then the mind gets attracted towards it. Finish it with surrender, bhog ke (bearing the pleasure & the pain) or with understanding. If nothing, then with time it automatically gets finished.
Q: Gurudev, Does guru come at the end of a yug?
Sri Sri Ravi Shankar:
Not just at the end. He can come at any time. Jab guru aate hai tab naya yug shuru hota hai. Shuru mein bhi aate hai, beech me bhi, ant mein bhi. (When the Master comes, a new epoch begins.)
Guru is not a person. Guru is embodiment of wisdom.
Q: Gurudev, How do we differentiate between devotion and blind faith?
Sri Sri Ravi Shankar:
Blind faith is that which do not give you any positive result. In blind faith you move on with notions that you have heard from people here and there, and carry similar hopes with you. Either you are deluded or you are there for fulfillment of any strong desire or craving holding on to you.


Q: Gurudev, Guruji, our tasks get accomplished with rise in sattva. Then what about those people in society who do wrong things. How are their tasks accomplished?
Sri Sri Ravi Shankar:
That happens for a small period of time. Later on you will find they will fall badly. There was Bernard Madoff in America. People used to strive to have a picture with him. He was such a big businessman that if he said something it would be immediately followed. Then what happened? Everything got revealed. He is now in jail. His own son got him caught.
So the ones, who walk on the path of untruth, enjoy some good times but later on they meet with a downfall. The problem with the path of untruth is that you don't get sound sleep and feel restless. At least, the ones following the path of truth will have a sound sleep.
Q: Gurudev, In Patanjali yogasutra you said 'Knowledge of sleep leads to Samadhi. Please explain.
Sri Sri Ravi Shankar:
Yes, Samadhi can also be attained with the avlamban (need) of knowledge of sleep and dream.
Q: Gurudev, How does one balance between our heart and the brain when both say opposite things?
Sri Sri Ravi Shankar:
If you are dealing in business, then follow your brain. And if it comes to home or relationship, then follow your heart.
Q: Gurudev, How do we survive in a world where most of the people earn a living by illegal and wrong means?
Sri Sri Ravi Shankar:
Do not think that all people survive doing illegal or wrong actions. There are many good people who survive doing righteous actions. One who survives on wrong means has only a very short period of survival.
In our scriptures it is said that a teacher, guru or saint is not to speak lie at all. A king is allowed to speak a little lie. A business man can go a little further. A businessman can say one's product is the best even if it is not. Only that much lying is allowed. It is like salt in the food.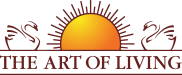 Founded in 1981 by Sri Sri Ravi Shankar,The Art of Living is an educational and humanitarian movement engaged in stress-management and service initiatives.
Read More