Question & Answers with Sri Sri Ravi Shankar

Q: Gurudev, Is physical distance a hindrance in feeling close to someone?
Sri Sri Ravi Shankar:
There is no distance for the mind. When you connect with the feelings, all the distances vanish. If there are no feelings, then you do not feel the connectivity even if you are sitting next to the person. That is true for god, divine and all relations. When such a connection is established with the whole universe, you experience the Shiv tattva.
Q: Gurudev, Can you please talk about our karma governing our future?
Sri Sri Ravi Shankar:
Yes, your karma forms your future. I have talked about all these things in the book 'An intimate note to the sincere seeker'. You should read that.


Q: Gurudev, Doesn't there arise any conflict between different religious and spiritual organizations?
Sri Sri Ravi Shankar:
There are different methods and patterns but the ultimate aim is same – to uplift humanity. All are good. Inter religious seminars are conducted time and again. As far as my knowledge is concerned there are no conflicts between them.
Q: Gurudev, Which is the energy centre in our body?


Sri Sri Ravi Shankar:
There is energy centre in every cell of the body. Heart, mind, everything is an energy centre. The whole consciousness is a manifestation of energy.
Q: Gurudev, You always look so calm and collected, despite your busy schedule? How do you manage it?


Sri Sri Ravi Shankar:
Do you know beauty lies in the beholder's eyes? How are you able to see that everywhere? Consciousness is truth and beauty together.
Real beauty is when you're centered, when your mind is with the truth. That is how every baby is beautiful – because they are centered.
Q: Gurudev, What are your thoughts on vegetarianism?
Sri Sri Ravi Shankar:
There is so much research in the US on vegetarianism. I have always been a vegetarian; I don't know anything other than being a vegetarian. Some people say you must eat fish and meat for protein but if you have the proper balance of protein you are fine without it. If you don't, you should eat some. I eat a little yogurt at least once a week. Vegetarianism is very essential for spiritual practice.
Q: Gurudev, You often say we all are like your hairs and you come to know even if one hair is stretched. I have been pulling your hairs since many days, but it seems as if you haven't noticed it?
Sri Sri Ravi Shankar:
(With a naughty laughter) yes, some of the hairs seem to have been uprooted!
Everything has its own time. If you pray and wish all your prayers get fulfilled today itself, it is not possible. Have patience. (Making a gesture with his hands where right hand is facing audience and second is slanted downwards, and both palms shown above) Have you seen hands of all Gods and Goddesses like this? Same for Laxmi, Vishnu…Do you know its meaning? Have patience, I am giving. This is one meaning, when you need something. Another meaning is – come, surrender and you find there is no need to be afraid of anything whatsoever. (Right palm raised and facing audience) This is called abhaya mudra. Abhaya means without any fear. (Left hand slanting downwards with palm facing sky) And this is called Varada mudra which indicates - I am giving you whatever you want.
I don't mind even if you ask for more.


Q: Gurudev, How much difference is there between science and spirituality? Why do not scientists believe in spirituality?
Sri Sri Ravi Shankar:
Evolved scientists surely believe in spirituality. Those who are not yet fully evolved may not believe in spirituality. Scientists like Einstein had said that he had never seen or heard a book like Bhagwad Geeta. If you hear a quantum physicist talking, you will feel as if the text is being quoted from the scriptures only. 'What is this?' is science.' Who am I?' is spirituality. We need both science and spirituality to bring contentment to our soul.
Q: Gurudev, If we have come from God, we are a part of God and to dissolve in God is our aim then why do we do stupidity of moving away from God?
Sri Sri Ravi Shankar:
Sometimes you get bored of sitting at your home and you go for a walk. But then you come back. If you don't come back home then people like us come to take you back home.
Q: Gurudev, Why is not every human being pure?
Sri Sri Ravi Shankar:
Every human is pure but filled with dirt. Every human being is like a diamond. The fact that the diamond is in mud, does not make it mud. You simply have to pick it up and wash it. And it shines again. The shiny nature of diamond is always there but covered with mud and slush.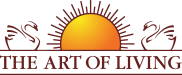 Founded in 1981 by Sri Sri Ravi Shankar,The Art of Living is an educational and humanitarian movement engaged in stress-management and service initiatives.
Read More