Question & Answers with Sri Sri Ravi Shankar

Q: Gurudev, Is every partner also the same? Does soul mate exist?

Sri Sri Ravi Shankar:
First you meet your soul and then rest will follow. If you meet your soul, many will come and claim that they are your soul mates. Then you chose one of them.

Q: Gurudev, last night you told me that choice is mine blessing isyours. Does that mean whatever I decide, your blessing is there?
Sri Sri Ravi Shankar:
You are putting me in a toughsituation. If it is related to your profession then choice is yours, blessingis mine. If it is a relationship, then also choice is yours and blessing ismine.
Q: Gurudev, How does television affect our minds? When I watch movies why do I feel that the Divine is at a distance, away from me? When I do sadhana, satsang and seva I feel connected. Why is there so much of a change of a feeling?


Sri Sri Ravi Shankar:
Never mind. You watch television but don't watch too much. It has a strain on the brain. It's very tiring. Anything too much is tiring.
Q: Gurudev, How do we know what we have to do in life?
Sri Sri Ravi Shankar:
First, see what you should not do. The purpose of life is not to be miserable or to make others miserable. With this guideline, move on. Go by your gut feeling. Anything that gives you short term happiness and long term misery is not wise.
Q: Gurudev, Of the five elements, Earth, Water, Fire, Air and Space, Earth and Water are said to be female; Fire and air are male, then what is space? Why is this differentiation?
Sri Sri Ravi Shankar:
There are various concepts and understanding of this. So, people start attributing male and female genders to everything. But that is how human mind can comprehend things; it cannot comprehend anything which is beyond.
Q: Gurudev, How can one have a successful relationhip?


Sri Sri Ravi Shankar:
Now I am not an expert on relationships. I would advise one thing for men and one for women. Women should never step on the ego of a man. The whole world may call him stupid but you must always say that he's the most intelligent person. You shouldn't question his abilities. Tell him, "You are the most intelligent person. Just because you don't use it, doesn't mean you don't have it." If you keep calling him stupid, then he will become that. Don't ask for proof of his love for you. Take it for granted that they love you. If someone has to prove their love for you every day, he will be exhausted! We shouldn't express our love too much. Very often the problem is that we express our love too much. If you keep the seed hanging on the surface, you'll never see the roots. But if you bury it deep inside, then also it doesn't sprout. Keep the seed planted. That should be how you express your love. Keep the dignity of love.
Now one suggestion for men is to never step on the emotions of a woman. If she complains about her mother, sister, family and so on, never join the band wagon. You will see she will suddenly switch side and You will be the target! Don't stop her If she wants to do some meditation, go to a place of worship, do some spiritual practices. If she wants to go for shopping, give her your credit card. You will have peace at home.
Q: Gurudev, How do we eliminate terrorism for future generations?
Sri Sri Ravi Shankar:
Terrorism arises when someone starts thinking that only they will go to heaven and everyone else will go to hell. They think, "let me teach the others my ways so that they also can go to heaven." Narrow-mindedness is a cause of misery. If each child is educated in a multicultural environment, tolerance is bound to develop. If the kids in Afghanistan were taught a little bit about their roots, a little a bit about Hinduism, Christianity and so on, they would not have become so intolerant. The Taliban would not have arisen. They should have some idea of the great sayings like that of Buddha, of the Upanishads. Krishna said the same thing that Jesus said. Multi-religious upbringing will bring about love and harmony in the world. Interfaith education and inter-religious exposure will bring about love and harmony. If all countries spend even less than 2% of their budget towards globalizing wisdom, every child in the world would be a more happy individual.
A young woman in India from the ' The Art of Living' Foundation went to the Ivory Coast to teach. Ivory Coast has very polarized Islamic and Christian communities. They live in different villages and historically have had little or no tolerance towards each other. Within a month of her being there, because of her work, communication opened up between the different religious communities. The Muslims built a school in the Christian village. The Christians built roads and toilets for the Muslims. This miracle happened in a very short span of time. If one individual could bring about this change, imagine what would happen if we all go together. If we move together, we can do something big!
Q: Gurudev, Guruji, I am in a job where nothing gets done without bribing government officials. Give your guidance, now I am very much confused. How can I be a go-getter without giving bribe?

Sri Sri Ravi Shankar:
You have to look into the eyes of those people who want bribe and tell them that, "look I am on the spiritual path, I am not going to bribe. If you want me to come fifty times, I will come, but I will not give any bribe." Your voice style should be very firm and gentle, with much sweetness and firmness. Several times we speak the truth, but express with anger.

Speaking truth, but with anger in the background, or truth with hatred does not bring success. Speak firmly with sweetness. Just do it once or twice, and see what happens.
Q: Gurudev, How does one get rid of lust in the mind?

Sri Sri Ravi Shankar:
If you suppress lust totally, you won't be able to rise high. Also if you indulge too much in it, then also it is not going to work. Adopt the middle path. You can progress on the path being a family man. Neither you should force celibacy on you nor should you indulge too much in it. If you see the faces of people who visit these night clubs, you will not find even a glimpse of happiness on their faces. It is like sadness and heaviness are dropping out from their faces.

Q: Gurudev, What is beyond the experience we call death?
Sri Sri Ravi Shankar:
Why do you want to know everything right away? I don't want you to be bored even after you die! Let's first understand life. We can understand death later.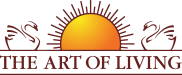 Founded in 1981 by Sri Sri Ravi Shankar,The Art of Living is an educational and humanitarian movement engaged in stress-management and service initiatives.
Read More