Question & Answers with Sri Sri Ravi Shankar

Q: Gurudev, How can I free myself from fears that seem to have settled into me years ago? I know they are irrational and just in my head. Yet here they come up over and over again. They are distracting and feel binding to me!
Sri Sri Ravi Shankar:
Meditate! Sit quietly and meditate, or listen to some chanting music. All this will help. Meditation, some pranayama, sudarshan kriya, some excercises, ujjayi breath are very good for fears. Don't think that fear is somewhere deep inside you. It is an erroneous notion of Psychology that fear and guilt are deep down. I tell you, deep down there is only a lot of joy; a lot of bliss. And in that centre – no fear, no guilt, no anger, no lust can touch you. Deep down you are wonderful. So never think you have all these anxieties. Those who say that there is something wrong deep down are blind. It is all there just on the surface. If they call that deep, then I will suggest to go deeper. In the centre of your being, you are a fountain of joy. Saying, "Oh! My Mind! Deep down there is anxiety!"is ignorance; a wrong idea and concept. The moment you accept these words as truth, it starts becoming more difficult to get over those emotions. They become more permanent there. Do you see that?
Q: Gurudev, Present moment is inevitable. In spite of this knowledge the mind oscillates between past and present. What to do?
Sri Sri Ravi Shankar:
Is it better than before? Once you are here it will continue to get better.


Q: Gurudev,
I'm confused as to who I am, how can I be more and more natural? How can I be myself and develop a strong sense of self? Is it ok to be very different than other people?
Sri Sri Ravi Shankar:
Confusion is a very good temporary state. Do you know when do you get confused? When you grow! When a particular concept in your mind just falls apart, breaks apart. You thought you were somebody, and that concept breaks so then there is confusion. So, it is a sign of growth. Is it shocking? Good. If you want to know who you are, you are in the right place and it is all right to be confused. In fact, we are all different yet we try to imitate others. That is where there is a problem. Just recognize the difference and celebrate the differences. To be yourself, you are in the right place. It's all right to be different, your difference need not conflict with that of other people. People who are rebellious want to be different to compete. You can be different. You could be different, you don't need to exhibit yourself as different. Got it?
Q: Gurudev, How can we bring human, nature and animals in harmony for our future generation?
Sri Sri Ravi Shankar:
We should stop polluting our planet. Say no to plastic, Use as little plastic as possible. Recycle..Use recycled things. Use chemical free shampoos and soaps as far as possible. Go organic, I would recommend everyone to become vegetarian. You know, if we pay attention on the consumption that takes place to produce one non-vegetarian meal, feeding the animal etc.., it is equivalent to 400 vegetarian meals. So, I recommend everyone to turn vegetarian. Environmentalists say that if even 10 percent of the population turns vegetarian, we will not have the problem of this green house effect.
Q: Gurudev, I read books on knowledge. How do I know that knowledge is only at intellectual level or is actually realized by me?
Sri Sri Ravi Shankar:
It is very simple. You go to a restaurant and you read the menu card. By the time you have eaten it, you know you have eaten it. Experience is so irrefutable. Reading about back pain in a book and actually having back pain are different. So, it is very obvious. Your experience is what is most important.
Q: Gurudev, last night you told me that choice is mine blessing isyours. Does that mean whatever I decide, your blessing is there?
Sri Sri Ravi Shankar:
You are putting me in a toughsituation. If it is related to your profession then choice is yours, blessingis mine. If it is a relationship, then also choice is yours and blessing ismine.
Q: Gurudev, Please tell us what we should do for our nation to feel grateful to our nation.
Sri Sri Ravi Shankar:
For showing your love and gratitude for your country, you will have to do a lot of work in the society so that our villages develop and become self helping. To make a society which is void of corruption, violence, all have to put effort whole heartedly, OK.
Q: Gurudev, Does spirituality necessarily lead to inner peace and happiness?
Sri Sri Ravi Shankar:
Definitely spirituality is for peace. Peace, happiness, Joy and compassion - all these virtues are qualities of the spirit. There is not a single person on this planet who is not a spiritual seeker. You know why? Because everybody is seeking peace, love and happiness, and this is what spirit is.
In India we say Satyam Shivam Sundaram. Satyam - truth, Shivam - Divine, and Sundaram - beauty. The divine is beauty, and the divine is the truth. So wherever you see beauty, behind that there is a consciousness from which the whole universe is coming into existence.
Have you heard of String theory in physics? If you study quantum physics you will find as if you are studying Vedanta – an ancient wisdom. The two are exactly the same.


Q: Gurudev, How to achieve excellence while following the middle path?
Sri Sri Ravi Shankar:
It will happen. Your intention is enough. Main thing is Sadhna(Practices and self effort), next is awareness, and third is - no feverishness.
Q: Gurudev, I want to do so much but I feel burnt out. Please help.
Sri Sri Ravi Shankar:
These feelings come up. Sometimes the mind says: 'I want to run away from everything'. This is stress. Don't take any decisions at times like this. First come back to the Self. Meditate.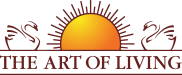 Founded in 1981 by Sri Sri Ravi Shankar,The Art of Living is an educational and humanitarian movement engaged in stress-management and service initiatives.
Read More