Question & Answers with Sri Sri Ravi Shankar

Q: Gurudev, What is intuition and how can one develop intuition?

Sri Sri Ravi Shankar:
Tuition that you get from inside is intuition. Only way to develop intuition is to become little quieter and listen inside.

Q: Gurudev, How do you forgive someone who has hurt you deep yet shows no guilt or regret?
Sri Sri Ravi Shankar:
I want to tell you that most of the questions have been answered in the books – Celebrating Silence or Celebrating Love.
Q: Gurudev, What is the best way to handle religious conflicts?
Sri Sri Ravi Shankar:
Every child should know a little about all cultures and religions in the world. They will start to feel connection with all the cultures. Every child should know a little bit about all religions like Buddhism, Christianity, Islam, Hinduism. They will grow up with a broad mindset.
I feel at home wherever I go in the world. I feel connected, and everyone can do that because we all have that need to be connected. In fact you don't have to make an effort, we are anyway connected.
I still remember an incident some 25 years ago, in Manchester, UK. A small girl came to me and asked: 'Why cannot human beings connect with everyone else in the world?' I told her this is because we are so stuck in our identities. It's good to have identity but we have to grow beyond that.
Q: Gurudev, I have left my habit of drinking and smoking after the course. But my parents are still stuck up in these. What can I do?
Sri Sri Ravi Shankar:
If your mother or father had not done the course, and is drinking alcohol, then certainly you are not having a cordial relationship. Allure them by any means, and get them into the course, then see they will also leave any addictive habit. Today, the problem is that so many homes have become slave of alcohol. It is a matter of sadness.

There are so many children who ask how their parents can leave these bad habits. You have to do work for this. You have to apply some tactic. It is not only that only parents improve the children, sometimes children also improve their parents. How many of children are there whose parents have changed? Very good!
Q: Gurudev, Guruji, I am in a job where nothing gets done without bribing government officials. Give your guidance, now I am very much confused. How can I be a go-getter without giving bribe?

Sri Sri Ravi Shankar:
You have to look into the eyes of those people who want bribe and tell them that, "look I am on the spiritual path, I am not going to bribe. If you want me to come fifty times, I will come, but I will not give any bribe." Your voice style should be very firm and gentle, with much sweetness and firmness. Several times we speak the truth, but express with anger.

Speaking truth, but with anger in the background, or truth with hatred does not bring success. Speak firmly with sweetness. Just do it once or twice, and see what happens.
Q: Gurudev, Please tell us what we should do for our nation to feel grateful to our nation.
Sri Sri Ravi Shankar:
For showing your love and gratitude for your country, you will have to do a lot of work in the society so that our villages develop and become self helping. To make a society which is void of corruption, violence, all have to put effort whole heartedly, OK.
Q: Gurudev, What is the difference between prayer-oriented and meditation-oriented religion?
Sri Sri Ravi Shankar:
Everything has its own place. Prayer is asking from God and meditation is listening to the God. Both are important.
Q: Gurudev, 90% of people don't have clean drinking water, enough food or any hope. What can a simple person do about it?
Sri Sri Ravi Shankar:
In some villages where there is dirty water, the water filters run on electricity. Some people came to see me two, three years ago about this issue. The water filters were expensive and half the villages don't have access to electricity(in India). So the villagers couldn't use them. They invented a water filter. It costs only $10 for one year. You can filter as much water as you want. Very dirty water runs through it, and it comes out clean. It just costs $10 to change every year. This is one breakthrough. 90% of all diseases are waterborne. When one has good drinking water, there is a shift. Just with one filter, you can run dirty water through it and get pure water.
Q: Gurudev, If we are dispassionate in life then we won't remain ambitious in life. To what extent is this true?


Sri Sri Ravi Shankar:
I don't use the word dispassion much because it has been distorted so much. I have seen so called dispassionate people who have no glow or happiness on their face. Dispassion means absence of any kind of feverishness but a joy is there. Adi Shankaracharya has beautifully said that there is no joy which dispassion cannot give you. Dispassion means - You don't run after joy but you are joyful from within.
Q: Gurudev, Whatever decisions we take, are your blessings always there?
Sri Sri Ravi Shankar:
In your profession and relationship, choice is yours and blessings are mine. The rest, I will have to think a little.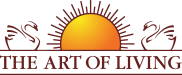 Founded in 1981 by Sri Sri Ravi Shankar,The Art of Living is an educational and humanitarian movement engaged in stress-management and service initiatives.
Read More