Question & Answers with Sri Sri Ravi Shankar

Q: Gurudev, How can one have a successful relationship?
Sri Sri Ravi Shankar:
I can give some advice on this.
First for women: Are you all ready? Never step on the ego of your man. Never tell him that he is good for nothing. If you do so, he will become like that. Always praise. Tell him he is the best. Give him compliments.
Now advice for men: Never step on a woman's emotions and never comment on her family. She may complain about her family, but you better keep quiet. The moment you start joining her she may attack you. Never step on her emotions. If she wants to go shopping, give her your credit card. Her emotions need to be taken care of.
To both men and women: I advise not to ask for proof of love. "Do you really love me?" Imagine what a burden it is to prove that you really love and care for someone. Even if you find some lack just say, "Why do you love me so much?" Even if the Spring has died out, it will start again. Ask only questions that are useful. Never ask someone to prove their love. Take it for granted.
Q: Gurudev, Doing
Sudarshan kriya
, we feel relaxed and happy but after that the mind again wanders in its imaginations.
Sri Sri Ravi Shankar:
You turn around and see.
(The questioner turns around, and audience laughs)
Sri Sri continued: Not now! You turn around in your life, one year, two years, three years before, and see what were you then and what are you now? Do you see the difference? How much difference? You say a lot of difference in a month since you did Sudarshan kriya, so there will be more in the future.
Q: Gurudev, Whenever there is choice, is it previously decided what we are going to chose? Or it can change also according to what choice we make?
Sri Sri Ravi Shankar:
It can change also. That is why 'Dhiyo yona prachodyat' is a part of the Gayatri mantra.

Q: Gurudev, How does one know whom to trust and whom not to especially, after Swami Nityananda incident?

Sri Sri Ravi Shankar:
Trust in yourself. Have faith in your choice of actions and the path you would be following. If you don't trust yourself, how can you trust the Master? It is enough to have faith in yourself.
A Master or a Guru does not remove the doubt, but He creates more doubt. The more you burn in the fire of doubt, the more strong you come out to be. Truth is never afraid of doubt, and truth can never hide.
There have been so many saints in ancient India like Vishavamitra, Valmiki, Gautum, and you will deprive yourself of knowledge if you start doubting all of them.
If you put your attention on the real and authentic, you would doubt the fake. But if all your attention is on the fake, you would start doubting the authentic also.
Q: Gurudev, It is said that after lots of merits one gets a human birth. Then how come the population of humans is increasing in the world because people are not very meritorious in the world today?
Sri Sri Ravi Shankar:
Population of many animal species like scorpions, snakes is also decreasing. Animals in forests might have taken birth as humans. You think over this.
Q: Gurudev, Saints say that suicide is a crime. Then what is jeev Samadhi?

Sri Sri Ravi Shankar:
Yes, suicide is wrong. Some saints take jeev Samadhi. They can effortlessly separate their mind and soul, and continue to live like that for 20 years or so. Saint Gyaneshwar and some other very great saints did that in the past. I am not in favor for it.
One commits suicide out of sorrow, and tries to destroy the body. One tries to commit such a thing burdened with the sorrow, and in search of happiness. But committing suicide is like you removing your coat when you are feeling cold. There is only repentance after suicide, and one keeps on struggling to get a new body. Don't try to finish this body, and also don't hold on to it very strongly.

Q: Gurudev, How do I know whether I will get enlightened or not?


Sri Sri Ravi Shankar:
Your doubt is always something about which is positive. We doubt in the honesty of a person. We doubt in the truth of a statement in which someone expresses love for us. We immediately believe if someone says, "I hate you". How does one know if he/she has achieved knowledge or not? First, such a doubt arises. And its solution follows it. When your mind gets calm, you feel happy, such a fragrance comes from you, and love flows from you. Sometimes it happens gradually, and you don't realize it. Then all of a sudden you find out that nothing can disturb you, you are happy and peaceful, and you are untouched by any events happening around you. This understanding gradually dawns in you. It can also happen suddenly. But it is good if it happens gradually.
Q: Gurudev, How can I get close to you?
Sri Sri Ravi Shankar:
Assume that you are close to me. It is you who thinks you are not close.
Q: Gurudev, Is little bit of ego ok?

Sri Sri Ravi Shankar:
If you recognize that you have ego, for God's sake don't try to get rid of it. If you get rid of your ego, that itself will become the cause of a bigger ego trip. So if you find that there is ego, just keep it in your pocket. You know the only antidote for ego is being natural, or naturalness. Why do you want to get rid of your ego? Because it bothers you. More than others, your ego is bothering you. You are constrained, restrained and uncomfortable. You feel others don't respect you or you are better than others. You compare yourself with others. So I would say, if you find that there is ego in you, let it be. We will not meddle with it. If it comes, let it come.

Q: Gurudev, What is beyond the experience we call death?
Sri Sri Ravi Shankar:
Why do you want to know everything right away? I don't want you to be bored even after you die! Let's first understand life. We can understand death later.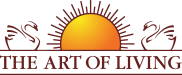 Founded in 1981 by Sri Sri Ravi Shankar,The Art of Living is an educational and humanitarian movement engaged in stress-management and service initiatives.
Read More