Question & Answers with Sri Sri Ravi Shankar

Q: Gurudev, What are the end results of the economic situation? How do you think it will end?
Sri Sri Ravi Shankar:
There is no end to it. These sorts of things go up and down. That is the way of the world. America is coming out of it.
Sri Sri then invited the audience to visit India and participate in service projects.
Mahalo (a Hawaiian word meaning thanks)
Q: Gurudev, If we are dispassionate in life then we won't remain ambitious in life. To what extent is this true?


Sri Sri Ravi Shankar:
I don't use the word dispassion much because it has been distorted so much. I have seen so called dispassionate people who have no glow or happiness on their face. Dispassion means absence of any kind of feverishness but a joy is there. Adi Shankaracharya has beautifully said that there is no joy which dispassion cannot give you. Dispassion means - You don't run after joy but you are joyful from within.
Q: Gurudev, How do breathing techniques and meditation benefit those with heart disease?
Sri Sri Ravi Shankar:
Breathing and meditation have been found to lower cholesterol and strengthen the heart. They lower stress and control hormones by making a positive impact on the endocrine system. There have been several studies and research is still going on.
Q: Gurudev, I had so many questions in mind before meeting you. But now, all the questions have vanished. I know that you are incarnation of Lord Shiva. Am I right?
Sri Sri Ravi Shankar:
Let us leave at least one question in your mind.
When happiness dawns, all questions automatically dissolve.
Q: Gurudev, Jai gurudev. Would you please explain about 2011? We are worried.

Sri Sri Ravi Shankar:
If you remember, many people were so afraid and paranoid in 1999. In 1999, it was said that computers were going to crash. They were asking, 'What do we do? We are not going to get food'. People started storing milk and food-grains in their basements! I think I was in Halifax at that time and people there asked me the same question, and they were also storing food! They said we have stored milk powder for three months, grains and stuff. I said, "nothing is going to happen. There is going to be business as usual". And I am telling you now, we will see 2010, 2013.. It will be business as usual. Only thing is people will be more and more spiritual. Have you noticed how young children, the Yes+ kids were asking questions? I think the older generation would be surprised to see how spiritual the younger generation is becoming. You know what questions you got in 40's or 50's, What is the meaning of life?, these kids are getting at the age of 15 now . I am asking this question to those of you who are above 50. Did you ever get this question at that age? The kids today are so much spiritual! As the time comes, you will see that more and more kids become more aware. They are not so much about showoff or buying things like you used to feel. The younger generation is completely off the clothes or jewellery or showoff. Of course, they have little bit more craze about gadgets and the cars. But even that is not as much as you would expect the things to be. Right? You find such difference in people! See in the beginning days of video games every body was so much on those video games. All those violent ones. But as times passed, it's fading out. I feel that it is fading away. Isn't it? It'll happen. More people will be more inclined towards spirituality.

Q: Gurudev, Is there a practice that one can follow that does not cause suffering? Is there a joyful methodology?
Sri Sri Ravi Shankar:
Waking up to the reality. Knowing of this 'I' can lead to a state of devotion, of love. It is spontaneous. There is no need of surrender because it is already there. It does not have to mean a painful part of the ego. It is knowing that everything belongs to the divine, the thorn as well as the roses belong to the divine. What happens when you surrender? A permanent peace dawns in you, a smile that no one can take away from you. You wonder that there was such an illusion. You smile and realize that there is nothing to give away. Suppose you fill a pot from the lake, and you are carrying that pot of water. Then you pour it back into the lake. What can you tell the person when he/she thinks that he/she is giving water to the lake? It brings back a feeling of connectedness, and annihilates the sense of separation which causes pain and suffering. Sense of connectedness always brings peace and joy. So with this self knowledge, practice of meditation, singing, becoming one with the sound of satsang, you become one and merge into one consciousness. Satsang is everyone sharing together the consciousness and energy, everyone is sharing the sound. In Satsang, the mind gets united, all minds get united with the cosmic energy. It brings more benefit in singing when your awareness is focused, and you have one pointed attention.
Q: Gurudev, Of the five elements, Earth, Water, Fire, Air and Space, Earth and Water are said to be female; Fire and air are male, then what is space? Why is this differentiation?
Sri Sri Ravi Shankar:
There are various concepts and understanding of this. So, people start attributing male and female genders to everything. But that is how human mind can comprehend things; it cannot comprehend anything which is beyond.
Q: Gurudev, How do you know when to forgive someone?
Sri Sri Ravi Shankar:
When something starts to bother you too much.
Q: Gurudev, How do you find the ability to switch back into happiness?
Sri Sri Ravi Shankar:
The ability to switch into happiness comes with practice. When you are thirsty, you need to drink. When you are unhappy, tired, lost and out of energy, you must do some breathing and meditation. Watch the emotion, leave it and observe. Look at the sky for a second. Observe the sensation. If you are tight in the throat, chest, somewhere, take a deep breath and relax.
Q: Gurudev, last night you told me that choice is mine blessing isyours. Does that mean whatever I decide, your blessing is there?
Sri Sri Ravi Shankar:
You are putting me in a toughsituation. If it is related to your profession then choice is yours, blessingis mine. If it is a relationship, then also choice is yours and blessing ismine.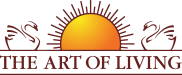 Founded in 1981 by Sri Sri Ravi Shankar,The Art of Living is an educational and humanitarian movement engaged in stress-management and service initiatives.
Read More