Question & Answers with Sri Sri Ravi Shankar

Q: Gurudev, Guruji, I am not able to concentrate for my mind is very flickering and playful. What should I do?

Sri Sri Ravi Shankar:
Let the mind go wherever it wants to go.


Q: Gurudev, How can one experience true love in a relationship?


Sri Sri Ravi Shankar:
I can give you three suggestions. One is for men, one for women and one for both. Women should never step on the ego of a man. Women should always boost the ego of a man. Even if the husband is a stupid, the wife should say, "You are the most brilliant man I have ever seen." You should always praise him. He shouldn't have to prove himself to you at home because the world requires him to prove himself. He should find peace at home. You should say, "You are the most brilliant man I have ever seen. Just the fact that you don't use your brain doesn't mean that you don't have it. You are the most brilliant." So, praise your man all the time.
Now there is one suggestion for men. Never step on the emotions of a woman. She may complain to you about her family but you should better not join the bandwagon. She may turn it around. She may take a U-Turn and say, "How dare you say such things about my family. What do you know about my family?" So if she is complaining, you just listen. She is paying lip service. If you say something and you hurt her, it is not worth it. When she wants to go for a religious service or a meditation program or retreat, don't stop her. And when she wants to go for shopping, just give her your credit card. This will keep peace at home.
There is a suggestion for both men and women. The key to keeping peace at home is that you stop demanding love. You normally say, "Do you really love me? You don't love me the same way. You have changed. You are different." Asking people to prove their love for you is such a psychological burden. Just imagine yourself in their place. Imagine if someone demands from you to prove your love for them. What would you do? You'd say, "Oh my God, how long do I have to prove my love for this person?" One day, two days, three days, four days and then you feel like enough. This is what happens. There is a book called 'Celebrating Love' that you can read. There are many ideas about love in the book. We don't know how to receive love unless we know how to give love. How can we express that love? Our expression is something that we keep looking for. So, don't demand that others express their love. Instead, you should ask, "Why do you love me so much?" Especially on a day when you disagree or they are being nasty, you can say "why do you love me so much? I don't deserve it!" Even for someone who is angry, you say, "you love me much more than I deserve". Their attitude would change. Love would spring up in them. If you start demanding, you are destroying love.
Q: Gurudev, Why do we dream while sleeping in the night? How is it related to our life? Does a dream come true?


Sri Sri Ravi Shankar:
Why do we dream while sleeping? You want to dream while awake? (Laughter – looks at the moon, over the horizon). There are many people who do that. Even the ocean has become still to reflect the moon. Isn't it so artistic, look at the moon and the cloud, it looks like somebody emerging out of the cloud.
There are five types of dreams.
The first type is your past experiences – so where you went to school, you went to college, or you were working in your office, or business.
The second type of dream expresses your innate desires. Suppose, if you wanted to drink cola and you didn't drink it and you went to sleep, and in the sleep you are drinking cola. How many of you have had this experience? Whatever you wanted to do and you didn't do. In the sleep you fulfilled those things. Your desires come to you as dreams.
And, the third type of dream is intuitive – whatever is going to happen in the future maybe six months later or a year can come to you in the form of a dream. Before the Tsunami happened, a few months before, some people dreamt of it. The waves rising six feet high. Many people had that experience. Even here in Indonesia many people had the experience of volcano erupting. So whatever is going to happen in the future, that can come to you as dream, this is the third type of dream.
The fourth type of dream is what? About the place you are in, suppose you go and sleep in Germany in a place or in somebody's house and in the dream you hear all German words. In Russia, in the dream you hear and see Russian faces, in Russian language. It can happen in any place in the world. The fourth type of dream is related to the place you are sleeping and not to do with your own experiences.
And the fifth type of dream is a mixture of all of these. Some of it is the past, the present, the desires and the place you are in. Ninety percent of your dreams are this; that's why there's no clarity. Suddenly you are on a horse and the horse is inside a train, and the train is going in the water on a ship, then the ship is flying up in a sky. All sorts of weird things happen. That is why when people ask me to interpret my dreams, I say, "Take a cup of tea, and wake up." Don't worry about dreams, make a bundle and throw them in the ocean.
Q: Gurudev, After the course, you came thrice in my dream. The second time you came in my dream, the dream was that you are no more in the world.
Sri Sri Ravi Shankar:
It is ok, does not matter – there is still lot more time for that to happen!
Q: Gurudev, How does one get rid of lust in the mind?

Sri Sri Ravi Shankar:
If you suppress lust totally, you won't be able to rise high. Also if you indulge too much in it, then also it is not going to work. Adopt the middle path. You can progress on the path being a family man. Neither you should force celibacy on you nor should you indulge too much in it. If you see the faces of people who visit these night clubs, you will not find even a glimpse of happiness on their faces. It is like sadness and heaviness are dropping out from their faces.

Q: Gurudev, Dearest Guruji, what is ambition and what is greed? What is the line differentiating both? With love and pranams…

Sri Sri Ravi Shankar:
Greed is when nothing matters to you - no people matter to you. Only money matters, only you matter, that is greed. Greed is beyond your capability, beyond what you deserve. Even at the cost of suffering for others or yourself, you want to have it.You aspire and you want it by hook or crook, that is greed. Ambition is you have set a goal, you want to achieve it. That is ok.

Q: Gurudev, It is said that after lots of merits one gets a human birth. Then how come the population of humans is increasing in the world because people are not very meritorious in the world today?
Sri Sri Ravi Shankar:
Population of many animal species like scorpions, snakes is also decreasing. Animals in forests might have taken birth as humans. You think over this.
Q: Gurudev, How to have devotion?
Sri Sri Ravi Shankar:
You assume that you have devotion. Don't strive to have devotion. We should assume that we have love and devotion in us. When you believe in this, the devotion in you enhances. When you think you don't have devotion at all, it wouldn't manifest.
Q: Gurudev, How does television affect our minds? When I watch movies why do I feel that the Divine is at a distance, away from me? When I do sadhana, satsang and seva I feel connected. Why is there so much of a change of a feeling?


Sri Sri Ravi Shankar:
Never mind. You watch television but don't watch too much. It has a strain on the brain. It's very tiring. Anything too much is tiring.
Q: Gurudev, You spend so much time for reducing terrorism; do I need to become a terrorist to get your time and attention? It would be nice to be transformed through you.
Sri Sri Ravi Shankar:
A terrorist use gun to shoot, but you shot arrows of your devotion! Your devotion and love are much stronger.
I remember an incident when I was in Rishikesh. A devotee fainted and fell down. Everyone's attention was attracted by this. I knew that it was just a drama to attract attention. First I kept on walking, but when the drama continued for a long time, I went to that place. When I asked, she said, 'You don't look at me, so I had to do this.' You don't have to do such a thing to catch my attention! How do you know I don't look at you? When you are looking elsewhere, I look at you for sure. The goal is only one - to center your mind and consciousness in one place. When your mind is centered, calm and you are smiling, I look at those whose mind is still racing here and there and is not centered.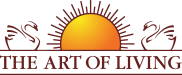 Founded in 1981 by Sri Sri Ravi Shankar,The Art of Living is an educational and humanitarian movement engaged in stress-management and service initiatives.
Read More