Question & Answers with Sri Sri Ravi Shankar

Q: Gurudev, How can we bring this knowledge, of breathing & meditation that is taught through the Art of Living programs, to low-income families and communities?


Sri Sri Ravi Shankar:
You know, the Art of Living Courses are around $200-$300. This is a very small amount and students and seniors, anyways, pay a reduced course contribution. There are expenses when courses are organized. The volunteers have to hire a hall, get supplies and pay rent. Nearly 60-70 percent of the course contribution is spent on course expenses. Remaining funds go to support service projects in places like post-Katrina New Orleans.
Also, if you offer the course free, people don't value it. People don't take responsibility to sit and learn. You can't do charity from an empty bowl. And there is no point in taking charity to do charity. So our teachers teach these courses for a contribution.
Of course anyone who wants to donate to a charitable cause is most welcome, but our donations are only about 15 percent of our total income. Mostly, all our expenses are covered by course contribution. And, in case someone says they cannot afford to pay the course contribution, we never stop them from attending the course. There is always 10-15 percent scholarship in every course. If some of you want to sponsor a course for street kids, we would definitely love to organize that. We have so it in many places across the world.
Q: Gurudev, Guruji, have you ever lied? If yes, then why?

Sri Sri Ravi Shankar:
In my childhood, I used to tell everyone that my family is in the whole world. My friends would complain to my parents saying I was telling lie, and I would get scolding from my parents. But, see today, my family is in the whole world!

Q: Gurudev, How to get rid of fatigue and headache?

Sri Sri Ravi Shankar:
Yoga and pranayama.

Q: Gurudev, Please speak about forgiveness toward ourselves and others.

Sri Sri Ravi Shankar:
Don't do it, if it is hard. Go the easy way. If it is hard to forgive, never ever forgive. If it is easy to hold a grudge against somebody, keep it with you all your life. In that case you should be happy with it. Can you be happy with a grudge against somebody? If somebody made a mistake, it is their problem and not yours. You just go the easy way.

The struggle is that we want to forgive but we can't. We should look at every culprit as a victim. If the person was unjust to you, clearly he was not happy. Otherwise, he would not have done it. He was not as refined and cultured as you. Whose mistake is that? If that person was enlightened, or had knowledge he would not have done it. So be compassionate.

Q: Gurudev, Sometimes I don't know whether I am doing the right thing. I lose courage. How do I handle such a situation?

Sri Sri Ravi Shankar:
At those moments, just relax. The right thing will happen to you.

Q: Gurudev, You have done a lot for my life? What can we do for you?
Sri Sri Ravi Shankar:
The society needs you. The society is to be benefitted through you. Like you have felt happiness, same way you can bring this happiness to 10, 20, 50 people. When you are happy and others become happy through you, I will also be happier.
Q: Gurudev,
How should we confront fraud and corruption?
Sri Sri Ravi Shankar:
Lack of a sense of belongingness creates corruption. A lack of friendliness creates frauds. If you have friends, you cannot commit fraud. If you don't have friends, you feel afraid and then you become a fraud. You cheat others. Would anyone cheat someone whom you really think of as a friend? No. That sense of friendliness has to die away. So the show of friendliness is not true friendship. Isn't it so? Will you ever cheat a sincere friend of yours? No way! You would give your life to save a friend, but not cheat them. When you don't really feel the friendliness and sense of belongingness, it is then you will cheat others. So the fear in a person and the ambition to amass for oneself creates fraudulent people and attitudes. Corruption is again through fear. So, I would say we should spiritualize politics, socialize business and secularize religion.
Q: Gurudev, Why is it so difficult to let go and surrender the past, what should I do?
Sri Sri Ravi Shankar:
Don't do anything. Just live in the past. It's not easy to live in the past. Accept it. Encounter it. You are in the right place. Surrendering the past is not trying to run away from it. Alright, move on. Embrace the past with both arms. It is ok to have had the experiences. Don't be afraid of it. You can handle it. It won't go if you are tying to avoid it or being averse to it. Somebody is making a book that describes the five levels of surrender. How do you define surrender? Surrender has been misused so many times. First type of surrender comes into play when there is failure. When you are defeated, or you are miserable, you let go. Letting go, when life is a burden or mainly associated with defeat, is one type of surrender. Another type of surrender, which happens out of love, like a mother's love for a child. Nothing else is important to her. If it is a choice between her own pleasure and that of the child, she will choose the child's pleasure. In a love relationship between husband and wife, they feel completely at ease, fearless, with no concerns. A mother is so attached to the child; She willingly gives up small inconveniences or pleasures because she loves the child so dearly. Third type of surender mostly happens with knowledge. There is nothing anyways. It happens when you surrender to God. Fourth type is knowing that it is an illusion. Thinking that you have to give up something which you do not have is an illusion. This is the surrender of wisdom, it is just a sense of ease, knowing it all belongs to the one. This very state of surrender leads to the same place - the small mind opening to the big Self.
Q: Gurudev, What is Enlightenment?


Sri Sri Ravi Shankar:
The book 'Celebrating Silence' contains little excerpts on many topics. You read that and then we will discuss about it.
Q: Gurudev, How come you manage to smile in all the circumstances?

Sri Sri Ravi Shankar:
You know, this is our brand mark. Our logo is smile. If you see somebody and they are not smiling, and they say they have done 'Art of Living', don't believe them. I am sure, all those who are here, who have truly done it will agree with me.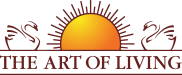 Founded in 1981 by Sri Sri Ravi Shankar,The Art of Living is an educational and humanitarian movement engaged in stress-management and service initiatives.
Read More