Question & Answers with Sri Sri Ravi Shankar

Q: Gurudev, How come you manage to smile in all the circumstances?

Sri Sri Ravi Shankar:
You know, this is our brand mark. Our logo is smile. If you see somebody and they are not smiling, and they say they have done 'Art of Living', don't believe them. I am sure, all those who are here, who have truly done it will agree with me.
Q: Gurudev, Is it our responsibility to give birth to a child? Or can we leave this in God's hand?

Sri Sri Ravi Shankar:
If you feel you want a child, go for it. Simple. Even this thought of wanting a child may be from the universal thought.

Q: Gurudev, You are not only a Guru, a Spiritual Master, but you are also so skilled in management. How come you manage everything?

Sri Sri Ravi Shankar:
Guru is not a physical entity, but Guru is embodiment of knowledge and discretion. Guru is pure consciousness. There is no difference between universal consciousness, Guru and the Self. You should also be a Guru to someone. What does it mean to be a Guru? You don't expect anything from them, and do whatever you can to uplift them with the feeling of love. Start with the one, then two, three…..10. 'I am for you; you don't need to worry' - Then you would also be able to say this for everybody.

Q: Gurudev, According to Vedanta we are all one. But we have different personalities and ideas. Can you explain?

Sri Sri Ravi Shankar:
Everything is made up of atoms. Like furniture is made of wood. The door, the bench, the table, the chair are all made of wood. Wood is in each of these things. But the roles are different. The door cannot be used as a chair, nor can a table be used as a door. Quantum Physics is based on the principle of Advaita (non duality).

Q: Gurudev, Do I need a guru?
Sri Sri Ravi Shankar:
Do you need an answer? If you need an answer that means you need someone who have to give you the answer, and that anyone who gives the answer automatically becomes a Guru.
Guru means the one who gives the answer. The English word guide comes from the original sanskrit word guru.
You need a guide for everything, for learning guitar, music, or any field you take. Similarly, Guru is one who can guide you into meditation, wisdom, and knowledge.
Q: Gurudev, Any predictions when the world will be one?

Sri Sri Ravi Shankar:
When you and I start working together. Technology has made the globe into a village.Spirituality will make it a family.

Sri Sri then invited people in the audience to visit India.


Q: Gurudev, I have become aware of people who want to take control of our food and water supply, putting a great burden on it. What to do?
Sri Sri Ravi Shankar:
The 'Art of Living' is putting a lot of attention on this. In India some people wanted to produce genetically modified plants. This has been banned in France and other countries. The 'Art of Living' stood firmly together and opposed it, and the government had to stop it. You cannot do it alone, you have to stand against it as a mass movement, and bring justice to the human planet. The greed of a few people gets into their heads. We are not against scientific experiments, but without proper testing and making sure that it does not have any side effects, and producing it on a mass scale for commercial purpose is not acceptable. For example, genetically modified cotton yielded three times more crops in the first year, andalso good cropin the 2nd year. However, it completely wiped out the crop in the third year and many farmers committed suicide. The 'Art of Living' worked to give farmers hope and helped them see the value of their lives. The cattle ,which ate the genetically modified cotton, died, and the virus emitted by these crops attacked the trees. The whole area became a desert. The company earned huge profits. This is called economic violence. There are many forms of terrorism. Economic terrorism is that where greed of a few people make other people suffer, they make a mess of the economic system, and devastate so many families.
Q: Gurudev, Guruji, it is said 'Advaita' (Non Duality). Why it is not expressed as 'only one' but as 'not two'?
Sri Sri Ravi Shankar:
Because you need two to count one.
Q: Gurudev, Is it love or surrender when I feel your presence in meditation?
Sri Sri Ravi Shankar:
Surrender with love. And that which happens with surrender is love.
Q: Gurudev, Praying for peace does not seem to work. Is there a more practical way to achieve peace?

Sri Sri Ravi Shankar:
Praying for peace does work! In 2004, there was a war between India and Pakistan. The chief of the Indian army called me and asked me to pray for the soldiers. We prayed for both the sides. The war did not happen at all. Action, education and prayer are all necessary for peace.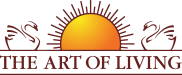 Founded in 1981 by Sri Sri Ravi Shankar,The Art of Living is an educational and humanitarian movement engaged in stress-management and service initiatives.
Read More