Question & Answers with Sri Sri Ravi Shankar

Q: Gurudev, Why does a desire arise? Where does it come from? What is the purpose?
Sri Sri Ravi Shankar:
All desires have got one goal, and that is happiness. If a desire brings unhappiness, it has not reached its goal. The goal of desires is to bring happiness. So, that is the purpose.
Where does it come from? It comes when you are not aware of your Being, your Self. Desire is your wanting to stay in the moment. Desire is to experience joy. Joy is only in the moment. And when you are in the moment, there is no desire. When you are joyful, when you are satisfied, there is no burning desire at that time.
Q: Gurudev, In the 'Art of living', which yoga do we practice -
hath yoga
, raj yoga, karma yoga, or dhayan yoga?
Q: Gurudev, I heard you say this and I also strongly believe God is everywhere. How important is it to do Puja, or go to a pilgrimage place like Rishikesh, or take a bath in sacred places?
Sri Sri Ravi Shankar:
It's like you have food at home and sometimes you go to a restaurant also. You don't go to a restaurant because you don't have food at home. Everything is everywhere and you enjoy the flavors equally.
Q: Gurudev, What is more important, ones upbringing or one's cast? People who believe in cast system and religion are against intercast marriages. So what matters most-the values of that human or the cast and religion of that human?
Sri Sri Ravi Shankar:
One should see the humanity the most.
Q: Gurudev, How should the breath be –long deep one or restful slow ones?
Sri Sri Ravi Shankar:
You should take long as well as restful breaths sometimes. When you take long and deep ones, it gives you prana, and slow and restful ones will give you rest and meditation.
Q: Gurudev, Guruji, the self control that I keep on myself gets broken sometimes. What to do in such case?
Sri Sri Ravi Shankar:
It does not matter if it happens sometimes. It is not happening always?
Q: Gurudev, Guruji, are we influenced by mistakes from previous birth? If so, then how does one prevent getting influenced by that or find a way to remove that influence?
Sri Sri Ravi Shankar:
You don't have to make too much effort. Just do your practices, your Sudarshan kriya, sing and meditate and all the bad karmas and impressions, they will get washed away by themselves. And with few advanced courses, few hollow and empty meditations, all impressions get released.
Q: Gurudev, Some volunteers from the 'Art of living' want to enter into politics with your blessings.
Sri Sri Ravi Shankar:
Yes, it is alright, they should go into politics, clean up the politics like the 'Art of Living' volunteers cleaned up Yamuna!
*Devotion
**Karma
***Meditation
Q: Gurudev, Silence, music and logic are the three essential ingredients you have spoken of. How does logic relate to knowledge or consciousness?
Sri Sri Ravi Shankar:
Logic is essential. If you see an idol of Goddess Saraswati she is sitting on solid rock. She has a book in one hand which is logic. In the others she has rosemary beads for meditation and veena (a musical instrument). Logic, music, mauna (silence) are all essential for total development of consciousness. Knowledge is logical understanding of existence.
Q: Gurudev, My husband has yet not done the 'Art of Living' course. I want him to experience the same joy and knowledge. I have persuaded him by all means. Please guide me what to do now?

Sri Sri Ravi Shankar:
You pray. It will happen.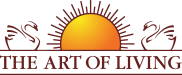 Founded in 1981 by Sri Sri Ravi Shankar,The Art of Living is an educational and humanitarian movement engaged in stress-management and service initiatives.
Read More