Question & Answers with Sri Sri Ravi Shankar

Q: Gurudev,
What can I do to come out of the guilt and self judgement? I feel so bad when I do things even though I know in my heart that what I have done is the best for me?
Sri Sri Ravi Shankar:
More advance courses.
Q: Gurudev, I am anxious about the results of my interview. What to do?
Sri Sri Ravi Shankar:
Do Ujjai breath, bastrika, meditation, sing and dance.
Q: Gurudev, There are so many practices, so many paths. Which one should I choose?
Sri Sri Ravi Shankar:
Yoga is everything together. Everything comes along with it.
Sudarshan Kriya will help. This suits today's young minds that are very busy with schedules all around, and can't work with too many conditions. In a short time, with deep experiences and no side effects.
Q: Gurudev, Who decides what is wrong and what is right?
Sri Sri Ravi Shankar:
What is right and what is wrong – your own consciousness will tell you. If you do something to get short term joy and long term misery, then that is wrong. If something is benefitting you in the long run, which may seem like it requires effort in the beginning, is right.
Q: Gurudev, Guruji what is guru tattva?


Sri Sri Ravi Shankar:
You asked this question because you want to know something. So this thirst to know is discipleship. The one who answers is the Guru. The source from which you get all the answers in life is the Guru Tattva. We need answers to feel complete. The knowledge makes you complete. The element that brings fullness in you is the Guru Tattva. In whose presence you don't feel any lack is Guru Tattva.

Q: Gurudev, I had an experience of being nobody and I was so happy, but then I started to take on some responsibility and started to feel like I was somebody again — different and special. The ego came up. How can I sustain being nobody at the same time as carry out responsibilities and playing the roles that I have to play?


Sri Sri Ravi Shankar:
Never mind. You do something and everyone adores you and says how good a human being you are.
See life from a bigger context. There are six and a half billion people on the planet and they all live for sometime and then everybody dies. People who praise and people who are also praised, both die. The whole universe comes to an end at some point, so renounce it all. So when you see your life from a bigger context, you will see you are everybody.
Q: Gurudev, What is difference between accepting people as they are and labeling them as they are?
Sri Sri Ravi Shankar:
You tell me the answer. If you really want an answer then sit and think about it. If in your mind this question has arisen, the answer will also come. You have some notion of acceptance in your mind and some other notion of labeling. That's why you are using two different words. You won't ask the difference between 'Kela' (banana in Hindi) and 'Banana'. When we ask the difference we already know what that difference is. You already know in your mind and a little introspection will give you the answer.
Q: Gurudev, Is one hour of daily sadhana sufficient for being established in the self (atmasakshatkar)?
Sri Sri Ravi Shankar:
Twenty four hours is not sufficient and even ten minutes or just two minutes of total samadhi (meditation) is enough. Sadhana is not samay saapeksh (bound to time). Make your entire life sadhana but don't turn this into an excuse for not doing sadhana. Also, don't think that the one hour of sadhana you have done is enough and for the rest of the time you may do as you please.
Q: Gurudev, What is the significance of asking if all the answerscome from within?
Sri Sri Ravi Shankar:
What if I don't answer? What is thepurpose of all answers? So that the mind says YES! The purpose of all questionsand all answers is to bring our mind to YES consciousness. That is meditation -to be in YES mind!
Q: Gurudev, Have you ever cursed anyone?
Sri Sri Ravi Shankar:
No, never happened a chance to do that. When you are full, the need to give curse never arises; it may happen in those who feel some lack.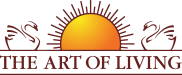 Founded in 1981 by Sri Sri Ravi Shankar,The Art of Living is an educational and humanitarian movement engaged in stress-management and service initiatives.
Read More