Question & Answers with Sri Sri Ravi Shankar

Q: Gurudev, What to do with negative thoughts?


Sri Sri Ravi Shankar:
It is ok to have negative thoughts at times. When you think a negative thought should never arise, then you encourage it. Accept even the most negative though that comes to you. Then you find it is not even there. It is just a dim energy.
Q: Gurudev, Dear Guruji, I feel that my coming to you now has become an ego issue. I come to you to see what you will say to me or to get attention from you and not because I feel deep love and gratitude. I would like to feel the true deep love and gratitude like I have been before. I want to serve out of love and not out of feeling that this is what I am expected to do.
Sri Sri Ravi Shankar:
You know, feelings are like clouds. They are like the waves on the surface of the ocean. They arise, they come and they go. They change. We shouldn't be bent too much by our feelings.Do you see what I am saying? Life moves with commitment, not just feelings. And love is a gift. You can't force anyone to feel love. Your wanting to feel love becomes a hindrance to feel love. Just relax. I have spoken about this in the Bhakti sutras. When you want love, that want itself is turning or delayinglove from manifesting.So all that you need to do is to let go and relax. You will see your nature is love. Love is always there. It will manifest when it should. Like the sun is always there but it comes at its own time. Yes?The sun doesn't come up all the time though it is there twenty four hours. But it is in different places. In the same way, all the beautiful feelings in yourlife are there with you all the time. You can't forcefully manifest them. They will manifest at different times in life. And that's why be more relaxed and take them as they come. Yes?
Q: Gurudev, You are the one who tries to form a bridge between the business world and political world. Is it bridgeable at all?
Sri Sri Ravi Shankar:
Basically we are all human beings. There is humanness in everybody and I feel the reformers, the rulers and the providers they all have to work together only then can society really come together.
Q: Gurudev, Guruji many people don't donate eyes thinking that they will be born blind in next life. Can you clarify?
Sri Sri Ravi Shankar:
It is not true that if you donate eyes in this life, you will be born blind in next life.
Q: Gurudev, There are so many definitions of Saints. In reality, whom do we call a saint or a Yogi?

Sri Sri Ravi Shankar:
Saint is one whose consciousness is complete. Manifestation follows their words. When such a person speaks, it is not only on the level of mind. Those words have depth. It is more beneficial to directly listen to master's words because He is speaking life's experiences only. Experience kindles experience.
We communicate more through our presence. If our presence doesn't have that love, then the words spoken carry no effect. And there is no need of words where presence carries love. Whatever we convey, it is through our whole existence. It is like when a child cries or laughs, it is coming from every cell of his/her body. This is indication of a yogi – He/She speaks through existence.
Truth can not be conveyed on the level of brain.

Q: Gurudev, Guruji, I am addicted to my mobile phone. My whole attention is centered on it even if doesn't ring. Please help me come out of this.

Sri Sri Ravi Shankar:
You are at the right place. Simply sit and relax keeping your mobile phone off. Researches done in this field are revealing that mobile phones are one of the most health hazardous things being used. You must have heard this, now there is a law in California which says health hazardous warning must be there on every mobile phone, like it is written on cigarettes, 'Health hazard' must be written on mobile phones.

Q: Gurudev, Thank you very much for all I have received from you till today. Even I know you are available on an emergency basis, twenty four hours. I am ashamed toask you a help. When someone of your family passed and relationship between you and this person was not clear, what can you do to help the process to help that person live peacefully and also to be peaceful yourself? Thank you Guruji.
Sri Sri Ravi Shankar:
Whenever you have to console a bereaved family, keep silent! Too many words does not make any sense there or have any meaning. Someone is in grief, you just be with them, with peace in your heart. They will absorb the peace, they will bask in your peace. They will absorb your peace - they will feel comfortable, happy.So when you are peaceful, you radiate it. They will absorb the peace and they would feel that inner calm, inner peace. So don't have to say, 'Oh poor thing!This thing has happened with you. Oh, it shouldn't have happened.' Talking all that type of pity or sympathy is not going to help either you or them. So justbe with them and say, 'God will give you strength'. Just give that to overcome this situation. This is the only thing that you should do. 'God will give youstrength' or the person who departed, take their name and say, 'That person will give you strength to go over this tough time, this difficult time.' These one or two words are good enough. Don't talk too much but just be with them. Few minutes- you being with them will help them. OK?
Q: Gurudev, How do I find strength in myself?
Sri Sri Ravi Shankar:
Be well rested and have your heart in the right place. You need both mental and physical rest. Thinking "Oh I have done so much!" will only bore you down. Just know that you will have enough time and energy to do what you were born to do in this life.
Q: Gurudev, I have seen people around you grow beyond their capacities. How do you motivate and inspire them?
Sri Sri Ravi Shankar:
The president of the World Bank asked me the same thing, "How come all your projects find success? We also start many projects, but all do not find success." It is not just the money, but your intention, attention and clarity that work. If we change the way we look at things, we find everything starts from within. If they are better inside, they get better outside. You become the agent for change.
Q: Gurudev, Please explain the meaning of seva (service).
Sri Sri Ravi Shankar:
One is our job, the other is seva. Both are different. You do your job for livelihood. Seva means seva- Doing like Him. God has given you everything, whether you remember him or not. He wants nothing in return. Do work and be in the way that will make the other person happy. The reward of seva comes only when when you want nothing in return.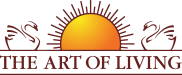 Founded in 1981 by Sri Sri Ravi Shankar,The Art of Living is an educational and humanitarian movement engaged in stress-management and service initiatives.
Read More