Question & Answers with Sri Sri Ravi Shankar

Q: Gurudev, If a person has two spiritual Gurus, whom should one follow?
Sri Sri Ravi Shankar:
If you are confused, why are you involving me in this confusion?! (Laughter). No matter what I say, your mind will still be in conflict. If I say follow the other Guru, you would say I have rejected you. If I say follow me, even then you would ask why have I asked you to leave the other. See one in all and all in one (applause). The Guru you had before has prepared you to be here. You decide. Are you satisfied being here? Are you centered? Are you established in your Self? Respect all paths but be committed to one path. That way you don't get confused. You have come to this path, stick to it. Be playful, be happy; see if your smile increases. If it does not, even I will tell you to go somewhere else. (applause).
Q: Gurudev, How to make the most important decisions in life, decisions that change our entire life?
Sri Sri Ravi Shankar:
So far what are all the decisions you have made. Are you happy with all these
decisions? (Response: Somewhat, and somewhat not). So life will continue like that, got it? Sometimes you made good decisions, and then you see the positive side. See everything has a positive side and everything has its lapses. So if you focus only on the lapses then every decision you make you will regret. But if you see the positive side then you will be happy and contented. And the more you are happy and contented more such things will happen in life. Got it?
Q: Gurudev, How can one conquer the ego?
Sri Sri Ravi Shankar:
The tendency of the ego is to say "I am not crazy, I am proper. Ego is the biggest problem. Yet it is very easy to overcome. It is a one-day job. Just act like a crazy person. Can you do that? For one day. Done! Make people believe you have gone completely crazy. It is the best antidote for ego." If you cannot do this, can you simply behave as a child for the rest of your life? No third option. Be a baby for the rest of your life or a crazy person. Be one who has attained the essence. Apart from this, keep the ego. Don't try to get rid of it. Do this slowly. Otherwise it is impossible.
When people laugh at you, can you relax? When people point at you, just relax. Smile and accept it. A mother has no ego. Whatever the children say, she accepts. If they kick , does the mother get perturbed? If you are unperturbed, you have conquered the ego. Ego is just a feeling of having a wall between you and others. There is no wall. You belong to me and I belong to you. You are accepted the way you are.
Naturalness is the antidote for you. Be spontaneous! Ego cannot stand spontaneity. Ego wants to present everything properly and prepare beforehand. Children are so spontaneous. They make mistakes. Never mind making mistakes. Just be like a child. Anybody can say anything about you.
Another block we often have is to feel something is not practical. No need to practice anything. Our own mind is saying it is not practical. We wanted 2,000 Hindustani classical musicians to perform together. Every teacher said it was impossible. A choir in India! It is not like here with so many people and that many styles. They have their own octaves. We had a program called Antarnaad. You should see it on Youtube. There were 2,750 singers. Only one day of practice! Make the impossible possible. We should remove the block in our own mind. Top musicians were spellbound at the Antarnaad event.
Q: Gurudev, There are so many practices, so many paths. Which one should I choose?
Sri Sri Ravi Shankar:
Yoga is everything together. Everything comes along with it.
Sudarshan Kriya will help. This suits today's young minds that are very busy with schedules all around, and can't work with too many conditions. In a short time, with deep experiences and no side effects.
Q: Gurudev, Why don't we remember our past lifetimes?
Sri Sri Ravi Shankar:
You will. Go deep in meditation. When you meditate, it is possible to see your past lifetimes. In a way, it is good that you do not remember until you are established in the knowledge. Otherwise you will be caught up in wanting to know how much you earned in your previous lives, where you saved it, who is enjoying it and how you can still get it! Knowledge of your past lifetimes will be revealed to you only when your consciousness is established in the present moment.
Q: Gurudev, Guruji, how can we get the best out of ourselves? How can we help to make the world better?
Sri Sri Ravi Shankar:
You can get the best out of yourself when you are aware of your lethargy, your laziness, and you get over it; then it will automatically happen. The only enemy to talent is
laziness, nothing else.
Two things: patience and getting out of laziness.
Q: Gurudev, My mind goes all over, even when I'm doing pooja.
Sri Sri Ravi Shankar:
It is Ok. See it is not the best when the mind goes in all directions. But you have got into the habit of sitting with yourself everyday. That ways sometime you will get into meditation and an samskara (impression) is formed.
There is benefit from mantra japa. Even if you are not benefitted 100 percent but just 20 percent, that is also Ok. To settle the mind, pranayama is necessary. Do swadhaya (study of the Self) and keep reminding yourself that everything is nashwar (transitory).
What seems like a problem today will be OK, it has to be OK.
We sit for pooja, along with flowers even leaves and thorns are offered. So it means that we accept life with balance, whether there are flowers, thorns, fruits, leaves and surrender everything.
Q: Gurudev, What karma gives you liberation from the cycle of birth and death?
Sri Sri Ravi Shankar:
You are at the right place.
Q: Gurudev, My husband is very arrogant. How do I reduce his arrogance?
Sri Sri Ravi Shankar:
Ok, make your husband's arrogance very strong. Say, 'There is nobody like you.'
Keep increasing his arrogance.
Wherever there is arrogance, it will be taught a lesson.
Q: Gurudev, Does God exist?
Sri Sri Ravi Shankar:
Only God exists. But to realize that takes energy, time and commitment.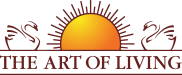 Founded in 1981 by Sri Sri Ravi Shankar,The Art of Living is an educational and humanitarian movement engaged in stress-management and service initiatives.
Read More