Question & Answers with Sri Sri Ravi Shankar

Q: Gurudev, Can you please tell us something about the next transformation in the world by 2012?
Sri Sri Ravi Shankar:
Good times. People will be more spiritual, more kind, less greedy, less hateful, and more understanding. All is good. All is real good.
Q: Gurudev, How do we know what to do in life?
Sri Sri Ravi Shankar:
First know what not to do. It's easier. Purpose of life is not to bemiserable and make others miserable. It is a gut feeling. Chose which gives youlong term happiness even if it gives short term misery. Choosing that whichgives you long term misery and short term joy is not wise.
Q: Gurudev, Guruji what is one such thing that is beyond Asakti (attachment) and Anasakti (detachment)?
Sri Sri Ravi Shankar:
Me! (Huge laughter)
Q: Gurudev, If a person has two spiritual Gurus, whom should one follow?
Sri Sri Ravi Shankar:
If you are confused, why are you involving me in this confusion?! (Laughter). No matter what I say, your mind will still be in conflict. If I say follow the other Guru, you would say I have rejected you. If I say follow me, even then you would ask why have I asked you to leave the other. See one in all and all in one (applause). The Guru you had before has prepared you to be here. You decide. Are you satisfied being here? Are you centered? Are you established in your Self? Respect all paths but be committed to one path. That way you don't get confused. You have come to this path, stick to it. Be playful, be happy; see if your smile increases. If it does not, even I will tell you to go somewhere else. (applause).
Q: Gurudev, I am coming from Polachi. I was having a spinal cord problem before taking this course. I took the course and now I can sit and do all my work without anybody's help.
Sri Sri Ravi Shankar:
See, what doctors can't do, pranayama does. It can do wondersQ: After solving one problem, one more comes up. What should I do?
Sri Sri Ravi Shankar: Have the faith that you will be helped and your problem will get solved.
Q: Gurudev, Guruji why is it that Sanskrit language that originated in India finds its second reference in Chicago? This is still the case.
Sri Sri Ravi Shankar:
You are asking my question! We are giving away our ownership over Sanskrit..
You know Dr. B.R. Ambedkar asked that Sanskrit be made our national language.It was seconded by Nasiruddhin Ahmed.
Malayalam contains 80 % of Sanskrit, Telugu 70%, Kannada 70%, Tamil 30% and Hindi 80%. Even many words in foreign languages are similar to Sanskrit: Swasa – Sister, Duhita – Daughter. However, we have lost the link somewhere and failed to establish the reputation of Sanskrit. You know what rain is called in Italian? Piyorja! The Sanskrit word is parjanya. They are so similar in many aspects.
Q: Gurudev, I am anxious about the results of my interview. What to do?
Sri Sri Ravi Shankar:
Do Ujjai breath, bastrika, meditation, sing and dance.
Q: Gurudev, What are effects of Past life karma on the present life? I feel I have done sins in past.

Sri Sri Ravi Shankar:
Don't waste your energy thinking too much on past life karmas. Use your energy to come out of the present problems.
'Om Namah Shivaye' mantra, pranayama, Satsang..– All these take care of your previous karmas. Surrender all your sins and move further in life.

Q: Gurudev, Which has a higher place – Devotion for the country or for the religion?
Sri Sri Ravi Shankar:
Why to prioritize out of these two? You tell me which has higher value out of seeing and listening. Both have their own place and both go simultaneously.
Q: Gurudev, Please elaborate on the concept of letting go. How does one let go physically, mentally and emotionally?
Sri Sri Ravi Shankar:
Just take a deep breath and hold. Don't let go. You can't but let go. It is inevitable at some point in time you will have to let go. How to let go? Hold your fist and keep it tight. How long can you do this?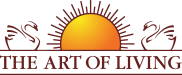 Founded in 1981 by Sri Sri Ravi Shankar,The Art of Living is an educational and humanitarian movement engaged in stress-management and service initiatives.
Read More