Question & Answers with Sri Sri Ravi Shankar

Q: Gurudev, How to come out of a judgmental mind?
Sri Sri Ravi Shankar:
If you know you are judgmental you are already out of it.
Q: Gurudev, We have heard you saying that plenty of blessings are being given here, but how much amount we can receive depends totally on the capacity of our container. So, is there a way to increase the capacity or size of our container to have more?
Sri Sri Ravi Shankar:
yoga increases your capacity, your skills. Yoga, Pranayama, Dhyan- all the things which you are doing here increase your capacity and your qualities. Service does that too.
Q: Gurudev, If God is within us, why does God not guide us all towards good deeds alone? Why is there somuch crime and violence in the world?

Sri Sri Ravi Shankar:
Imagine a movie with no villain. Imagine there is only a hero who is eating, sleeping and generally just hanging around with nothing to do! Would you watch such a movie? Oppositevalues are complementary. Thorns and petals both exist. You have the choice to pick up eitherthe thorns or the petals. God is there within. He is sometimes sleeping and hiding, sometimesawake and dancing. After some sadhana, God is awake. Then He is rocking. Awaken the Godand Goddess in you! A stone does not feel, but a living being does. Waking the godliness in youis essential. This is why there are particular hymns sung in India in the morning, 'Wake up andbless us, O Lord'! On one level, it sounds ridiculous. It is the parents' job to wake up children, butin this hymn, human beings are singing to the Gods to wake up and bless the creation. This is aparadox, and in this paradox, is hidden a deep secret of existence.

Q: Gurudev, What is samadhi?
Sri Sri Ravi Shankar:
When the mind is at ease and centered, that is a glimpse into samadhi. The experience you have when you lie down after the Sudarshan Kriya. When you feel – I don't know where I am but that I am.
Q: Gurudev, If a person has two spiritual Gurus, whom should one follow?
Sri Sri Ravi Shankar:
If you are confused, why are you involving me in this confusion?! (Laughter). No matter what I say, your mind will still be in conflict. If I say follow the other Guru, you would say I have rejected you. If I say follow me, even then you would ask why have I asked you to leave the other. See one in all and all in one (applause). The Guru you had before has prepared you to be here. You decide. Are you satisfied being here? Are you centered? Are you established in your Self? Respect all paths but be committed to one path. That way you don't get confused. You have come to this path, stick to it. Be playful, be happy; see if your smile increases. If it does not, even I will tell you to go somewhere else. (applause).
Q: Gurudev, What do you consider success?
Sri Sri Ravi Shankar:
A smile that nobody will take away from you - that is the greatest achievement.
Q: Gurudev, How can I be contented? Lots of needs keep bombarding the mind.
Sri Sri Ravi Shankar:
Tell me one thing. Are you contented today?
(The gentleman said 'No')
What do you need?
(The gentleman continues 'I need to have something after having what, all my desires are pacified)
It's good if you are aware that lots of desires are disturbing you. This desire - I want to get rid of all desires, is called mumuksha.


Q: Gurudev, How do we get over the fear of losing?
Sri Sri Ravi Shankar:
Fear, hatred and love are three sides of the same cycle. When one is dominant, the other two are absent. Meditation is the only way to transform fear and hatred into love.
Q: Gurudev, What does 'I am nothing' mean ? Are we negating our own existence?
Sri Sri Ravi Shankar:
You know everything else can be explained but emptiness cannot be explained. You are asking me to explain the emptiness. A substance can be explained but lack of all substance cannot be explained. Similarly, 'I am nobody' is an experience. It is a shift from being somebody, from being a limited identity to unlimited identity.
Q: Gurudev, I feel very secure in the ashram and fear going back to the outside world. What can I do?
Sri Sri Ravi Shankar:
Ok, have fear. Awaken enthusiasm, whatever happens let it happen. At least believe that you are not alone, the Divine is there. Observe where the fear sensation is – heart, throat and other parts of the body. Do pranyama, bhastrika and Sudarshan Kriya. Keep yourself busy, do not give yourself a lot of time to think, then where is the time to fear?
* kalyuga – Iron Age, Age of Darkness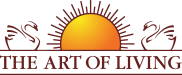 Founded in 1981 by Sri Sri Ravi Shankar,The Art of Living is an educational and humanitarian movement engaged in stress-management and service initiatives.
Read More