Question & Answers with Sri Sri Ravi Shankar

Q: Gurudev, Craving and ego are troubling me. What to do?
Sri Sri Ravi Shankar:
Be natural. Take things as they come.
Q: Gurudev, Does time and mind have any relation?
Sri Sri Ravi Shankar:
You should read the book 'Celebrating Silence' or 'An intimate note to the sincere seeker'.
Q: Gurudev, If love is all around us, why do we seek far and wide to find it?

Sri Sri Ravi Shankar:
Because you don't know it. Once you know it, you won't search.

Q: Gurudev, Guruji, how do I know if I am growing on Spiritual path?
Sri Sri Ravi Shankar:
Look, there are no criteria. See from the past if you are more calm, or drop all spiritual practices for a month and see how do you feel, whether it makes a difference, or ask people around you if you are behaving better than before. Now none of these are benchmarks. And after listening to all these opinions, throw them all into the basket. If you learn to relax well, if you are able to see everything as a dream – nature of the universe, you are progressing. There is no other way. You are on a conveyor belt, you can't be stuck, you have to move, or you will be pushed. When you are on conveyor belt, you will be moving.
Q: Gurudev, Do you believe that this is the time and age for large-scale global transformation of human evolution?
Sri Sri Ravi Shankar:
Thirty years ago, there was so much prejudice towards spirituality and wisdom. People would want to keep it at an arm's length and blindly believe that it is not for them. Today there is acceptance. People are willing to try and see that something benefits them and are less prejudiced. With this, more human values will surface. And don't worry about 2012. The world will not collapse. I assure you that.
Q: Gurudev, What is the purpose of dreams?
Sri Sri Ravi Shankar:
There are five kinds of dreams:
1. Dreams in which old experiences repeat in the consciousness.
2. The ones that display your desires and fears.
3. Intuitive dreams - that foretell what is going to happen.
4. The dreams which are not related to you but to the place where you are sleeping. For instance, if you are sleeping in China you may see dreams in Chinese.
5. This type is the mixture of all the other types.
99 percent of the dreams that you have belong to the fifth category, so it is wise not to give much importance to them. The wise believe this world itself to be a dream. Whatever we experience through the sense organs is the impression of the world on us. What you did a few hours ago is just like a dream in the present moment. It's a memory. There is not much difference between a memory and a dream.
*Traditional colorful floor decorations
Q: Gurudev, How do thoughts arise in the mind?
Sri Sri Ravi Shankar:
I leave that on you to wonder about. This is a secret, a top secret! Top secret cannot be said on the mike.
Q: Gurudev, You told that God can be experienced in a state of effortlessness. What does it mean to be effortless?

Sri Sri Ravi Shankar:
Being effortless does not mean stop eating, drinking or doing other work. This has a deeper meaning. Keep on doing all your work, and while doing your work, know inside you that you are doing nothing. In the beginning, you sit for some time and experience that you are doing nothing. Then you will start experiencing that even you are doing but there is a field in you which is not doing anything.
Ancient sages had beautifully explained this. There are two birds sitting on the same tree. One is eating and the other is only witnessing this. In the above context, it is the free bird which is being discussed, the bird which is effortlessly witnessing. Pay attention to that also. The two birds are friends. They live together. One is always witnessing and other is involved in all the work.
Effortlessness does not mean sitting idle. Lord Sri Krishna said in Geeta that you cannot be without doing any action even for a second. Keep on doing your karma and at the same time be the witness of your karma. This is very deep knowledge.
After the session a book was released –Understanding Shiva. While launching the book Sri Sri Ravi Shankar told thatthe book also included a scientific perspective of all pervading Shiva tattva.


Q: Gurudev, Why is it that doing something wrong is easier than doing the right thing?
Sri Sri Ravi Shankar:
Is it? I thought to do a wrong deed, requires a lot of effort. See if you like something very much then all your energies go into that direction. Is it easy to slap someone? I don't think so, I find it very difficult. If you think it is very easy to call someone names then it would be because of an old habit. A lot of people cannot use bad words, even if they wish to.
We have to bring a transformation within ourselves and bring in human values in our life. Make an attempt for it. Even if you try and do a good action, its result will be good. Even if someone does a wrong action very easily, its result would be very bad.
Q: Gurudev, Dear Sri Sri, please guide me on how I can serve humanity. Lots and lots of love.
Sri Sri Ravi Shankar:
Yes, come join the band wagon. Come join and think about what we can all do together. See alone when we do it, individually, it is a small effort. There is not much result. In fact, we burn out, we get tired. But as a group we can do a lot. Ok?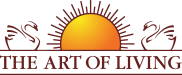 Founded in 1981 by Sri Sri Ravi Shankar,The Art of Living is an educational and humanitarian movement engaged in stress-management and service initiatives.
Read More