Question & Answers with Sri Sri Ravi Shankar

Q: Where do you get courage from?

Sri Sri Ravi Shankar:
From Advaita - Knowing that there is something in you that is not changing. A little experience of silence, calmness and meditation will give you enormous courage from within.
Q: What does it mean to be superstitious? I am confused whether I behave according to superstitions sometimes. I am not superstitious but I believe in it.
Sri Sri Ravi Shankar:
You are saying that you are not superstitious but believe in it. Ok, then tell me first what is superstition?
See, there may be many beliefs. For what one considers superstition, it may not be for another. But from a broader perspective, things which are illogical, which does not support human evolution and which harm intellectual, mental, spiritual, and physical well being is superstition, and that need to be eradicated. Superstition exists in many parts of the world.
Spirituality and superstition are opposites. They cannot go together. So, we need to bring more and more spirituality, more values in the society, and see that superstition diminishes.
Q: How to take decisions in life?
Sri Sri Ravi Shankar:
With a calm mind. When you take decisions in restlessness, you get into trouble.

Q: Of the five elements, Earth, Water, Fire, Air and Space, Earth and Water are said to be female; Fire and air are male, then what is space? Why is this differentiation?
Sri Sri Ravi Shankar:
There are various concepts and understanding of this. So, people start attributing male and female genders to everything. But that is how human mind can comprehend things; it cannot comprehend anything which is beyond.
Q: What is the significance of the story of poison getting stuck in Shivji's throat?
Sri Sri Ravi Shankar:
It has a deep meaning. Poison spreads with speech. Mind gets agitated with speech. All riots happen because of harsh words and lack of right knowledge. Shivji is also called neelkanth – which signifies when Mahadev drinks poison, it doesn't reach his whole body. When there is fight between right and wrong thoughts, a poison is generated. Shiva tattva has power to hold on to that poison. Even if you have to criticize, do it from your lips and not your heart. When you do it from your heart, it harms you. When it is from the level of lips, somebody is benefitted in the society. You cannot have flowery speech all the time. That would be cheating yourself and others also. You have to show mirror to people. But that should not be from the level of the heart. Even if Shiva gets angry, that is not from inside. Same peace is there inside. It is like kids getting angry with their mother. In no time they retain their smile. This is innocence. It is the grownups who hold on to fights for long time.
Q: What about the dark hidden forces which corrupt politics, military, intelligence agencies etc.?
Sri Sri Ravi Shankar:
You know, I always believe that truth always triumphs. Truth will always win. I would say that you also have this confidence.
Q: Survivors of war and disaster sometimes feel guilty about being alive when so many around them have died. What message do you have for these people?


Sri Sri Ravi Shankar:
Life is eternal. That's it.
Q: What is your definition of love?
Sri Sri Ravi Shankar:
Love is that which cannot be defined. It can only be felt. It is that which we cannot understand.
Q: Sometimes I sleep while sitting for meditation. Is it ok?
Sri Sri Ravi Shankar:
You sleep in the middle of the meditation! It is ok. When your sleep is completed, you can meditate.
Q: I often talk to you in heart. How do I satisfy myself that my words have reached you?
Sri Sri Ravi Shankar:
My job is not to satisfy you but to make you restless to get the Highest knowledge. In that restlessness you achieve awareness.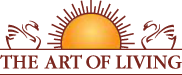 Founded in 1981 by Sri Sri Ravi Shankar,The Art of Living is an educational and humanitarian movement engaged in stress-management and service initiatives.
Read More