Question & Answers with Sri Sri Ravi Shankar

Q: Gurudev, Guruji, I read somewhere that chanting OM is not good for women. Please elaborate.
Sri Sri Ravi Shankar:
Maybe some man has written that book! (laughter) Perhaps they are afraid that women may become more powerful, intelligent, independent and stronger than men. All this is not true. In the Middle Ages, some people spread this message with the selfish motive of keeping the knowledge only to themselves.
Q: Gurudev, What karma gives you liberation from the cycle of birth and death?
Sri Sri Ravi Shankar:
You are at the right place.
Q: Gurudev, Can intuition be wrong?


Sri Sri Ravi Shankar:
Then that is not intuition.
Q: Gurudev, What is the importance of horoscope matching when it comes to marriage?
Sri Sri Ravi Shankar:
Astrology is a science but all astrologers are not scientists. (laughter) First of all, you don't know whether the time of your birth and all other factors are right or not. Sometimes, we don't keep records and there are variousfactors. There is probability in all those factors. So, if you find someone who is good, the astrologer says, 'Good, it does have a value but it is always with a pinch of salt.'It is said that there was a great astrologer of this country and he made all thehoroscopes of his daughter. But his daughter's marriage didn't work. It was quoted as a probability factor.In all scientific experiments, there is always a probability factor – may be, may not be.So we must take it with that probability and not as definite.
Q: Gurudev, 'Art of Living' is doing a great job. But with 30 percent of population in depression, and this figure being expected to reach 50 percent in the coming decade, do you still see a hope for mankind? Do we still have hope?

Sri Sri Ravi Shankar:
Yes, and we all have to work for it. You know, when we started in India, it was a small program. We had no resources and manpower. But we had a vision – We have to reach many people in the world. So, in these 30 years we have reached millions of people. So, it is possible.

You know, the cell phone has reached the whole world. If cell phone could reach the whole world, do you think wisdom and compassion cannot reach the whole world? We must make an effort. Ok?

Q: Gurudev, You have talked about hidden meanings behind symbols in Hinduism which seems to be very illogical. Could you please talk about many crores of devtas?
Sri Sri Ravi Shankar:
Crores, koti means types. 33 crores means 33 types of Divine impulses. In our body also there are 33 types of divine impulses. There are 33 types of genes in our body. A particular type makes the eye, a particular type makes the nose, like that a particular type makes eardrums, hair, nails. All these are made up from a particular type of gene which are of 33 different types.
Like this, there are 33 rays of Divinity. There is one light, one God, one Parmatma yet there are 33 aspects. Devas are the 33 different aspects of Divinity. Here crores is not referred to as a number. The Divine has no form but ancient saints have said you can adore Him in any form or name. All the thousand names belong to God only. This is very, very deep science or deep knowledge. It's amazing. When you go deeper into this, then you feel the 'wow'. People - who have written this, have discovered this - have simply stupendous knowledge. The Universe is not so simple. It's very complex. Modern physics also say that the deeper and deeper you go, there are so many different type of particles. So the universe is diverse. The Divinity which manages, rules, and has made this diverse universe is devta.The English name, David, is a Sanskrit word. Dev + vid, dev means Divinity, vid means to know. David means one who knows Divinity. Divinity is not somewhere up in the heaven. It is present in the world, universe, everywhere. And it has to be realized when the mind is calm, serene and settled in our heart and when the emotion and intellect merge into a serene blend in silence then you are able to perceive the subtle reality of Universe and that is devta.
Q: Gurudev, Guruji, please talk on the story of Ajmila in Srimad Bhagwad.
Sri Sri Ravi Shankar:
In Srimad Bhagwad there is a story of king Ajamila. He had many vices. When he was on his death bed he called his son's name – Narayan. And when he uttered God's name, he got liberated. This story is there to build trust in people that however their past has been, there is no need to waste time in tension and guilt about the past. Even at the last moment if you chant Narayana's (Lord's) name, you have a chance to be liberated. This does not at all mean that you do whatever you want in life and at the last moment chant Narayana's name. It doesn't give you the license to indulge in vices. It only indicates that you don't have to be guilty of your past and go on repenting the past. The past is gone. At least now be devoted and connected to the Divine.
Q: Gurudev, What is true love?
Sri Sri Ravi Shankar:
If you have a doubt, it is true love. We always doubt the positives. We doubt our capabilities. We doubt our happiness but are 100 percent sure of our depression. We doubt a person's honesty and doubt the existence of higher power. So what is true love? Time will tell you.
Love is what we are made up of. All negative emotions are off springs of true love.
Love without wisdom makes life miserable…love with wisdom is bliss.
Q: Gurudev, What do you mean by atheist?
Sri Sri Ravi Shankar:
Atheist? You know it is very difficult to be an atheist. Because an atheist says 'I don't believe in anything'. If he really says I don't believe in anything then he should not even believe in the words that he is saying. I say I should not believe in anything except myself. That's what he should say. And ask him do you really believe in everything that you say? Then that means you are stagnant. You are not progressing. Because when you progress in your life everything changes. So it is extremely difficult to be an atheist. If you have to be an
atheist you have to say I don't believe in anything that means even that word that you say you don't believe, you don't believe in it also. Got it?
Q: Gurudev, How can I most effectively support the cause of the world peace?


Sri Sri Ravi Shankar:
I will leave that question with you because there are so many ideas. Be of service. These questions do not have one single answer.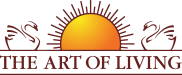 Founded in 1981 by Sri Sri Ravi Shankar,The Art of Living is an educational and humanitarian movement engaged in stress-management and service initiatives.
Read More