Question & Answers with Sri Sri Ravi Shankar

Q: Gurudev, Is there a way to understand the course of karma?
Sri Sri Ravi Shankar:
Gehana Karmonogati - who knows the way of karma? It is so deep. Even great sages get confused over what is karma and what is to be done. It is never ending. Every action will have some flaw.
There is no one standard to measure it. Jains had put Krishna in hell because of his sins of creating many wars. Then they saw his good deeds and put him in heaven. Do karma according to the intellect. An action which inspires you with enthusiasm and energy, even if it has flaws is worth doing. Leaving your karma by sitting idle is inappropriate.
There is some flaw in the best of the action. For instance, a teacher earns his salary by teaching students. If children were born wise there would be no need for teachers.
A doctor's job depends on someone's illness. Lawyers would not be required if there were no quarrels. Their sukh (joy) depends on others' fights. In every interaction, you will see some flaw. If you focus on the flaws everywhere, the world will not work.
Be gungrahi (imbibing virtues) - put your attention wherever there are positive qualities. The wise give inspiration to everyone for their work. There is no big or small work - every work is respectable.
Q: Gurudev, What is the meaning of the symbols on the pillars (in the Vishalakshi Mantap – the Meditation Hall in the Ashram)?
Sri Sri Ravi Shankar:
All these symbols are from various faiths in the world. You see Om, the universal primordial sound. Underneath you see the DharmaChakra of Buddhism. Then you see on the second pillar, Cross, this is the sign of Christianity and then the Feather, which is the sigh on Native American religion. Then you see the Hand, which is the sign of Jainism. Underneath is the Turban and the Sword, which is the sign of Sikhism. Then you have the Conch and the Disk, which is a sign of Vaishnavism- a branch of Hinduism. Underneath you have, Shintoism and Taoism. Then you have Islam. Below Islam, Taoism, Ying and Yang. Then you have signs of other native religions. In the end you have Judaism and underneath is Zoroastrian fire symbol. So, almost all the faiths in the world are represented here.
Q: Gurudev, My sister called me in the morning. She was crying because her son is suffering from an incurable disease, and his condition was not well. I could not be physically present there. I closed my eyes and prayed to you. At 4 o'clock in the evening, she called me saying that her son is doing well. All I want to know is how it is possible that I am sitting here and praying from here makes things better there?

Sri Sri Ravi Shankar:
This is a trade secret. It is easy to be popular but it is difficult to be a Guru. A Guru has responsibility along with.


Q: Gurudev, Is one hour of daily sadhana sufficient for being established in the self (atmasakshatkar)?
Sri Sri Ravi Shankar:
Twenty four hours is not sufficient and even ten minutes or just two minutes of total samadhi (meditation) is enough. Sadhana is not samay saapeksh (bound to time). Make your entire life sadhana but don't turn this into an excuse for not doing sadhana. Also, don't think that the one hour of sadhana you have done is enough and for the rest of the time you may do as you please.
Q: Gurudev, What is the difference between Shiva and Krishna?
Sri Sri Ravi Shankar:
There is no difference between Shiva and Krishna. The soul of Krishna is Shiva. When Shiva manifests in the world and expresses all the kalas (units of consciousness) is Krishna.
The Brahmakumaris say that Shiv baba gave the Bhagwad Geeta. This Song (Geeta) can arise only from the space of Shiva through the body of Krishna.
*a small conical musical instrument
**a demon representing ignorance
Q: Gurudev, Can you please tell us something about the next transformation in the world by 2012?
Sri Sri Ravi Shankar:
Good times. People will be more spiritual, more kind, less greedy, less hateful, and more understanding. All is good. All is real good.
Q: Gurudev, What is your biggest wish? What can I do to get closer to your heart?

Sri Sri Ravi Shankar:
You are already close to my heart. I want more children to be educated in spirituality, to create a violence- free and stress- free society. We need to globalize wisdom. There are one thousand of us here. If we each sponsor a child, we would do a great service. Do service. Donate 2% of your income. It would be of immense benefit to you and them.


Q: Gurudev, Dear Guruji, many of us who are on the spiritual path desire self-realization not only for ourselves but for society at large. Has such an enlightened human society ever existed on this planet, and is it utopian for one to desire this for our society in the future?
Sri Sri Ravi Shankar:
You should desire for utopia, you should have dream. You know, what you think impossible, you should really dream for it and make it possible. We did one village like that in India. There was a notorious village, notorious in the sense that nobody would go into the village after five or six o' clock, because of robbers, thieves, full of crime and a lot of problems. This village was adopted by one of our teachers, and you know, what he turned that whole place into in three months? Unbelievable! He took this village and made everyone do the course. Now, everybody in the village, Young and old, sing and dance in the satsang everyday. They have made a rule that anybody, who smokes or drinks or any substance abuse, will be fined. So, the village is free of smoking and drinking, the entire village has become organic, and they have a shop without a shopkeeper. I have also brought a CD of this village.

In my last trip, Swami Pragyapalji told me that we have such a village, and that there is a shop without any shopkeeper but the shop runs very well. People take the needed stuff and put the money in the basket there. People were all astonished that the village has been running like this since the last two and half years. A shop without a shopkeeper and nobody steals. And they have removed locks from all the doors. No door has any locks, no house has any locks and it has become the most self-sufficient village. It has pure drinking water and the entire village is painted in pink color. Everybody chose to have pink color on their walls as a symbol of unity. Both the government of India and government of Maharashtra gave this village cash awards calling it the most ideal village. So, one teacher, if you could imagine something that is thought of as utopia, made it possible.

After seeing this, 180 villages are on the way to become ideal villages.

In New Delhi, few volunteers thought to clean the Delhi for Asian games are coming. In India, there is lot of garbage here and there, and people don't keep streets clean. They would take things out and dump those in streets. So, they started with this idea to clean Delhi.

They thought to forget about government for everyone keep blaming the government. You cannot imagine what a group of few 'Art of Living' volunteers have achieved? They inspired one million people to come up and take the brooms, take the plastic bags and segregate the garbage, and clean the whole city. They could gather one million volunteers in a city of 15 million people, and they are doing this from 12th of September. The Delhi government, who was never cooperative with the 'Art of Living', in the sense they never came to any of our functions, suddenly woke up and decided to help them. Now, the government is announcing the great job done by the 'Art of Living' volunteers.

So, you should think, plan and dream what you really want. It may not happen immediately but you can achieve that.
Q: Gurudev, Sometimes we long for things and after getting them, we are still not content. Why?


Sri Sri Ravi Shankar:
That is your good luck. If you become contented by getting things, you are not that lucky. I wish you get discontented with everything around so you realize you are contentment. Nothing can give you contentment because you are contentment. You have to sit quietly for a few minutes of an inward journey to bring you contentment; nothing else whatsoever can bring you that.
Q: Gurudev, What is crisis and how to handle anxiety?
Sri Sri Ravi Shankar:
Crisis is the mother of many inventions. A crisis makes us very creative. However the crisis should not go on too long, that is not good.
What can help anxiety is breathing techniques like pranayama which channelizes the life force energy in our body. We all float in a sea of prana (life-force energy). There is prana even in a stone.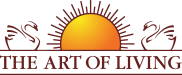 Founded in 1981 by Sri Sri Ravi Shankar,The Art of Living is an educational and humanitarian movement engaged in stress-management and service initiatives.
Read More