Question & Answers with Sri Sri Ravi Shankar

Q: Gurudev, Each one of us has a message for the world, but maya (delusion) covers it. How to uncover that message?
Sri Sri Ravi Shankar:
When we are peaceful, free of attachment, our message to the world will come on its own.
Q: Gurudev,
Under your guidance, there is no discrimination on the basis of religion, then why are there different religious symbols displayed here (in The Vishalakshi Mantap, meditation hall)?
Sri Sri Ravi Shankar:
They are on the pillars and not in the mind and heart. If someone says he is a Hindu, Jain etc, we would tell them to hang it on the pillar and be free from within!
Q: Gurudev, Please elaborate on the concept of letting go. How does one let go physically, mentally and emotionally?
Sri Sri Ravi Shankar:
Just take a deep breath and hold. Don't let go. You can't but let go. It is inevitable at some point in time you will have to let go. How to let go? Hold your fist and keep it tight. How long can you do this?
Q: Gurudev, Guruji, you love each one of us so much. I feel my love for you is much less as compared to your love for me. How can I increase my love for you?
Sri Sri Ravi Shankar:
No way, you can't increase your love. It is already there. You simply have to relax and realize it is there. Never question or doubt your love. You think, 'Oh, others are having tears in their eyes and I am not having any'. Never mind, never look from at things that angle. Every child from the mother's womb is complete. It is not that the first child is more complete than second and third is further less. Every mother knows that every child is full, complete. Same way your love is total, complete, at its height. Never doubt that and never compare it with others.If you feel your expression of love is less, it is because of your selfishness. All that you can do is be generous, be less selfish and you can't do it overnight. Day by day, slowly be more generous, be more centered, and be more dispassionate. Then the love which is inside you, will start expressing itself.Even in the expression of love it should not be too much or too less. It should be the middle path. The problem in the world is that in the West, they express love too much. Husband and wife keeps on saying 'honey' and then they become diabetic (laughter), can't touch honey any more. (laughter) It is just the opposite in the East, they never express love at all. Both ways are extreme. There should be a middle path. It's like you want a seed to sprout, it neither sprouts when buried deep down in the soil nor when it is put on the top. It needs a little bit of soil and put in it and that's it. Take the best of the orient and the best of the occidental. That is the middle path.
Q: Gurudev, Could you please tell us something about prakriti and parmatma?
Sri Sri Ravi Shankar:
There are two things – prakriti and parmatma. Prakriti moves according to rules. Parmatma is free. Human being is a combination of both. With the increase in the parmatma element, man experiences more freedom. An increased level of prakriti means one is no different from animals, birds or trees.
In the human being there is a glimpse of the parmatma and there is prakriti also- it's a precious combination.
Q: Gurudev, Guruji, what is Time and can we modify time and its speed?
Sri Sri Ravi Shankar:
Time is distance between two events or happenings. It appears longer in sad moods and shorter in happy moods, and its speed can be modified by silence.
Q: Gurudev, I feel very uncomfortable in the presence of some people even if they are total strangers. Why does this happen?
Sri Sri Ravi Shankar:
Take it as an exercise. Meditate. Go deep into yourself. You will find this discomfort goes away. You give it too much importance. If you realize you are bigger, the vibrations will change. When you change they will also change.
Q: Gurudev, In Celebrating Silence you say that ambition indicates lack of self-confidence. Is this so?
Sri Sri Ravi Shankar:
If I say, "I have successfully lifted this bottle of water", this indicates I was not confident that I could have done it. Being ambitious is when you are not confident of achieving something. 'I ran ten miles. I did not think I would do it' - Claiming success indicates your limitation. You are unaware of your huge potential. But the attitude should be ' I ran ten miles? I don't realize that I can also do 100 miles'!
Q: Gurudev, Guruji, there is lot of confusion in family because one member follows Art of living and another member follows some other spiritual path, pranic healing.
Sri Sri Ravi Shankar:
Both just stick to your own path.
Q: Gurudev, I feel very secure in the ashram and fear going back to the outside world. What can I do?
Sri Sri Ravi Shankar:
Ok, have fear. Awaken enthusiasm, whatever happens let it happen. At least believe that you are not alone, the Divine is there. Observe where the fear sensation is – heart, throat and other parts of the body. Do pranyama, bhastrika and Sudarshan Kriya. Keep yourself busy, do not give yourself a lot of time to think, then where is the time to fear?
* kalyuga – Iron Age, Age of Darkness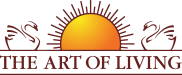 Founded in 1981 by Sri Sri Ravi Shankar,The Art of Living is an educational and humanitarian movement engaged in stress-management and service initiatives.
Read More