Question & Answers with Sri Sri Ravi Shankar

Q: Gurudev, Guruji, man is always fighting. Will there ever be a world free of violence and which is all peace?
Sri Sri Ravi Shankar:
Yes, that is what we should dream and work for. The whole world is one family.
Q: Gurudev, How can we continue to love people who commit fraud or other such crimes?
Sri Sri Ravi Shankar:
They are not incorrigible.There is a victim crying for help inside every culprit. You will observe in society, those who are greedy usually have no friends. The greed disappears the minute they make friends. Similarly, corruption cannot happen within the boundaries of friendliness. People who are corrupt or commit fraud are victims themselves. They are not spiritually educated. You know, we know one thing from all our programs, especially the 'Prison SMART program', that there is a good soul crying for help and starved for love even within a criminal. Yes, we can help them.
Q: Gurudev, What is thought, Why it comes and from where it comes?
Sri Sri Ravi Shankar:
Is this a thought? It came in you? Why did it come? Now find out. As soon as you realize this, the question is, itself, a thought and it has come in you, you have answers for the first two questions. And why does it come? Because of a lack of any other questions.Now I want you find its source. When you start finding source of thought, you have started on a journey for which you are here. Our journey is to find the source, from where this thought has arisen. I want all of you to be scientists. Scientist goes on experimenting, asking questions. It's a very goodopportunity to find out where it comes from? What is its origin? Since it comes in you, you find its answer. If it doesn't come in you and somebody else, then I'llanswer.
Q: Gurudev, Should we follow the character and play of Gods?
Sri Sri Ravi Shankar:
There is a story in each character. One should follow the character of God like Sri Rama's character but the play of Lord Krishna is not
to be followed. Play of God is not comprehensible.
Do as what Sri Rama did but do as what Sri Krishna said and not did. If you follow Lord Krishna's play and do all that He did, you will end up in a jail, then you reach your birth place. (Audience laughs) When you listen to Lord's play, your heart becomes joyful. Everything is Lord's play only.
Q: Gurudev, Dearest Guruji, I had a question in my mind when we were speaking about energy centers today, in the knowledge tape. I feel constant energy in my secondchakra but I don't have any desires to do sex because I know it leaves me tired and dull. On the other hand my creative energy has not manifested itself. I would like to use my creativity and write, sing, dance, etc. How will it come to this point? Please show me a way. Give me ability to make my creative energy alive.
Sri Sri Ravi Shankar:
Ya! Continue your meditation. If a particular chakra has been used a lot then automatically energy goes there quite a bit. But it will keep moving,definitely moving. You focus more on navel center and then dance, sing. Singing and dancing, that is all part of our practices. You know, it uplifts you in more than one way.
Q: Gurudev, How can one conquer the ego?
Sri Sri Ravi Shankar:
The tendency of the ego is to say "I am not crazy, I am proper. Ego is the biggest problem. Yet it is very easy to overcome. It is a one-day job. Just act like a crazy person. Can you do that? For one day. Done! Make people believe you have gone completely crazy. It is the best antidote for ego." If you cannot do this, can you simply behave as a child for the rest of your life? No third option. Be a baby for the rest of your life or a crazy person. Be one who has attained the essence. Apart from this, keep the ego. Don't try to get rid of it. Do this slowly. Otherwise it is impossible.
When people laugh at you, can you relax? When people point at you, just relax. Smile and accept it. A mother has no ego. Whatever the children say, she accepts. If they kick , does the mother get perturbed? If you are unperturbed, you have conquered the ego. Ego is just a feeling of having a wall between you and others. There is no wall. You belong to me and I belong to you. You are accepted the way you are.
Naturalness is the antidote for you. Be spontaneous! Ego cannot stand spontaneity. Ego wants to present everything properly and prepare beforehand. Children are so spontaneous. They make mistakes. Never mind making mistakes. Just be like a child. Anybody can say anything about you.
Another block we often have is to feel something is not practical. No need to practice anything. Our own mind is saying it is not practical. We wanted 2,000 Hindustani classical musicians to perform together. Every teacher said it was impossible. A choir in India! It is not like here with so many people and that many styles. They have their own octaves. We had a program called Antarnaad. You should see it on Youtube. There were 2,750 singers. Only one day of practice! Make the impossible possible. We should remove the block in our own mind. Top musicians were spellbound at the Antarnaad event.
Q: Gurudev, Dear Guruji, recently scientists have said that they can create life in a laboratory by manipulating and intervening the genes. Isn't this contradictory to spirituality and religion, with man creating life and giving consciousness to innate objects?
Sri Sri Ravi Shankar:
: Not at all. You have heard this saying – 'God made man in his own image'. Right? So, whatever God can do, man can do too. God made man, created him as his own image. It is written in the Bible. Right? There is a story about it in Mahabharata epic also, written some 5000 years ago.
So, test tube babies are not new phenomena. Queen Gandhari , from one embryo, had put pieces in hundred pots and created hundred types of kids. But what quality the kids came out with, that you all know! So, there is a big question about the risk, but this is a fact that Gandhari created 100 children in hundred pots. So, test tube babies or creating life in lab is not a new phenomenon. It was done some 5000 years ago also!
Q: Gurudev, If happiness is already inside us, what is the role of a spiritual teacher or teaching?


Sri Sri Ravi Shankar:
You want an answer for this question? You have answered your own question my dear! You want an answer. You want someone who answers. Anyone who answers this question for you becomes a teacher! If the question is not there, then no need of an answer. The moment you have come with a question, you are looking for an answer and anyone who gives the answer becomes a teacher. Right? Oh and you can say, "I have a question but I am not a student," and a teacher can say, "I will give you an answer but I am not a teacher." Then I would say both are not sincere. It's like a doctor saying, "I give you medicine but I'm not a doctor, don't call me a doctor." It is like a patient saying, "I want medicine but I'm not a patient."
Q: Gurudev, When you say lets stop the world for an hour, for 10 days. What do you mean by that?
Sri Sri Ravi Shankar:
Stopping our mind, stopping the racing mind. It is always thinking about the past or it is always thinking about the future. We are angry about the past or anxious about the future. To take a fresh look at the world, the situation, you need to wake up and see, - as Mahatma Gandhi used to say never look back. He would say lets see what we should do now and for the future. That gives a lot of energy, encouragement, enthusiasm, and lifts you up from the ashes even though there are ashes around you.
Q: Gurudev, Guruji, I did the course a few days ago, my experience was awesome. I am from
Dhanbad in Jharkhand and I want a lot of people from Dhanbad to experience this. Also I want you to come there to address the youth and guide them on to the right path.
Sri Sri Ravi Shankar:
Yes sure. You work there.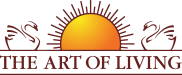 Founded in 1981 by Sri Sri Ravi Shankar,The Art of Living is an educational and humanitarian movement engaged in stress-management and service initiatives.
Read More