Question & Answers with Sri Sri Ravi Shankar

Q: Gurudev, What does the mantra Bhadram Karne-bhi-h Shrnuyam Deva... mean?
Sri Sri Ravi Shankar:
This is the first mantra to be recited before any pooja. It means, let my ears hear good things, let my eyes see good things, let us speak only good words, let our life be on the Divine path.
Q: Gurudev, How to choose career?

Sri Sri Ravi Shankar:
Choice is yours, blessing is mine! It is tough time, and it is confusing to chose among engineering, medical, architecture, charted accountancy etc. especially when you are equally good in more than one subject. It is good to bake a little bit in that confusion. But it is important that you put in your 100 percent in anything you chose.

Many times it happens that you choose medical and later on you feel you should have opted for engineering, or you choose engineering and you feel you should have gone for charted accountancy. This is all illusion. Every profession is the same.

Q: Gurudev, What made God alive? When did you start believing in God? Have you seen God? What does God look like?
Sri Sri Ravi Shankar:
This same question was asked 10,000 years ago by a little boy of 8-9 years old to his father.
The boy to his father: What is God and how does God Look like?
His father takes him by hand and brings him out of his house, and asked him what was there at the place of their house before it was built.
The boy said 'Space'.
Father: Where is the house built?
Boy: space.
Father: What will exist and what will remain when this house will demolish?
Boy: space.
Father: That is God.
God is not a person sitting somewhere. It is so depicted in paintings only. God is love, God is the space in which everything exists, from which everything has come into existence, and in which everything dissolves. God is the space, joy, and love, which is all pervading. The space around you is not the dead space. It is filled with energy and intelligence. That energy and intelligence is divinity. It is everywhere –your inside as well as your outside.
Most of the native cultures of the world have the same concept. They say God is in the mountains, in the rivers, in the flowers, in the trees, in the animals, and in the human beings. God is love. You can feel it but cannot see it. You can experience that enormous energy when you go deep in meditation.
Q: Gurudev, What is the finest form of karma?
Sri Sri Ravi Shankar:
What we don't want for ourselves, we don't do it unto others also.
Q: Gurudev, How does the world look from your eyes?
Sri Sri Ravi Shankar:
It looks like my own. However it is, it belongs to me.
In the Bhagvad Geeta, Lord Krishna tells Arjuna, "This creation is permeated by the Divine consciousness. It belongs to Me. Crossing-over this cycle (of birth and death) is not so easy. It can be done only through Me."
Q: Gurudev, Sometimes we long for things and after getting them, we are still not content. Why?


Sri Sri Ravi Shankar:
That is your good luck. If you become contented by getting things, you are not that lucky. I wish you get discontented with everything around so you realize you are contentment. Nothing can give you contentment because you are contentment. You have to sit quietly for a few minutes of an inward journey to bring you contentment; nothing else whatsoever can bring you that.
Q: Gurudev, I had an experience of being nobody and I was so happy, but then I started to take on some responsibility and started to feel like I was somebody again — different and special. The ego came up. How can I sustain being nobody at the same time as carry out responsibilities and playing the roles that I have to play?


Sri Sri Ravi Shankar:
Never mind. You do something and everyone adores you and says how good a human being you are.
See life from a bigger context. There are six and a half billion people on the planet and they all live for sometime and then everybody dies. People who praise and people who are also praised, both die. The whole universe comes to an end at some point, so renounce it all. So when you see your life from a bigger context, you will see you are everybody.
Q: Gurudev, Please explain the meaning of seva (service).
Sri Sri Ravi Shankar:
One is our job, the other is seva. Both are different. You do your job for livelihood. Seva means seva- Doing like Him. God has given you everything, whether you remember him or not. He wants nothing in return. Do work and be in the way that will make the other person happy. The reward of seva comes only when when you want nothing in return.
Q: Gurudev, How do you know what level of spirituality you are at?
Sri Sri Ravi Shankar:
It depends on how often your buttons can be pushed. If you have no buttons to be pushed then you are very strong.
Q: Gurudev, Can intuition be wrong?


Sri Sri Ravi Shankar:
Then that is not intuition.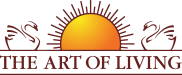 Founded in 1981 by Sri Sri Ravi Shankar,The Art of Living is an educational and humanitarian movement engaged in stress-management and service initiatives.
Read More