Question & Answers with Sri Sri Ravi Shankar

Q: Please speak about wealth.


Sri Sri Ravi Shankar:
As per the ancient scriptures, there are eight types of wealth. Wealth is not only money. Of course, bank balance is wealth, progeny is also a type of wealth, so is health. If you have the confidence that you can create wealth in any situation, even when the economy is not doing well, you will have courage. That courage and confidence is a wealth. The ability to make friends is a wealth. Knowledge is also wealth.
The goddess of wealth, Laxmi, is floating on the lotus. She moves with the wind. The Goddess of knowledge, Saraswati, is on a rock. A rock is stable. Once you have learnt knowledge, you have learnt it for life. Wealth is not an end in itself. It is the means to an end. Wealth, happiness and life are to be shared with all those around.
Today, many people have lost faith. When you lose faith, it takes you within. Every crisis is an opportunity. When all doors are shut and you have nowhere to go, that is when you go within.

Many hurdles and crises come, but you must keep your intention strong. You have to have vision. When you look around, people who break your trust will be few. Those whose values falter will be few. Though sometimes you may shake, but hold on to your vision and mission.
If you don't want others to cheat you, why should you cheat others? Money is essential, yet you cannot sleep well having only money. Half our health is spent on getting wealth and then we spend half our wealth to get back the health.


Q: After my course and Advance courses, my anger has been reduced to 80 percent. How can I completely get rid of anger?
Sri Sri Ravi Shankar:
The remaining 20 percent will also reduce. You can keep some anger with you also. It would be a good source of entertainment for others.
Q: What is more important, ones upbringing or one's cast? People who believe in cast system and religion are against intercast marriages. So what matters most-the values of that human or the cast and religion of that human?
Sri Sri Ravi Shankar:
One should see the humanity the most.
Q: I can give my hundred percent, when it is to do service in the 'Art of Living', but when it comes to studies, I cannot do.
Sri Sri Ravi Shankar:
I know it is tough, but you have to do. The mind goes easily and naturally towards the things we like. If the things you like are juicy, there you don't have to make efforts, it is natural. But when something which is not of your liking, is not juicy, it is dry and boring, but is good for you in the long run, then you have to put an effort and do it. There is no other option for it.
Q: How do we increase willpower?


Sri Sri Ravi Shankar:
Meditation and breathing enhance the inner power. These practices get us in touch with ourselves. You know, willpower comes to you with three things.
First, when you love something then you follow through with it. The commitment is there.
Second, where there is some fear there is commitment. If someone says that if you don't follow this diet you have to have an operation, then you will follow.
Third is greed. If someone tells you, "You do this for a month then you will get a million dollars," I tell you, you will not miss a single day!
Either through greed or fear or love you follow your commitment. And I feel the last one is better than the other two.
Q:
If everything is changing and transient, then what is the point in doing anything?
Sri Sri Ravi Shankar:
What is the point in asking this question? What is the point of understanding? You do because you can't but do something in this world. So, even that is the part of the change. 'Everything is changing' – this is for an understanding. You have to keep doing, and if you do things that brings you peace, and which will take you towards evolution, it is like swimming along the current. And if you do something against the evolution, it is like swimming against the current.
Q: What is Enlightenment?


Sri Sri Ravi Shankar:
The book 'Celebrating Silence' contains little excerpts on many topics. You read that and then we will discuss about it.
Q: What did Jesus mean by saying- 'I am the bread that you eat.'
Sri Sri Ravi Shankar:
I have spoken about it in the book- 'Jesus - the embodiment of love'.
Q: My mind conflicts between spiritual world and material world. How to overcome this?
Sri Sri Ravi Shankar:
As such there is no conflict. You have to balance your life. Some breathing exercise and yoga would help you long way. Along with this some social work activity - what we call seva in India. We earn and then we spend on our selves. Isn't it good to give at least 3 - 4% of our earning to those who are in need of it? There are 300 million children in the world who need education. You can also participate in the project. One day in a month, take a time of in a group, and go and help clean the environment. Strengthen the environmental programs and social service activities.

Q: I cannot think of moving away from 'Art of Living'. Is it attachment or restlessness of soul?


Sri Sri Ravi Shankar:
Once you have learnt a language and started to converse in it, you cannot forget that language. Same way once you have acquired knowledge, there is no question of losing it. It gets solidified in you.
Ancient people of India were so intelligent that they kept Laxmi(goddess of wealth) on lotus, and Saraswati(goddess of knowledge) on stone. Lotus does not remain stable on the surface of water and it moves as the water moves. But a stone is solid and stable. Once you get knowledge, it becomes part of you, not only for this lifetime but also for lifetimes to come.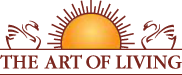 Founded in 1981 by Sri Sri Ravi Shankar,The Art of Living is an educational and humanitarian movement engaged in stress-management and service initiatives.
Read More