Question & Answers with Sri Sri Ravi Shankar

Q: Gurudev, Who is Shiva?
Sri Sri Ravi Shankar:
One should ask, what is that which is nor Shiva? The whole world is filled with Shiva. Shiva – whose body is in the whole universe. It was very difficult for artist community to portray Shiva in a picture, because Shiva is beyond imagination. For this reason Shiva was given blue color. Blue signifies all pervading, infinity which has no limits. It has no shape. The ved(Ancient Indian scriptures), the knowledge has no shape. But it infiltrates each and every particle of the universe.
'Saam sada shiv' – Shiv tattva includes both shiva and Shakti(Male and female energy). Parvati is not different from Shiva. Parvati is that which is born out of celebration. Celebration cannot be there without Shiv tattva. It is impossible to separate Shiva and Shakti even for a second. If Shiva is everywhere, how can Shakti be there beyond its scope. Puranas include various stories of Shiva with a vision that even a child could understand something about this tattva.
You all experience three states of consciousness – awake, dream, and sleep. The fourth state which is called 'turia' ,that you experience in deep meditation, is Shiva. When you experience that state, innocence blossoms. And without innocence you cannot dissolve in that tattva. Hence, He is called Bholenath.
Q: Gurudev, How do I break the cycle of feeling victimized whenever I go through difficulties?
Sri Sri Ravi Shankar:
You have already broken it the moment you realize the pattern. You realize it is your own mind's making and that it has happened over and over again. This realization will come in its own time. And when this happens, be happy and grateful. Imagine where you were five or ten years back. How have you changed? How much better it has become since then. Put your attention on this. The more we are grateful, the more grace we will have in our life.

The first step to fun is relaxation. What tires you is anxiety and ambition for tomorrow. The anger and hatred of yesterday are also clogging our mind. In the same way feverishness pulls down our enthusiasm. In deep relaxation, you will find everything funny.
Q: Gurudev, How to choose career?

Sri Sri Ravi Shankar:
Choice is yours, blessing is mine! It is tough time, and it is confusing to chose among engineering, medical, architecture, charted accountancy etc. especially when you are equally good in more than one subject. It is good to bake a little bit in that confusion. But it is important that you put in your 100 percent in anything you chose.

Many times it happens that you choose medical and later on you feel you should have opted for engineering, or you choose engineering and you feel you should have gone for charted accountancy. This is all illusion. Every profession is the same.

Q: Gurudev, How to know you have given 100 percent?
Sri Sri Ravi Shankar:
100 percent - you will feel! You know! I will ask 10 people to feed you in kitchen. Will run away! You will know.
Q: Gurudev, I have seen people blessing the food. What is thesignificance of blessing food?
Sri Sri Ravi Shankar:
The carrots, noodles, salad that youate yesterday are now listening to me. They are sitting here. Everything isalive in this universe in some way or the other. So today, when you have lunch,look at the food and welcome it to satsangtonight, to sing and to dance. Ancient people knew this and that is why theysaid to bless the food. Thought is nothing but a quantum of energy andconsciousness. Food absorbs thought. So, bless the food today for lunch. Don't thinknegative while eating. That is where the negative cycle begins. It is veryscientific.
Q: Gurudev, You are like Mahatma Gandhi? Did he inspire you?

Sri Sri Ravi Shankar:
While we were little children, we grew up listening to stories of Gandhi. We grew up with a pride of being non-violent. My teacher was a close associate of Gandhi. The stories of non-violence were a part of our upbringing. We could never think of hurting anyone. This value was a part of our life.

Q: Gurudev, Dearest Guruji, today, I learnt courage from you. I often thought that you were a scary and angry person. But I found so much peace in you. I am afraid what if I lose you.

Sri Sri Ravi Shankar:
You can't lose me, and I can't lose you!Our mind projects our feelings on others. This is what happens most of the times. Sometimes people ask me if I am angry at them. They say that I didn't smile at them or talk to them in crowd, and comprehend that I am angry at them. But why would I be angry at them? There are so many people in crowd. I smile at some, and pass a bigger smile to them who have a long face so that they also smile. But smiling at some doesn't mean I am angry at others. Many times we project our own emotions on others, especially when we love someone. If you are angry or upset at others, you think that others are angry and upset at you. Here knowledge of the self is so important so that you can have a balanced perception. With the knowledge, you know what is happening inside you, and you know what is happening inside of others. That clarity of perception, observation and expression can only come through meditation.

Q: Gurudev, What is true love?
Sri Sri Ravi Shankar:
If you have a doubt, it is true love. We always doubt the positives. We doubt our capabilities. We doubt our happiness but are 100 percent sure of our depression. We doubt a person's honesty and doubt the existence of higher power. So what is true love? Time will tell you.
Love is what we are made up of. All negative emotions are off springs of true love.
Love without wisdom makes life miserable…love with wisdom is bliss.
Q: Gurudev, How do you speak so sweetly always?
Sri Sri Ravi Shankar:
It's like asking jaggery, how can you taste so sweet? It's the nature of the jaggery to be sweet. I don't put any effort to speak sweetly. If I put in effort, it will turn to be salty. What I am, I speak the same. That's why you find it sweet. And secondly, you are also sweet so you find me also sweet. If your mind is turbulent then even if I speak sweetly, you will find it salty. I also don't know how to be otherwise. I am grateful that I never got an opportunity also to do something which is not in my nature. There was never a need to speak a lie or cheat someone. It has never happened that I pretend to be someone else which I am not. It doesn't seem also I would be doing it in future. (laughter) But I don't give any guarantee (more laughter). It hasn't happened till now and God knows about future.
Q: Gurudev, Why do people bow down to the Divine?
Sri Sri Ravi Shankar:
There is a tradition in this country – people bow down to show humility. However there is no point in just bowing down from the body, if your mind bows down then it is useful.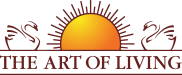 Founded in 1981 by Sri Sri Ravi Shankar,The Art of Living is an educational and humanitarian movement engaged in stress-management and service initiatives.
Read More