Question & Answers with Sri Sri Ravi Shankar

Q: Gurudev, If happiness is already inside us, what is the role of a spiritual teacher or teaching?


Sri Sri Ravi Shankar:
You want an answer for this question? You have answered your own question my dear! You want an answer. You want someone who answers. Anyone who answers this question for you becomes a teacher! If the question is not there, then no need of an answer. The moment you have come with a question, you are looking for an answer and anyone who gives the answer becomes a teacher. Right? Oh and you can say, "I have a question but I am not a student," and a teacher can say, "I will give you an answer but I am not a teacher." Then I would say both are not sincere. It's like a doctor saying, "I give you medicine but I'm not a doctor, don't call me a doctor." It is like a patient saying, "I want medicine but I'm not a patient."
Q: Gurudev, Wherever I go, I find unhappiness. Where do I go and what to do?
Sri Sri Ravi Shankar:
Antarmukhi (going within). Outside is a bazaar, a market. In the city market, below the bridge, people will be sleeping! You can learn from them. They can sleep in the middle of the bazaar. You can also meditate and be calm. Come here otherwise. You get peace. There might be 20 bad problems yet there are 100 good things. The mind is still stuck with 20 bad problems.
Q: Gurudev, Could you please tell us something about ego and surrender.
Sri Sri Ravi Shankar:
Ego is something that restricts your blossoming. Ego is you not having enough
confidence in yourself. Ego is not wanting to be a fool. One who doesn't want to be a fool ends up being a fool. So you have no choice. You either have to accept that you are a fool and become wise or not accept that you are a fool and really become one. Egotism does not like that. It says I am not a fool. I am somebody. Trying to impress someone else and become a real fool. Got it? Self confidence is that which gives you comfort. At home feeling, simply a sense of naturalness with everybody. Sense of belongingness with everybody. And not minding being a …
Audience: Fool
Q: Gurudev, How to strengthen dispassion?
Sri Sri Ravi Shankar:
Without dispassion, sadhana (spiritual practices) won't work. When mind is caught up in entanglements then sadhana is not possible. Once dispassion is there, sadhana becomes very simple. Also with sadhana the mind is cleansed and dispassion arises.
Q: Gurudev, Another question on love. When you were here last time, you said not to say 'I love you' too much for too much expression of love destroys it all. Now, my husband never says it. What to do?
Sri Sri Ravi Shankar:
Listen! I have no experience of all this and what husband and wife say to each other!
May be, you should ask your husband why does he love you so much. May be he is waiting for you to say. This is a chance when you can say and look at his face.
Q: Gurudev, Today, the youth only think of themselves. Are family and society no longer important?
Sri Sri Ravi Shankar:
The parents must also be only thinking of themselves, that's why the kids are the same. If parents think of others, then even the kids will think of others.
This is Sanskaar (culture), which is passed down from parents to children.
Q: Gurudev, I do seva for the society by organizing courses and I sometimes fail to do my home duties. In that case, my parents scold me saying, I am not taking care of home. Should I take care of the society or home? What to do?
Sri Sri Ravi Shankar:
Your know, how to ride bicycle? How do you balance? Like that, you have to do both and balance the duties.
Q: Gurudev, Why do we seek God when we know God is already within us?
Sri Sri Ravi Shankar:
Because we don't know but some idea is there. There is some prior experience of God. If you don't know mango exists, you won't go searching for it. You don't go in search of something like burr-burr because burr-burr doesn't exist! You have had some experience in the past but it is not there in the present. Don't look here and there for God. Go deep within and look inside. Relax. It is there.
Q: Gurudev, How do I drop the desire of alcohol and cigarette?
Sri Sri Ravi Shankar:
There are three things that you can do to drop such a desire for alcohol or cigarette.
Do your spiritual practices daily. It will take you out of such desires.
Think that intake of alcohol or cigarette smoking will diminish your good luck. If you take like that, then something unlucky or unfortunate may happen.
Suppose someone offers you a crore ($10 million), if you stop alcohol or cigarettes for a month. Will you still do it? Each time you get a desire to do that, you will think that you will lose the 1 crore.
So, you will control yourself because of greed or fear. To come out of a bad habit, fear and greed are divya aushadi, best or even magical remedies! After that, Sri Sri Ravi Shankar led the audience through a meditation.
Q: Gurudev, What is the significance of bowing down to the feet in India?
Sri Sri Ravi Shankar:
Only in India, so much significance has been given to the feet. The legs take you forward. Our energy can be transmitted through the hands and the feet. The energy or vibrations are absorbed by the head. This transmission can happen simply through sight as well. Even just being in the presence is enough to soak in the Divine energy.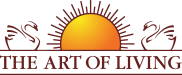 Founded in 1981 by Sri Sri Ravi Shankar,The Art of Living is an educational and humanitarian movement engaged in stress-management and service initiatives.
Read More