Question & Answers with Sri Sri Ravi Shankar

Q: Gurudev, I can't meditate, please advise.
Sri Sri Ravi Shankar:
When you watch TV, you get into meditation – There is no such thing that mind cannot meditate. Wherever your mind goes, whatever it likes, there meditation occurs. You need to move from "word' (shabdha) meditation to "wordless"(nishabhda) meditation. We separate life and knowledge, but walk in life knowing that knowledge is life, life is knowledge. Just as our relationships are manmade, join that relationship/connection with knowledge.
Q My nature is happiness but am overcome with periods of sadness – how do I overcome these periods?
Sri Sri Ravi Shankar: Offer them to the Divine. Do your practices and meditate. Sometimes waves of worry/sadness take over. Just know that it's a temporary phase, it's a passing cloud and it'll disappear.
Q: Gurudev, How to deal with attachment on the spiritual path?
Sri Sri Ravi Shankar:
When you are aware of the attachment, then your behavior will naturally become balanced.
Q: Gurudev, How do we know what to do in life?
Sri Sri Ravi Shankar:
First know what not to do. It's easier. Purpose of life is not to bemiserable and make others miserable. It is a gut feeling. Chose which gives youlong term happiness even if it gives short term misery. Choosing that whichgives you long term misery and short term joy is not wise.
Q: Gurudev, Why are parents neglected by their own children? Brothers are being murdered by their own brothers.
Sri Sri Ravi Shankar:
Parents are being neglected because they didn't spend enough time with their children, and didn't imbibe spiritual education in them. They made the children too materialistic and selfish. This is because you gave them food, clothes and a roof over their heads but not knowledge.
Q: Gurudev, How do we know that our past karmas have been burnt?


Sri Sri Ravi Shankar:
Just assume it. Just like assuming, 'I am free' makes one free. Believing that past karma has been burnt makes it so.
Q: Gurudev, No matter how sincerely I do sadhana and attend satsang, I am unable to get rid of eating non-vegetarian food. It makes me guilty, please help.
Sri Sri Ravi Shankar:
You talk to some of the YES!+* people. They will tell you all the ways. You know the main thing is to save your mind, don't let guilt enter your mind. Just be natural.
Q: Gurudev, Even after surrendering problems, I worry about them. What to do?
Sri Sri Ravi Shankar:
This is to say, 'I gave it away' and even after giving you say, 'I have it with me'. If even after giving it away again and again, it comes back to you like a ball you again and again keep giving it away. Don't give up until you have totally given up!
Q: Gurudev, What is the trademark of the 'Art of Living'?

Sri Sri Ravi Shankar:
Smile! If somebody says he/she has done the course but is not smiling, don't believe them! They have not done the course truly.


Q: Gurudev, How can I be contented? Lots of needs keep bombarding the mind.
Sri Sri Ravi Shankar:
Tell me one thing. Are you contented today?
(The gentleman said 'No')
What do you need?
(The gentleman continues 'I need to have something after having what, all my desires are pacified)
It's good if you are aware that lots of desires are disturbing you. This desire - I want to get rid of all desires, is called mumuksha.


Q: Gurudev, Why is it so difficult for people to understand each other?
Sri Sri Ravi Shankar:
Because they don't understand themselves first. You do not understand your own mind and you try to understand others'. It becomes very difficult.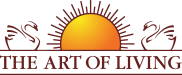 Founded in 1981 by Sri Sri Ravi Shankar,The Art of Living is an educational and humanitarian movement engaged in stress-management and service initiatives.
Read More