Question & Answers with Sri Sri Ravi Shankar

Q: Gurudev, What is the importance of lemon in aura cleansing?
Sri Sri Ravi Shankar:
Have you see lemon juice under the microscope? It looks like the rays of the sun. When you see vitamin C under the microscope, it looks like a sunflower. Some substances like salt, lemon, chilies etc, have the potential to remove negativity. In the west, bathing in the ocean for rejuvenation and improving health is popular. The burdens, the worries in the mind, harmful influences are reduced in this way. Faith also works here. Even when you take regular medicines, if you don't have faith in the doctor or the medication, it may not help you at all.
Q: Gurudev, Does Bhakti (devotion) make an impression on the Chitta (subconscious mind)?
Sri Sri Ravi Shankar:
Yes, of course. The impression of Bhakti wipes away all other impressions, all negativity of mind. Also the impression of Bhakti gets dissolved on its own. Like when you put a piece of alum to purify water, the water gets purified as the alum dissolves and disappears. The impression of Bhakti is just like this.
Q: Gurudev, Can you please talk on doubts?

Sri Sri Ravi Shankar:
Haven't I talked about it earlier also? Doubt is just low energy. When you don't have enough energy, this happens.
Your doubt is always on something that is positive. If somebody says, "I love you", you doubt that. You never doubt anybody expressing hatred towards you. You doubt in love and not in anger. You doubt in your capabilities and not in your weaknesses. You are so sure of the things that you cannot do. You doubt in your own happiness. You don't doubt in depression. You doubt in someone's honesty. You never doubt in dishonesty of anyone.
So, like that if you see the nature of doubt, you always doubt the positive.

Q: Gurudev, How can I feel your presence in my everyday life?
Sri Sri Ravi Shankar:
You already feel it, no?
Q: Gurudev, When we are sad, what does god feel?
Sri Sri Ravi Shankar:
God says "Oh my god! How foolish this person is!" There is so much beauty around in the world, and you are thinking so small and getting sad .Look at the reality of the world, enquire for the secret of the universe and the sorrow diminishes.
Q: Gurudev, Apart from the joy one gets in service, is there anything else also that one gets?
Sri Sri Ravi Shankar:
You get what you call good luck. Doing service increases your luck. But doing service in order to enhance luck will be cheating. You do service because you cannot live without that.
Do whatever you can in your capacity.
Q: Gurudev, How should one pray to god?
Sri Sri Ravi Shankar:
By doing service, pranayama, and meditation.
Q: Gurudev, Why are parents neglected by their own children? Brothers are being murdered by their own brothers.
Sri Sri Ravi Shankar:
Parents are being neglected because they didn't spend enough time with their children, and didn't imbibe spiritual education in them. They made the children too materialistic and selfish. This is because you gave them food, clothes and a roof over their heads but not knowledge.
Q: Gurudev, How does one balance between professional life and spiritual life?
Sri Sri Ravi Shankar:
You know how to ride bicycle or motor bike? How do you balance? You just do it.
Q: Gurudev, What is the difference between my will and God's will?
Sri Sri Ravi Shankar:
When every will is His, every mind is His, then where is your existence? Everything is God's will. The moment you differentiate between mine and His, there are two.
When your mind is clear, then sit and think. Only when your mind is free from feverishness, can His will be done.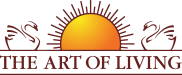 Founded in 1981 by Sri Sri Ravi Shankar,The Art of Living is an educational and humanitarian movement engaged in stress-management and service initiatives.
Read More