Question & Answers with Sri Sri Ravi Shankar

Q: Gurudev, I have started schools across the world. Please bless me.
Sri Sri Ravi Shankar:
Very good. Make Sanskrit compulsory in your schools.A few days ago it was in the newspaper that three schools in the UK have made Sanskrit compulsory as a subject. After so much research it has been found that studying Sanskrit brings brilliance and once learnt, it is very easy to learn any other language. Studying the Devnagri script is very good for the brain.
Sri Sri Ravi Shankar: Does anyone want to share his/her experience?
Experience1: Earlier I used to be afraid, I always wanted to do something for people but because of my fear I could not. The basic course has given me courage and confidence. I feel as if the world is conspiring to make me do that. Everybody is helping me. Thanks to the Art of Living for helping me.
Experience 2: I came here two days ago with a severe personal problem. I had a lot of anxiety. Suddenly since last night I feel calm and collected and feel the problem will be solved. Thank you Guruji.
Experience3: I did the Yes+ Course in August. Since then my whole life has changed. I was a drug addict and dropped the addiction. I am now smiling more and more everyday.
Experience 4: Guruji two years ago I used to wonder why people volunteer and do seva/service. It was a real wonder for me. But now when I am doing it, it is an even bigger wonder for me and I now know why people do that.
Q: Gurudev, Beloved Guruji, I see you in my thoughts and my dreams. I am free and completely surrendered in my thoughts and dreams. But why is my experience different when I meet you here. Also why don't I get to spend time with you in person?
Sri Sri Ravi Shankar:
You are spending time with me here. You take up some project and you will definitely get to spend time with me.
Q: Gurudev, What is the meaning of the symbols on the pillars (in the Vishalakshi Mantap – the Meditation Hall in the Ashram)?
Sri Sri Ravi Shankar:
All these symbols are from various faiths in the world. You see Om, the universal primordial sound. Underneath you see the DharmaChakra of Buddhism. Then you see on the second pillar, Cross, this is the sign of Christianity and then the Feather, which is the sigh on Native American religion. Then you see the Hand, which is the sign of Jainism. Underneath is the Turban and the Sword, which is the sign of Sikhism. Then you have the Conch and the Disk, which is a sign of Vaishnavism- a branch of Hinduism. Underneath you have, Shintoism and Taoism. Then you have Islam. Below Islam, Taoism, Ying and Yang. Then you have signs of other native religions. In the end you have Judaism and underneath is Zoroastrian fire symbol. So, almost all the faiths in the world are represented here.
Q: Gurudev, Why is it that revenge is bad when Nature also gives every human being the result of one's actions?
Sri Sri Ravi Shankar:
The feeling of revenge is not for human beings, it is animalistic. The feeling to take revenge troubles you to a great extent. Till you have achieved it, you remain in hell. The thought of revenge itself puts you in hell. You suffer and others also suffer, there is no gain for anyone. Educating others is important. If someone has done wrong to you, explain to them and reform them. Otherwise you cannot improve the situation. However, remain aware. If some one betrays you, it shows your ignorance. We can be intelligent and give knowledge to others. When the thought for revenge comes, think of how much it would harm you and look at your gain.
Q: Gurudev, How do we rise above our senses?
Sri Sri Ravi Shankar:
You were sitting in meditation now? Your eyes were closed? Did u have any wish except to listen to my voice? That means in a way ears were also closed. Mouth was also closed? You were not speaking anything? So all senses were shunned, and then only you were able to meditate. Meditation happened, yes?. When you sleep for 6-8 hours, you remain in your senses or in non-sense. Are you getting it? So rest. Be satisfied in the mind. Be happy. And when you are in that state of Divine love, nothing will bother. See, during exam time lust doesn't bother you. When does it disturb you? When you have nothing to do, when you are sitting
idle, isn't that right?
Q: Gurudev, What is the significance of asking if all the answerscome from within?
Sri Sri Ravi Shankar:
What if I don't answer? What is thepurpose of all answers? So that the mind says YES! The purpose of all questionsand all answers is to bring our mind to YES consciousness. That is meditation -to be in YES mind!
Q: Gurudev, I have seen people blessing the food. What is thesignificance of blessing food?
Sri Sri Ravi Shankar:
The carrots, noodles, salad that youate yesterday are now listening to me. They are sitting here. Everything isalive in this universe in some way or the other. So today, when you have lunch,look at the food and welcome it to satsangtonight, to sing and to dance. Ancient people knew this and that is why theysaid to bless the food. Thought is nothing but a quantum of energy andconsciousness. Food absorbs thought. So, bless the food today for lunch. Don't thinknegative while eating. That is where the negative cycle begins. It is veryscientific.
Q: Gurudev, There are so many staunch followers of the 'Art of Living'. Why don't we enter politics?
Sri Sri Ravi Shankar:
If you have that inclination, you go ahead. I will give you support.
Q: Gurudev, How to be non-judgmental?
Sri Sri Ravi Shankar:
By studying your own past. Look at how many times you have been judgmental. Every time you have been judgmental, you have been on the wrong foot. So just be aware of that. The moment you are aware that you are judgmental, you are already out of it. You can't be judgmental in the present moment. You are judgmental in the past.
Q: Gurudev, When something great is accomplished, normally some sort of celebration is conducted. We were also expecting a huge ceremony after the completion of Ashtavakra Geeta, but nothing special of that sort happens?
Sri Sri Ravi Shankar:
There is celebration here every day, it never ends. There is a lot left yet.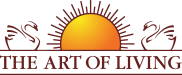 Founded in 1981 by Sri Sri Ravi Shankar,The Art of Living is an educational and humanitarian movement engaged in stress-management and service initiatives.
Read More