Question & Answers with Sri Sri Ravi Shankar

Q: Gurudev, How do you cope with taking on the burdens of people all over the world?


Sri Sri Ravi Shankar:
You must tell yourself that you are an instrument. You are a part of the universe. Let things come and go and they will be no burden to you. It is certainly possible and you also have that capability.
Q: Gurudev, When we say accept situations, how we can we accept something like a robber entering your house?
Sri Sri Ravi Shankar:
When a robber enters your door, you start shaking, shivering, questioning, it's of no use. Why did robber rob you is a useless question. It's his job! Accept he is a robber. Somebody cheats you. When you are caught up in asking why did he cheat? You become upset, and you can't take action.When you accept the robber, then you call the police, etc. you can take action. Parents get upset over the child not studying. Accept. Then you can act better.If you don't accept, emotions rise, intellect is clouded and actions become regrettable.
Q: Gurudev, What is the connection between the thought and the action?
Sri Sri Ravi Shankar:
You should never do thoughtless action or you will be in trouble. There are two dimensions of our life. Sometimes you act without thinking and sometimes you only think and don't act. Source of both - thought and action - is you. Knowing who you are, your thoughts get streamlined and actions become perfect. Your thoughts and actions are aligned.
Q: Gurudev, Guruji you say that there is no difference between you and me, then how come you have such radiance but I don't?
Sri Sri Ravi Shankar:
You blossom and you will find light is anyway there. Every bud has all that it needs to be a flower. There is no much difference between a bud and flower. The bud hasn't yet fully blossomed but it will be. If you will continue attending such satsangs, you will find you have no less radiance. It will start coming to you very easily.
Q: Gurudev, How to get God answer your prayers?

Sri Sri Ravi Shankar:
Have faith that he will answer and will do whatever is good for you.

Q: Gurudev, In the Bhagwad Geeta, there are two ways described for liberation. Bhakti Marg- the way of devotion and Gyan Marg- the way of knowledge. Which one is better?
Sri Sri Ravi Shankar:
They are not two different paths. Suppose, you like rice pudding. How do you like rice pudding without knowing what is rice pudding. The knowledge of it will kindle a liking for it. Love and knowledge go hand in hand. Once you know about something, you go and buy it. Bhakti, Gyan and Karma are three legs of the same table.
Krishna tells Arjuna all those steps and finally says drop all and just relax. For you everything is done. Shama jali hai tere liye tujhko kuch nahi karna hai, the lamp is lit for you, you don't have to do anything.
Q: Gurudev, I want to do a lot of work in society but I don't know where to start, how to start?
Sri Sri Ravi Shankar:
The seed is there and it will grow. You want to work for society, the seed will grow. Good. Let it grow. Satsang, sadhana will nurture this seed.
Q: Gurudev, For fifteen years I've been with the same job and my boss doesn't respect me at all. Should Iquit and start my own business? Please give me some direction.

Sri Sri Ravi Shankar:
Choice is yours, blessings are mine.

Q: Gurudev, What is the significance of using salt for nazar utarna (a tradition in India where a handful of salt is taken around the person to remove the effects of the evil eye)?
Sri Sri Ravi Shankar:
The defects in our aura can be cleared with salt. In the West, people take salt baths. Others' feelings can affect our aura. Instead of worrying about the influence, just use the salt. Each substance has its own aura. People find it relaxing in the ocean side because of salt in the water. Through salt, the toxins in the body and mind are removed. Yet if you intake too much salt you will get blood pressure and if you sit everyday in salt water your skin will get affected. So do everything in moderation. Athi savatra varjayeth.
Q: Gurudev, Is it humanly possible to love the Divine as much as the Divine loves me? I want to love the Divine more and more but this stupid ego, mind and body get in the way. How to stop it from coming in the way?
Sri Sri Ravi Shankar:
The nature of love is such that it always feels it is not enough, not sufficient. In love, you will never feel that's it, enough is enough. When you are in love you think you should do more, give more and love more. That sense of wanting more, that sense of in-completion. That's why love is infinite. Infinite has no end, no boundary - more and more, never bored. Boredom means boundary.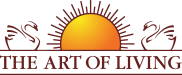 Founded in 1981 by Sri Sri Ravi Shankar,The Art of Living is an educational and humanitarian movement engaged in stress-management and service initiatives.
Read More