Question & Answers with Sri Sri Ravi Shankar

Q: Gurudev, What is more important - faith in ourselves or faith in others?
Sri Sri Ravi Shankar:
Both are necessary. However, add one more. That is, faith in God.
Q: Gurudev, I don't know what is good for me and what is bad?
Sri Sri Ravi Shankar:
Drop that which gives you short termhappiness and long term suffering. Just keep this in the back of your mind.
Q: Gurudev, Sometimes questions come in my mind and are answered when I sit in meditation. However, sometimes, I get no answers. Is that because there is no connection?
Sri Sri Ravi Shankar:
No connection?! You mean you don't get the range? (Huge Laughter). It only happens sometimes, so it's ok. Maybe it's a difficult question and I don't have an answer! Maybe that's why the connection gets broken! (Big laughter)
Q: Gurudev, In the Bhagwad Geeta, there are two ways described for liberation. Bhakti Marg- the way of devotion and Gyan Marg- the way of knowledge. Which one is better?
Sri Sri Ravi Shankar:
They are not two different paths. Suppose, you like rice pudding. How do you like rice pudding without knowing what is rice pudding. The knowledge of it will kindle a liking for it. Love and knowledge go hand in hand. Once you know about something, you go and buy it. Bhakti, Gyan and Karma are three legs of the same table.
Krishna tells Arjuna all those steps and finally says drop all and just relax. For you everything is done. Shama jali hai tere liye tujhko kuch nahi karna hai, the lamp is lit for you, you don't have to do anything.
Q: Gurudev, Guruji, how to deal with the failures?
Sri Sri Ravi Shankar:
Knowing that it is the step to success in the future.
Q: Gurudev, Guruji, they say the recipe for depression is to only think about oneself. But at the start of Mahabharata war, Arjuna was thinking about others, yet he was depressed. Please explain.
Sri Sri Ravi Shankar:
Well, the mantra for depression is - "What about me, what about me". And Arjuna was thinking how he could do the work which he was supposed to do, and what people would think of him. It was again about himself only. It is not just thinking about oneself, but your other different attachments and lack of understanding can also lead to depression. But one sure technique to get depressed is- Just sitting, doing nothing and thinking, 'what about me, what about me, what will happen to me?' You are sure to get depressed this way!
Q: Gurudev, I know one cannot be happy and married. But can one be married and enlightened?
Sri Sri Ravi Shankar:
Why do you think that one cannot be happy and married? Why cannot you be happy and married as well? There are many bachelors who are not happy, and also there many married people who are happy. Happiness is an attitude which you chose. It all depends just on you. There are people with no jobs but are happy. There are people with jobs and are unhappy. Be wise and be happy. Do whatever – married, unmarried, employed, unemployed…But independent of what you are doing, you need to be happy.
Q: Gurudev, My mind goes all over, even when I'm doing pooja.
Sri Sri Ravi Shankar:
It is Ok. See it is not the best when the mind goes in all directions. But you have got into the habit of sitting with yourself everyday. That ways sometime you will get into meditation and an samskara (impression) is formed.
There is benefit from mantra japa. Even if you are not benefitted 100 percent but just 20 percent, that is also Ok. To settle the mind, pranayama is necessary. Do swadhaya (study of the Self) and keep reminding yourself that everything is nashwar (transitory).
What seems like a problem today will be OK, it has to be OK.
We sit for pooja, along with flowers even leaves and thorns are offered. So it means that we accept life with balance, whether there are flowers, thorns, fruits, leaves and surrender everything.
Q: Gurudev, Are our sins forgiven by God or does the Sudarshan Kriya clean them off?
Sri Sri Ravi Shankar:
Yes, all the past is washed off. Definitely if you do Sudarshan Kriya it releases all the past impressions and makes you fresh and lively.
Q: Gurudev, Guruji, I read somewhere that chanting OM is not good for women. Please elaborate.
Sri Sri Ravi Shankar:
Maybe some man has written that book! (laughter) Perhaps they are afraid that women may become more powerful, intelligent, independent and stronger than men. All this is not true. In the Middle Ages, some people spread this message with the selfish motive of keeping the knowledge only to themselves.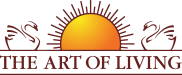 Founded in 1981 by Sri Sri Ravi Shankar,The Art of Living is an educational and humanitarian movement engaged in stress-management and service initiatives.
Read More