Question & Answers with Sri Sri Ravi Shankar

Q: Gurudev, How to overcome low self-esteem?
Sri Sri Ravi Shankar:
Go and work in villages and slums, you will get your self-esteem back. Go and work for a week, ten days or even on a weekend. Teach some lessons to the children there and see how your self-esteem will come up.

Q: Gurudev, What is the importance of horoscope matching when it comes to marriage?
Sri Sri Ravi Shankar:
Astrology is a science but all astrologers are not scientists. (laughter) First of all, you don't know whether the time of your birth and all other factors are right or not. Sometimes, we don't keep records and there are variousfactors. There is probability in all those factors. So, if you find someone who is good, the astrologer says, 'Good, it does have a value but it is always with a pinch of salt.'It is said that there was a great astrologer of this country and he made all thehoroscopes of his daughter. But his daughter's marriage didn't work. It was quoted as a probability factor.In all scientific experiments, there is always a probability factor – may be, may not be.So we must take it with that probability and not as definite.
Q: Gurudev, Please give guidance on parenting special children. What can be done for them through the 'Art of living'?

Sri Sri Ravi Shankar:
You simply serve them. Don't pity them. You know, people with special needs, their soul is in a different state. They are not in a sorry state. They have come to this planet just to take service. With this attitude, you do service. Never have sympathy – 'oh poor child'. Children with special needs have come just to take service from you.

Q: Gurudev, Guruji what is guru tattva?


Sri Sri Ravi Shankar:
You asked this question because you want to know something. So this thirst to know is discipleship. The one who answers is the Guru. The source from which you get all the answers in life is the Guru Tattva. We need answers to feel complete. The knowledge makes you complete. The element that brings fullness in you is the Guru Tattva. In whose presence you don't feel any lack is Guru Tattva.

Q: Gurudev, I become so over possessive for something, or for some person. What should I do?
Sri Sri Ravi Shankar:
Ooh! , Never mind, you understood that you are over possessive then it has already started loosening up.
Q: Gurudev, I detest my job which I loved so dearly once. What can I do?
Sri Sri Ravi Shankar:
Our likes and dislikes change so often! You like something and then dislike it and so on. Life should not be swayed away by likes and dislikes but well founded on commitment. You need some work to sustain your life. Any job that sustains your life, be committed to it and if you get something better, go for it.
There is nothing like job satisfaction. Every job has some drawbacks. Earn your livelihood and then do seva for satisfaction. That brings you maximum satisfaction. Nothing else can bring you the satisfaction that seva brings.
Q: Gurudev, I want to ask about beliefs and doubts.
Sri Sri Ravi Shankar:
Doubts are good to have. You should have a doubt: no doubt! Yet if doubt enters your heart and remains in your nature, it is a disease. It is called paranoia. If you doubt everything, including yourself, that is called lack of self confidence. If you doubt everyone around you, that is called paranoia. If you don't doubt the existence of a natural or Divine power or some higher consciousness and Self, then you are called an atheist. So, an atheist doesn't have doubts about the supernatural, he thinks there is nothing beyond what he knows. Nor, does he have any faith.
People with paranoia don't believe anybody and they don't trust themselves. That is another mental illness. So, a little bit of doubt is good, but if doubt becomes your nature, you will have neither success in the world, nor in spirituality. The whole world is on some degree of trust. Isn't it? You keep the money in the bank, you trust the bank. And the electricity board gives you electricity, trusting that you are going to pay the bill. The telephone board gives you a telephone connection, trusting that you will pay the phone bill at the end of the month. If nobody trusts anybody, how will any business happen in the planet? Can it happen?
When you want to buy a house, you give the money to the seller even before buying the house. He takes the money and then gives you the house. If you tell him: 'You first give me the house, only then will I give you the money', he will say: 'You first give the money, then I will give you the house. If you both say: 'I don't trust you', then no transaction will happen. Right?
So, you know this person is going to give you a house, then you give him the money. And he knows you are going to pay the money, so he gives you the keys of the house.
The whole world runs on mutual trust. Isn't it? And all your activity happens with self confidence, the trust in yourself. So, I would say, just know yourself. Nobody says: I don't believe what I am saying. If I say: I don't believe in anything', at least I believe in that I say. I believe in myself saying that 'I don't believe in anything.' Who is this 'I' that you believe? Know that I. That is what spirituality is.
Q: Gurudev, When something great is accomplished, normally some sort of celebration is conducted. We were also expecting a huge ceremony after the completion of Ashtavakra Geeta, but nothing special of that sort happens?
Sri Sri Ravi Shankar:
There is celebration here every day, it never ends. There is a lot left yet.
Q: Gurudev, How do I learn not to be selfish? Can I learn to act without a lot of self-doubt?


Sri Sri Ravi Shankar:
You are already not selfish! You are already out of it, my dear. Just know that you are not selfish. That's it. Why? Because when you feel you are selfish, something irritates you, you don't feel comfortable. You feel comfortable when you are at home and in your element. And that is already being generous. You can never cultivate virtues. You simply have them. You have to assume that you have them; then virtues will grow.
You know what is doubt? Doubt is always about something that is positive. Isn't it? If someone tells you, 'I love you so much', you say, "Really?" Yet someone says, 'I hate you' and you don't say this. We never doubt when someone says, 'I dislike you.' 'I too dislike you', immediately it comes. 'If you dislike me, I hate you more!' But if someone says, 'I love you,' we say, "Really?" We doubt someone's integrity. We question someone's honesty. We never question their dishonesty. We doubt our capabilities. We never doubt our incapabilities or weaknesses. We take our weaknesses as the gospel truth. Similarly when someone asks if we are happy, we say we are not sure! We are never sure about unhappiness but this is never said in regard to depression. If someone asks you if you you depressed, will you say, 'Well, I am not sure I am depressed.' No? So sure about your depression! We are certain.
We doubt love. We doubt someone's honesty. We doubt sincerity. Someone may be sincere all their life and be insincere in one incident. We believe in that insincerity more than their sincerity. Isn't it? It's the nature of doubt. That's why we doubt the existence of God also. God is all truth so we doubt. He may be there or not. When we know the nature of doubt and go through the doubt, something starts to wake up within you. That is what I would call trust.
Trust in yourself. Trust in people around you and the law of nature. This will keep you healthy. Otherwise paranoia takes over the mind. If you can't believe anybody, you can't believe your spouse, your children, your neighbors, your friends, your brother. You will find everybody is a cheat and out to get you. Everybody wants something from you. This sort of paranoia shrinks our personality. Peace and spirituality ,I say, are the AC. Just as this room is air-conditioned so that you can feel comfortable sitting here, the spirit and mind function similarly and absolute comfort is called spirituality. AC for the spirit!
Q: Gurudev, Guruji newspapers today are filled with so much vague news here and there. Can't we have one full page on environment?
Sri Sri Ravi Shankar:
Do you write articles? I want all those who have good writing skills to sit together and have some collection. We will implement this. The Ashram agricultural department is very successful in controlling pollution and purifying sewage water. We are using some ancient techniques, which have been forgotten. It is surprising to see the results that these techniques have brought about. Sewage water is completely purified, ready to drink and the sewage is turned into manure. Using this method we can clean all sewage plants in all villages across India without chemicals. The Agricultural Department also took a project in Nasik where vegetation was grown using seawater. So all this is possible.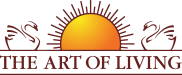 Founded in 1981 by Sri Sri Ravi Shankar,The Art of Living is an educational and humanitarian movement engaged in stress-management and service initiatives.
Read More