Question & Answers with Sri Sri Ravi Shankar

Q: Gurudev, Why do we need to put in so much effort to physically meet you or is it that the Guru creates unavailability for some purpose?
Sri Sri Ravi Shankar:
Not at all! I am easily available. I am most easily available. You know you enjoy putting effort and whatever you get after putting effort, you enjoy more. You don't enjoy what you get easily. This is normal human psychology.
Heart yearns for the old. Mind yearns for the new. Ego yearns for the difficult and unique.
Ego takes pride in doing difficult things. 'Look I did such a tough job! I achieved such a tough thing! No one has achieved what I have achieved. I did something unique.' Just be aware of these laws of nature, how the mind and heart works. I am not saying that is good, or that is bad. That is how it is.
Heart yearns for old. Heart takes pride in old friendship. Like wine is sold when it is old. New wine has no value. You don't say, 'This is my latest love, my fresh love.' We go for the latest model - latest computer, latest car. We don't say, 'Oh this is a two decade-old car which I bought now' - unless it's an antique. We take pride in having the latest model or something which is unique. Like climbing the Mount Everest.
'Oh, I climbed the Mount Everest.' A very tough job. What do you get after climbing the Mount Everest? You don't know! People go in hot air balloons across the world. Very tough job. Why you want to go in hot balloon when planes are available (laughter) and create so much heart ache, anxiety? Because the media is after you for you are doing something tough. Why do you want to do the impossible because the ego wants to do something. The memory clings to the negative. If ten positive things happen and one negative thing happens, the memory just goes and holds on to it. The Self is just a witness of all this phenomenon.
Untouched, unruffled, unconcerned with what happens to the mind, intellect, ego. It is just there, just enjoying. That is why if you have got just a glimpse of the Self, it doesn't matter. The Upanishad has also declared that once you get glimpse of that unchanging aspect in you, the very central aspect of you, then everything else is futile. Knowing this, everythingbecomes glorified.When you are centered,ego becomes all encompassing,body glows,intellect becomes sharp,memory becomes sharp.All layers of existence simply glow when the Self is realized. I don't like to use word self realized. It has been used so many times and distorted too much. I would say when you have a glimpse of Being.
Q: Gurudev, How do I learn not to be selfish? Can I learn to act without a lot of self-doubt?


Sri Sri Ravi Shankar:
You are already not selfish! You are already out of it, my dear. Just know that you are not selfish. That's it. Why? Because when you feel you are selfish, something irritates you, you don't feel comfortable. You feel comfortable when you are at home and in your element. And that is already being generous. You can never cultivate virtues. You simply have them. You have to assume that you have them; then virtues will grow.
You know what is doubt? Doubt is always about something that is positive. Isn't it? If someone tells you, 'I love you so much', you say, "Really?" Yet someone says, 'I hate you' and you don't say this. We never doubt when someone says, 'I dislike you.' 'I too dislike you', immediately it comes. 'If you dislike me, I hate you more!' But if someone says, 'I love you,' we say, "Really?" We doubt someone's integrity. We question someone's honesty. We never question their dishonesty. We doubt our capabilities. We never doubt our incapabilities or weaknesses. We take our weaknesses as the gospel truth. Similarly when someone asks if we are happy, we say we are not sure! We are never sure about unhappiness but this is never said in regard to depression. If someone asks you if you you depressed, will you say, 'Well, I am not sure I am depressed.' No? So sure about your depression! We are certain.
We doubt love. We doubt someone's honesty. We doubt sincerity. Someone may be sincere all their life and be insincere in one incident. We believe in that insincerity more than their sincerity. Isn't it? It's the nature of doubt. That's why we doubt the existence of God also. God is all truth so we doubt. He may be there or not. When we know the nature of doubt and go through the doubt, something starts to wake up within you. That is what I would call trust.
Trust in yourself. Trust in people around you and the law of nature. This will keep you healthy. Otherwise paranoia takes over the mind. If you can't believe anybody, you can't believe your spouse, your children, your neighbors, your friends, your brother. You will find everybody is a cheat and out to get you. Everybody wants something from you. This sort of paranoia shrinks our personality. Peace and spirituality ,I say, are the AC. Just as this room is air-conditioned so that you can feel comfortable sitting here, the spirit and mind function similarly and absolute comfort is called spirituality. AC for the spirit!
Q: Gurudev,
The 'Art of living' is full of inspirational teachers. What does it require to be a good teacher? Sri Sri Ravi Shankar: Yes, take a teachers training, and get well trained.
Q: First of all, thank you for being my master. Secondly, I am a sikh and in Sikhism our last Guru told that there is no other master now but only 'Guru Granth Sahib'. So, my family members do not want me to follow you as a guru. How to convince them about you?
Sri Sri Ravi Shankar:
It is alright. Say Wahe guru, Wahe guru. Let them follow whatever your tradition is, but they can do the course, can make friends with all!
Q: Gurudev, Today is my second day of silence. My mind is a devil's workshop, it keeps having thoughts endlessly!
Sri Sri Ravi Shankar:
Sing, observe nature, and observe your thoughts. Look at nature as though you are looking at it for the first time – look at the trees, and look at the birds.
When you observe these things, your mind becomes calmer. Observe your thoughts. Silence makes you observe. As you observe, your thoughts will reduce.
The thoughts were always there, but only in silence can you observe them!
Q: Gurudev, What is the significance of bowing down to the feet in India?
Sri Sri Ravi Shankar:
Only in India, so much significance has been given to the feet. The legs take you forward. Our energy can be transmitted through the hands and the feet. The energy or vibrations are absorbed by the head. This transmission can happen simply through sight as well. Even just being in the presence is enough to soak in the Divine energy.
Q: Gurudev, You told that God can be experienced in a state of effortlessness. What does it mean to be effortless?

Sri Sri Ravi Shankar:
: Being effortless does not mean stop eating, drinking or doing other work. This has a deeper meaning. Keep on doing all your work, and while doing your work, know inside you that you are doing nothing. In the beginning, you sit for some time and experience that you are doing nothing. Then you will start experiencing that even you are doing but there is a field in you which is not doing anything. Ancient sages had beautifully explained this. There are two birds sitting on the same tree. One is eating and the other is only witnessing this. In the above context, it is the free bird which is being discussed, the bird which is effortlessly witnessing. Pay attention to that also. The two birds are friends. They live together. One is always witnessing and other is involved in all the work. Effortlessness does not mean sitting idle. Lord Sri Krishna said in Geeta that you cannot be without doing any action even for a second. Keep on doing your karma and at the same time be the witness of your karma. This is very deep knowledge.After the session a book was released – Understanding Shiva. While launching the book Sri Sri Ravi Shankar told that the book also included a scientific perspective of all pervading Shiva tattva.


Q: Gurudev, I have been doing sudarshan kriya for last 6 years and living totally a new life in terms of getting over negative emotions etc. But I have a small problem of forgetting things; my memory is not as sharp now as it used to be. How to get on with this problem or I should leave it?
Sri Sri Ravi Shankar:
You should take ayurvedic medicines- brahmi, and shankhpushpi etc. as per your age. And the food habits that we have in our country is not good for memory power because we eat so much starch, so much of carbohydrate and so little vegetables. So, change your diet. Have more intake of proteins, vegetables and fruits, and some ayurvedic supplements like brahmi etc. This, along with your pranayama and yoga will improve memory.
Q: Gurudev, What is the finest form of karma?
Sri Sri Ravi Shankar:
What we don't want for ourselves, we don't do it unto others also.
Q: Gurudev,
Under your guidance, there is no discrimination on the basis of religion, then why are there different religious symbols displayed here (in The Vishalakshi Mantap, meditation hall)?
Sri Sri Ravi Shankar:
They are on the pillars and not in the mind and heart. If someone says he is a Hindu, Jain etc, we would tell them to hang it on the pillar and be free from within!
Q: Gurudev, How the transformation of the world will happen?
Sri Sri Ravi Shankar:
If we all work towards it. More and more spirituality, meditation, singing, and world will become a better place.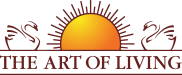 Founded in 1981 by Sri Sri Ravi Shankar,The Art of Living is an educational and humanitarian movement engaged in stress-management and service initiatives.
Read More