Question & Answers with Sri Sri Ravi Shankar

Q: What did Jesus mean by saying- 'I am the bread that you eat.'
Sri Sri Ravi Shankar:
I have spoken about it in the book- 'Jesus - the embodiment of love'.
Q: Sometimes I feel good and sometimes bad. How to balance?
Sri Sri Ravi Shankar:
Keep silence for a few days and then essential right things will come out.
Q:
I am going through a hard time in life. My wife cheated on me but now wants to be back. What to do? I don't have much trust anymore, but I find it hard to breakup. I am confused and worried about the future. Can the love develop again?

Sri Sri Ravi Shankar:
Ya, certainly. Have a broad mindset. Suppose you were in that state. You made a mistake and you repented it, and you want your wife to forgive you. How would you feel if she doesn't and hold on to it. How would you feel? Same way a mistake has happened through her. Some mistakes happen through you and some through her. Forget about it. Live in the present moment. Give her a chance. Move on to the future. But if it keeps happening too many times, then you can take a decision. If it is once or twice, you should give her a fair chance. If it happens more than three times, then you put your foot. I have no experience in this field. I can't give any better advice on this. So, this could be a suggestion. I don't know in what way has she cheated you, but it may not be so intentional. Our 'Art of Living's' policy is not to see intention behind others' mistakes. Once, twice, thrice as much as your capacity is there, you keep forgiving. But then when it comes upto your neck, you say, "No more".
There was a king who was all the time hurling abuses at Lord Krishna, when Lord Krishna was here on the planet. This Jarasandha was insulting him, and spreading wrong rumours about him. Lord Krishna forgave him not once, twice but 100 times. His patience was 100 times. But then Lord Krishna said, "I have forgiven you 100 times. I am not going to stop now. I want to finish off you now. I have given you enough room, you didn't change. The only way is you to be punished". So, it depends upon our capabilities. Jesus also said to forgive. See how much patience you have. How much can you take to forgive? Not just your wife but everybody for that matter.
Q: I am in a dilemma. I used to revere Guru Granth Sahib as my Guru. But after meeting you, I have found the inner joy which I was looking for. Now I am confused whether to have faith in you as a Guru, or in the Granth Sahib?

Sri Sri Ravi Shankar:
Where is the dilemma? Guru Granth Sahib is a very sacred scripture. One should definitely respect it. Guru is not a person; Guru is knowledge, whether it is in a scripture, a person, or consciousness. That Guru tattva is to be revered and believed in. Our mind only creates complication, otherwise there is no dilemma. Guru Granth Sahib contains the crux of all scriptures. So, respect the scripture. There is no question of choosing here.

Mother is our first Guru.

School teacher is our second Guru.

Then music teacher is also a Guru.

And one who gives knowledge of the truth is Satguru.

When Guru tattva wakes up in life, it is not partially awakened, it stays completely. So, live naturally. Rejoice and live in love and joy.

Q: Whenever I see you, tears start to roll down the eyes. I feel as if I know you since ages. Is it true?

Sri Sri Ravi Shankar:
: You are doubting your own experience. Then it is surely true. We doubt the positive, and not the negative. We doubt somebody's honesty. Nobody has ever doubted dishonesty of a person. Same way, if somebody asks you if you are happy, you say, "I don't know whether I am happy or not". But we are so sure of our depression. We doubt in the existence of God. We never doubt in the existence of this changeable and mortal world. Evolved scientists understand that there is a question mark on the apparently looking reality.

Q: How can I control my anger?

Sri Sri Ravi Shankar:
Anger comes out of your love for perfection. Create some space for imperfection around you. Make a list of all the things you consider to be wrong. Then have people around you doeverything on that list! When you get angry, just observe that sensation. Observe how your teethare clenching and how the mind becomes. Take a few long deep breaths and see if it changes.However, I have no experience, since I myself have never had this problem. So my advice maynot be authentic. You should ask others. There are many here who will tell you. After regularpractice of Sudarshan Kriya, anger tends to settle down.

Q: How come you manage to smile in all the circumstances?

Sri Sri Ravi Shankar:
You know, this is our brand mark. Our logo is smile. If you see somebody and they are not smiling, and they say they have done 'Art of Living', don't believe them. I am sure, all those who are here, who have truly done it will agree with me.
Q: My husband has yet not done the 'Art of Living' course. I want him to experience the same joy and knowledge. I have persuaded him by all means. Please guide me what to do now?

Sri Sri Ravi Shankar:
You pray. It will happen.

Q: How should be a disciple's relation with the master?
Sri Sri Ravi Shankar:
What relation you want to have with yourself? A relation in which you are natural and without any hesitation.
Q: Is it love or surrender when I feel your presence in meditation?
Sri Sri Ravi Shankar:
Surrender with love. And that which happens with surrender is love.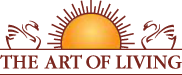 Founded in 1981 by Sri Sri Ravi Shankar,The Art of Living is an educational and humanitarian movement engaged in stress-management and service initiatives.
Read More