Question & Answers with Sri Sri Ravi Shankar

Q: Gurudev, What is the alternative solution for white sugar and tea?
Sri Sri Ravi Shankar:
Don't be too fussy about anything. You can't go to everywhere and demand jaggery products. Of course Jaggery is most desirable. But your body has got enough capability to adjust itself. Your immune system is strong enough. Organic food is most desirable. But sometimes if you don't get organic food, don't think you are immediately going to fall sick. People who are too finicky about food, their immune system keep on going weaker and weaker. When something challenging is given to the immune system, it gets a chance to work. So now and then, once in a while, the immune system should be challenged. Then the self defense will come up from within. Otherwise being finicky gives rise to frustration and anger. Your system should be flexible and adjustable. And that can happen when you resolve mentally that the type of food you are going to eat won't affect your system too adversely. That doesn't mean eat unhealthy food. But that means not to be too finicky about food and quality of food. Chose a middle path.
Q: Gurudev, Maharashtra assembly fight, Bangladesh, Pakistan…My heart weeps looking at all this. I feel afraid at times.
Sri Sri Ravi Shankar:
When you look at all this you feel pain in your heart. The pain should be there. When the pain is there you take a step. Otherwise you keep sitting until your own home is on fire.
Observe how Mahatma Gandhi gave a direction in those days. This way you will also get ideas in your mind on how to move ahead. All should sacrifice a little. Whatever we can we will all do. You feel afraid at times, that's ok. It happens at times only isn't it? Do meditation, Pranayama and you will be out of it.
Q: Gurudev, Does numerology have an effect? There is a number which I consider lucky for me, and there are certain numbers which are not so lucky. Is this just a notion in mind or the effect actually exists?
Sri Sri Ravi Shankar:
That has some effect but the power of chanting 'Om Namah Shivaye' mantra is much more. The power of mantras can nullify the effect of any unlucky numbers, and then all the numbers will be lucky for you.
More from the same conversation in the next post.
Q: Gurudev, How to deal with people who say and do bad things?
Sri Sri Ravi Shankar:
First of all, accept that, that is how they are. Second thing is to see that they will change. Tomorrow they may change, next week, next year. Keep an open mind, maybe in 5, 10 years, in the next lifetime they will change. When you know that they are like that and that they may change, then your mind is calm. Any irritable situation, make fun of it. If you have a little bit humor, you are able to sail through irritable situations. If it is really unbearable, never mind that you get angry. But you should become normal again in 2 seconds. You know, it's not worth losing our peace of mind. Because of someone's behavior. Don't you think so?
Q: Gurudev, Why do thoughts come and where do they originate from? Why do the thoughts rule us?
Sri Sri Ravi Shankar:
Where do the thoughts come from? From the mind, or the body? Close your eyes and think about it. That itself becomes a meditation. Then you will reach the point or space within you from where all the thoughts come. And that is fantastic.
Q: Gurudev, Even after doing Advance course, I have negative emotions like anger, jealousy and greed. What should I do?

Sri Sri Ravi Shankar:
You have already assumed that you have all this. Now imagine what the case would be if you had never done meditation. These emotions were happening in you earlier also, and these are happening now also. But now these lose their grip on you very quickly. May be, few more Advance courses and you find that you are out of the grip of these emotions.
Don't assume that you have all these negative emotions in you. If you assume this, same will start manifesting. Where are these emotions right now? You are pure in the present moment. Have faith in your innocence in the present moment. Gradually, you will experience that all these are not present in you, and you would start feeling how beautiful you are from inside. You have heard this earlier, but now you would experience it.

Q: Gurudev, There are quite a few questions about how do I feel more connected with you or how do I feel the connection. Sometimes, I don't feel the connection to knowledge or to you or to myself. These types of questions are there, couple of them in my mind.
Sri Sri Ravi Shankar:
Certain things you should take for granted. You should feel that you are connected. Are you connected to air? Do you say, again and again, is there air around me? Am I breathing or not? Is there air around me? My dear, there is! Is there a sun in the universe? There is! I don't see the sun. If there is no sun, the earth would not exist. If it is not visible now, it is visible another six hours later. Or eight hours later - it will come to the horizon. In Norway, you'll not see the sun for two months. That doesn't mean it has disappeared from the surface of the planet. Similarly, your connection, your love is always there. Sometimes you feel it. When a cool wind blows on a hot summer's day, it gives you certain elevation. It gives you a contrast. You were not connected, suddenly you feel connected. So this feeling of being connected often happens in contrast. Especially when you didn't feel connected, suddenly you feel the connection, you feel that contrast.
For knowledge, you have to have the opposites. When you don't feel the connection, know that you are already connected. Don't look for it. You see what I am saying? Okay. Move away from all the principles of the Art of Living. Drop your pranayama, meditation, singing, everything for one week, 10 days. Then you will see. You will feel the thirst. All this knowledge will pop up in your life time and again. Wisdom once learnt remains with you like a solid rock. You can't get away from wisdom. Still try to get out of it for sometime and see. Then you'll notice the connection. Sometimes astrologically, cosmologically, the sense of lack of enthusiasm, interest or spirituality or sort of dullness creeps in life. Vedic astrology speaks about a particular time in one's life where this could happen. But it is only for a short period of time. Especially they say, when the Jupiter is at the lowest energy, the spiritual energy in the world goes down and people become more gross. You don't feel uplifted, elevated. But it's only a short period of 11 months or even shorter. The Christian tradition speaks about the dark night of the soul where a spiritual seeker suddenly finds that all that he has been doing is useless or has not taken them any further. This type of a feeling had dawned in Mother Teresa also.
In Patanjali Yoga Sutras, it is explained how to overcome such obstacles in the path of Yoga. These are the nine obstacles you can get – doubts will come. Self doubt, doubt about the teacher, doubt about the knowledge, the path and then some or the other ailments come. You'll be fine. When you want to do is some practice you'll get cold, cough, fever, this and that. Some physical discomfort, disease or mental dullness can come over you. These sorts of nine different types of obstacles to get perfection are also part of the knowledge, part of the path. But no obstacles can stay forever. They all come for a short time and they go, they disappear. So don't keep looking whether I am connected or not connected. When you feel a sort of vacuum, lack of love, lack of enthusiasm or the initial high or joy you felt suddenly disappearing somewhere, just smile and be centered. You will see this wind just blows and then the sun rises back again. The sun is always there. It will be visible just in the matter of time. In the same way, your connection with your Self, with the teacher, with the universe is all intact. It will just blossom once again.
Q: Gurudev, How do we stop depression?


Sri Sri Ravi Shankar:
Doing pranayama (stress elimination breath techniques) and yoga regularly. Stop thinking about yourself only, "Oh, what about me?" This is a technique to get depressed, if anyone wants to get depressed they should only have one question, "What about me?" Come on. Think about the world, about other people around you, what you can do for the world. You have a big picture around you about what you can do, then depression will run away from you. So two things:
1. Is to do your practices and
2. Is set up a goal for yourself, do something in the world that would be useful to many more.
Q: Gurudev, How to be non-judgmental?
Sri Sri Ravi Shankar:
By studying your own past. Look at how many times you have been judgmental. Every time you have been judgmental, you have been on the wrong foot. So just be aware of that. The moment you are aware that you are judgmental, you are already out of it. You can't be judgmental in the present moment. You are judgmental in the past.
Q: Gurudev, What is the connection between the thought and the action?
Sri Sri Ravi Shankar:
You should never do thoughtless action or you will be in trouble. There are two dimensions of our life. Sometimes you act without thinking and sometimes you only think and don't act. Source of both - thought and action - is you. Knowing who you are, your thoughts get streamlined and actions become perfect. Your thoughts and actions are aligned.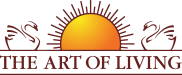 Founded in 1981 by Sri Sri Ravi Shankar,The Art of Living is an educational and humanitarian movement engaged in stress-management and service initiatives.
Read More