Question & Answers with Sri Sri Ravi Shankar

Q: What are some habits that would promote success?
Sri Sri Ravi Shankar:
First you need to define success. Having a big bank balance and no sleep is not success. You may have lots of money but have diabetes, high blood pressure and all other health problems. That is not success. You may have lots of money but be filled with fear and anxiety, you may not have friends and that is not success. To me success is measured by your smile. How much of your life is filled with smiles and how much can you contribute to others? How much courage and confidence do you have in your own ability? You mustn't be worried only about your own future. Money is needed in life but life is not all about money.
Q:
How can I safely detoxify my body?
Sri Sri Ravi Shankar:
Pranayama, proper diet, raw food, juice, vegetables, and relaxation.
Q: How to give 100 percent. I often feel I don't know how to give my 100 percent?
Sri Sri Ravi Shankar:
Do you want the answer?
(Yes from the boy)
Do you really want the answer?
(Yes from the answer)
Do you 100 percent want the answer?
(Very Intense yes from the boy)
Really?
(Calm and Enthusiastic Yes from the boy)
See, you already have it.
Q: Please speak about forgiveness toward ourselves and others.

Sri Sri Ravi Shankar:
Don't do it, if it is hard. Go the easy way. If it is hard to forgive, never ever forgive. If it is easy to hold a grudge against somebody, keep it with you all your life. In that case you should be happy with it. Can you be happy with a grudge against somebody? If somebody made a mistake, it is their problem and not yours. You just go the easy way.

The struggle is that we want to forgive but we can't. We should look at every culprit as a victim. If the person was unjust to you, clearly he was not happy. Otherwise, he would not have done it. He was not as refined and cultured as you. Whose mistake is that? If that person was enlightened, or had knowledge he would not have done it. So be compassionate.

Q: I am a restless soul. I always want to take up the next thing, whether it be new job, new country, new place, new things. I don't know what is it that I am searching for? Do you have any suggestions for me?

Sri Sri Ravi Shankar:
Your soul is restless! How do you know? Have you found your soul? (Jokingly) Your restlessness is because you want more. You want more joy, more and more. It is like Bulimia. You eat food but you are not satisfied. You take it out, and then you eat more food. Relax. You have to find peace. You need to hurry up till you are not on the spiritual path. Like you have to hurry up before catching the flight. But once you are on the plane, there is no fun if you run inside the plane with your baggage on your head! You are not going to reach any faster. Once you are on the path, you simply have to relax. It is also said in Bhagwad Geeta that 'A yogi who is beginner has to work to earn karma'. But then you have to learn to relax. The more you relax, the faster you reach. If you take more time to relax, it takes long to reach. I know what are you searching for – your inner self - the source of all wealth, happiness and joy. And that is deep within you. Especially, when you meditate in a group of regular meditators, it has a different effect. Have you noticed that it had a different effect when you meditate today in the group, in this presence? (Affirmative yes from the audience). So it is much better to meditate in a group. You progress faster when you meditate with meditators. Then you realize that you have gained an ability to smile through and through, nothing really bothers you or touches you, nature loves you, and reverberates with you. I was having a discussion with one of the great scientists of the time. He was telling me about string theory. Every animal brings a particular type of energy, rythm or vibration on the planet Earth. Even if one animal is missing, the unverse will collapse. Suppose, if all the house flies gets extinguished from the planet, human beings will also dissappear. So, all the species of animals and birds are important for sustaining the universe. Ancient vedic people knew this. In ancient Indian methodologies, they have put different Gods and Goddesses on different animals. It is said that these angels or Gods/Goddesses ride on those animals, and come to the planet Earth. Mother Divine energy comes on lion. These are opposite values, but they bring in that type of energy to the ground. It is not that Mother Divine has to sit on lion and travel. But it means that cosmic consciousness brings that energy down to the planet Earth through that particular animal. Like crows are connected with ancestors and planet Saturn. Mars is connected with sheeps and goats. Each planet is connected with a particular animal, and each God/Goddess is connected with a particular energy. God/Goddess is nothing but a particular energy that descend to the Earth through that particular animal.


Q: What is the difference between desire and resolution?
Sri Sri Ravi Shankar:
All the work in life happens through intention. You had this intention in mind to come here, and then only you could come here. If something keeps on bombarding your mind and doesn't let you sleep, then that is desire. You should not think that one should have no desire in the mind. Resolve to accomplish bigger tasks. Take on greater jobs in your hands. But you should also keep those aside at times and relax for some time.
Q: Is it necessary to be religious in order to be spiritual?
Sri Sri Ravi Shankar:
Spirituality is the way you live, feel and relate. It is the essence of all religions. Religion with spirituality is wonderful. Religion without spirituality is disastrous!
Q: Is violent action ever appropriate?
Sri Sri Ravi Shankar:
A conscious action taken to curb violence may appear to be violent itself. In fact it is not. However, I am not for capital punishment. I feel there is a chance to bring reformation in every body. Have compassion for the ones who do hurtful things and have no remorse. Have compassion for their lack of education and recognize that there is a victim inside the culprit.
Q: Any suggestions for people who suffer from allergies?


Sri Sri Ravi Shankar:
Meditation, pranayama, Sudarshan Kriya will help. Also, there are two books all should pick up - Celebrating Silence and Celebrating Love. Last time I traveled to the U.S., I came through JFK. As I was passing through security, the man behind the X-ray machine in the next row came to me and showed me the book 'Celebrating Silence'. He asked, "Are you this person?" I looked at it and said, "Looks like that". He asked me to sign the book. I said that usually I only sign the customs form! I gave my signature and he told me, "Someone gave me this book on my birthday last December and since then my life has changed. I've just read one page here and there over time and it has made such a difference". He has not done a meditation course or anything. So, it would be good if all read it. It is not any big philosophical text but just snippets of wisdom. 'Celebrating Silence' and 'Celebrating Love'. Also you can put on a meditation CD to relax. After a while, you won't need any extra support.
You have come now, so drop all your worries here. Give me all your worries, botherations and problems. I want you to go home knowing that you are not alone. You can heal and bless other people. I tell you, it's not only Guruji who gives blessings and healing. Everyone has this power to heal and to bless. So, anyone of you who wants to do that, you have to do a little bit more meditation, pranayama, kriya and you will have the power to bless others. There are seven billion people on the planet. So, we each must come up with this ability to bless others.
Q: What does it take to accomplish ones destiny?
Sri Sri Ravi Shankar:
Faith, faith that you can accomplish your destiny.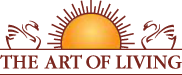 Founded in 1981 by Sri Sri Ravi Shankar,The Art of Living is an educational and humanitarian movement engaged in stress-management and service initiatives.
Read More