Question & Answers with Sri Sri Ravi Shankar

Q: Gurudev, Guruji, will there be a positive change in the civilization; no wars and hunger and poor people? Is it possible to create a world of peace, harmony and friendship? Is it possible in our lifetime?
Sri Sri Ravi Shankar:
Yes, we should have this vision; we should start working towards it.
All these problems are there in the world to wake us up. If there were no problems, we would sleep, we would be very selfish, we would not do anything about it. These problems are there for us to wake up and do something about it.
Q: Gurudev, When will everyone embrace the Art of Living?
Sri Sri Ravi Shankar:
There is nothing inside or outside the Art of Living.
Q: Gurudev, Guruji, Kabirdas has said Nindak neare rakiya angan kuti shava,bin pani sabun bina nirmal kare suhayHow to identify a good critique?
Sri Sri Ravi Shankar:
How can a critique can be classified as good or bad? (laughter)Nindak neare rakiya angan kuti shava,bin pani sabun bina nirmal kare suhayThe great Indian saint Kabirdas has said that keep someone who criticizes you close by, that will keep your house, your mind clean - without soap and water. Like you need soap and water to keep your body clean, like that one who blames you, you should keep close by. If everybody around keeps praising you, they may not keep all the facts in front of you. Someone who is criticizing you, will show you your pitfalls. Welcome criticism, anybody who criticizes you, welcome that. Don't shy away from criticism. Isn't it a part of DSN? (an Art of Living program) You all have done DSN? You should be able to give constructive criticism and also take criticism. That is the strength. And there is no good critique or bad critique.Keep them nearby means that don't run away from critique, don't stop talking to them. You stop talking with someone who criticizes you. Yesterday if somebody criticizes you; you talk to them normally today. Don't shun them.
Q: Gurudev, What is the significance of pilgrimage in Hinduism? What is your experience of any Pilgrimage?
Sri Sri Ravi Shankar:
Best pilgrimage is Inward Journey! A pilgrimage is an opportunity for people to come together and pray together. As you know, praying together generates more energy, you know, a synergy. But don't think God is only in pilgrim centres! God is omnipresent and omniscient. Ancient Rishis meditated in some places and put all that energy in some idol there. The scriptures talk about God as having no name and no form. There is freedom to worship God in any form or any name. Wisdom from anywhere was acknowledged.
Q: Gurudev, How do we get over the fear of losing?
Sri Sri Ravi Shankar:
Fear, hatred and love are three sides of the same cycle. When one is dominant, the other two are absent. Meditation is the only way to transform fear and hatred into love.
Q: Gurudev, Is there any maximum limit to how much we can meditate?
Sri Sri Ravi Shankar:
Just do as much is necessary. There is no need to do too much. Meditation is like taking a bath. To wash the mind, you need meditation. And once the mind is clean, you will be well.
Q: Gurudev, What is the difference between my will and God's will?
Sri Sri Ravi Shankar:
When every will is His, every mind is His, then where is your existence? Everything is God's will. The moment you differentiate between mine and His, there are two.
When your mind is clear, then sit and think. Only when your mind is free from feverishness, can His will be done.
Q: Gurudev, What is more important - faith in ourselves or faith in others?
Sri Sri Ravi Shankar:
Both are necessary. However, add one more. That is, faith in God.
Q: Gurudev, The state of society nowadays is very bad. There is suppression due to casteism and a large economic divide, and for a number of reasons, one feels lonely. How does one gather strength and gain self confidence during these times?
Sri Sri Ravi Shankar:
Do you feel lonely here? (Audience says "No!")
That's it! We have satsangs here and everywhere, so you should feel like a member of a "sangha" (group).
You are not alone in your fight for justice and pursuit of peace or happiness.
Truth will always triumph.
Q: Gurudev, I can't think of more questions. Please tell me some question to ask?
Sri Sri Ravi Shankar:
That's good. My job is not to tell you or give you questions but to take away your questions.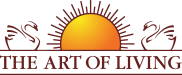 Founded in 1981 by Sri Sri Ravi Shankar,The Art of Living is an educational and humanitarian movement engaged in stress-management and service initiatives.
Read More