Question & Answers with Sri Sri Ravi Shankar

Q: Gurudev, What is the finest form of karma?
Sri Sri Ravi Shankar:
What we don't want for ourselves, we don't do it unto others also.
Q: Gurudev, What is emptiness, empty mind? Can you speak more on this.
Sri Sri Ravi Shankar:
Sri Sri hand gestures empty space.
You got it? That's emptiness. If no, then the mind is already empty.
Q: Gurudev, What is a sign of the dawning of wisdom?
Sri Sri Ravi Shankar:
Prasanna chitta (pleasant state of mind) is a sign. Friendliness, foresight, intuition, a mind in the present moment – these are signs of wisdom.
Q: Gurudev, Guruji there are so many people in the world who are suffering on behalf of ancient beliefs and rituals. Can you please talk about it?
Sri Sri Ravi Shankar:
People are suffering with modern beliefs also. They think drugs, cigarette, alcohol gives them joy and then they suffer. Not every ancient belief is wrong and not every modern belief is right. We need to accept combination of both old and new. People are suffering because of superstitions which have no sanction of scriptures or science. People are suffering because of some rituals which are not at all part of ancient scriptures. It's a lack of wisdom which make people suffer. Nothing else.
Q: Gurudev, Please explain the meaning of seva (service).
Sri Sri Ravi Shankar:
One is our job, the other is seva. Both are different. You do your job for livelihood. Seva means seva- Doing like Him. God has given you everything, whether you remember him or not. He wants nothing in return. Do work and be in the way that will make the other person happy. The reward of seva comes only when when you want nothing in return.
Q: Gurudev, The knowledge in the Vedas contains the truth and laws of nature. Is modern science also apart of this body of knowledge?

Sri Sri Ravi Shankar:
Yes. Knowledge is infinite. Many scientists of modern age are the rishis (sages) of today. They explore the universe. All are to be honored, whether ancient or modern.

Today's quantum physics discoveries are startling. There is so much similarity to Vedic knowledge. For instance, darkmatter and String Theory are both present in the ancient knowledge. Dr.Hans-Peter Dürr, thephysicist has told me that whenever he is giving a lecture, he feels as if he is speaking on Vedanta. The whole universe is made up of one substance, and not two. This is Vedanta. Ancient rishis and modern physicists both say the same thing.


Q: Gurudev, You say that choice is mine and blessing is yours. How do I know I have made the right choice?
Sri Sri Ravi Shankar:
Time will tell. If it has come with a blessing, it will be good.
Q: Gurudev, Many Indians, settled here in the States, are not happy because they feel their children or families are being prevented from making progress in life. They are not coming up for whatever reason. What is the solution for handling this stress?

Sri Sri Ravi Shankar:
Is your question that people are not happy in spite of prosperity? Bring them to me. Bring them to the teachers. They will have no choice but to smile. Stress can be eliminated through stress management, dispassion and through a broader outlook to life. When you are 90 yrs old what do you want from this life? What do you want to take? What do you want to give? What impressions do you want to give to the world? What impressions do you want to take from the world? Just ponder. Just be with these few questions and the stress will leave you. Dispassion and breath uplift you. A little bit of devotion or bhakti uplifts you.

Q: Gurudev, An 'Art of Living' teacher once said that God created us and He is perfect. So, we are perfect. That's believable. We are perfect, so shouldn't an engineer's work be perfect? How come it is not?
Sri Sri Ravi Shankar:
The question is perfect and the answer is even more perfect. Everything in the universe is moving from one level of perfection to another level. Milk is perfect and when it turns into yogurt, yogurt is perfect. You take out cream from yogurt, and that is perfect, and then you make butter, and that is also perfect. This is one way of looking at it. The other side of looking at it is, the milk got spoil and you make cheese out of it. When yogurt got spoil, it became imperfect and you took butter out of it. This is another way to look at it. It all depends on how you look at it. It's imperfection that gives value to perfection. Isn't it so? How can you call something perfect? Because there is something which is not perfect. So, the existence of something which is not perfect is absolutely essential to understand something that is perfect. So, the imperfect makes the perfect, perfect!
Q: Gurudev, How does one get over past childhood problems?

Sri Sri Ravi Shankar:
It's already gone. If you think it is still in the mind, then rub it off. De-link the pain from the memory. But if you put effort in trying to do that, you bring the memory back. However, in meditation you feel the pain as a sensation and not as connected to an event. In the Art of Silence Course, during the Hollow and Empty Meditation, you observe pain as a sensation. The very first experience of life was pain, coming out of our mother's womb through such a small passage. Before that you were in bliss. You didn't even need to eat. Then suddenly the water got drained and you came out crying. Have you noticed the expression on a newborn's face? It is as though they came out from ten hours of hard work! The first experience is that of pain. Then the child looks into the mother's eyes, and then the mother experiences the love.
Don't see pain as an event.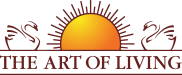 Founded in 1981 by Sri Sri Ravi Shankar,The Art of Living is an educational and humanitarian movement engaged in stress-management and service initiatives.
Read More