Question & Answers with Sri Sri Ravi Shankar

Q: Gurudev, Should yoga become an integrated subject in school, especially iftraining/practicing can help our students to achieve something higher?
Sri Sri Ravi Shankar:
Yes, certainly. Inseveral countries, they have already made yoga compulsory in schools.
Q: Gurudev, How can we use our love to transform nature? These days there are lots of natural disasters happening and can we do something to control them or prevent them?
Sri Sri Ravi Shankar:
This will happen slowly. If you start loving trees and plant more trees, it will definitely have an impact. You know, mining is the biggest disaster that we have created. We put so many explosives under the ground and blast them. Earth is a living organism, it is not a dead object. So, if we put in its tummy and blast it, the earth starts shaking more and more, earth quake happens more and more. Mining is the biggest cause of natural disaster that we are creating. And second is cutting off the trees. There is so much attention about tree plantation or about going green, but, nobody is talking about the explosives that we are using for mining. This we have to see.
Q: Gurudev, Whatis the fastest way to feel belongingness and unity?
Sri Sri Ravi Shankar:
When you are free fromstress, you have a sense of belongingness and understanding. This is whathappens when people undergo The Art of Living program. It happens so naturally.
Q: Gurudev, You have a very big dream in bringing world peace. If, in our lives, we meetpeople who follow orthodox and rigid ideas and are ready to die and harm otherpeople, how should we deal with it?
Sri Sri Ravi Shankar:
We need to deal with suchpeople with patience and we have to educate them, it's not an easy task. First,we should begin from prisons. When one amongst them joins us in spreading peace,it is much easier.
Q: Gurudev, Dear Guruji, I desperately need one good job and visa for some country, please help me!
Sri Sri Ravi Shankar:
Yeah, you pray, you do meditation. Whatever you ask for, you are getting it, right! How many of you are getting whatever you desire? You wish and you are getting, your work is getting done. How many of your wishes are coming true? (many raise hands)
Q: Gurudev, Course will be perfect without translation, when can we stop?
Sri Sri Ravi Shankar:
Okay now listen, this is your concept. Just imagine if you were on the other side and I would speak only Chinese, don't speak any English, and there would be no translation, then what would you do? 'Oh, please let me have translation'. Don't keep the concept in mind, 'oh translation is bothering me'. No it does not matter, let it be there. Listen to it like music.
You know people who cannot read Chinese, we find it so beautiful when we go to Hong-Kong, because all these Chinese letters look like decoration. All the sign boards look like decoration, some rangoli or some designs. The entire Hong-Kong is decorated with design boards everywhere. It does not bother but if you know the language, you will be reading all the boards and it will be bothering you more. When you don't know, it looks so nice.
Q: Gurudev, Can I ask you something? I was also thinking about all that has happened in Pakistan and this was the region which was also most affected by terrorism. Is there any relation how the karma is of the people's action and the nature's response?
Sri Sri Ravi Shankar:
Yeah, at this time it is not wise to say, 'it is because of your bad karma you are suffering'. It is not a wise thing to say, people are suffering from natural calamity. That is why they always categorize three types of calamities affecting people.

Three categories, one is Adi Bhautik means natural calamities, nature's response brings you into misery. And then Adi Daivik - a calamity that is manmade. You can say through one's own wrong doings. And then the third calamity that comes in life Adhyatmik, What is it called in Christianity? Something like the dark age of the soul… what is it called? (Audience - The dark night of the soul). Yeah,that is you have everything but then depression sets in. You have money, all that you could have achieved in society you have achieved but you find there is darkness and you don't know how to go in, how to cut the darkness. Your spirit is longing, missing something but it does not know what. There is type of inner vacuum. That inner vacuum where there is no joy, everything appears completely dead and meaningless.

This is called Taap Athreya. Taap means anguish, three types of anguish. Human life is faced with three types of anguish and how it can be overcome? Through Tapas!

Tapas means endurance, knowledge, wisdom, meditation, yoga, pranayama, all this comes under Tapas, from Tapas the three Taaps can be overcome, okay!
Q: Gurudev, Guruji, what is Nirvana? Or better, give it to us right now!
Sri Sri Ravi Shankar:
Nirvana is bringing the balance and having no feverishness for any desire. Desire means a lack. When you say, I want nothing, I am content, that is nirvana. But that doesn't mean you shun your duties. You perform your duties well but you are with your center. Even craving for enlightenment is an hindrance to enlightenment.
All emotions are linked with people, objects and events. Catching on to objects, people or relationships hinders freedom, liberation. When the mind is free from all impressions and concepts, you are liberated. The state of nothingness is called Nirvana, enlightenment, Samadhi. Nirvana is getting back to me from mine. Who am I?
When you go deep inside you, layer after layer, that is nirvana. It is like peeling an onion! What do you find in the center of an onion? Nothing!
When you know that everything is changing - all relationships, people, body, feelings - suddenly the mind which clings on to misery comes back to you. The return from mine to me, gives you contentment and freedom from misery. Reposing in that state of contentment is nirvana.
Q: Gurudev, A lot of spirituality text talks about controlling our mind and channelising our thoughts. But practically for most of us that's a difficult job to do. Request you to give us practical tips on this.
Sri Sri Ravi Shankar:
Ya, that's exactly what we are going to do now. Meditation. You will know then how we will deal with the thoughts.
Q: Gurudev, Will there ever be Men's day?
Sri Sri Ravi Shankar:
(Smilingly) For that too, you would have to pray to the Devi(mother Divine). Even demons ask for boons from Her, and angels as well. Once somebody was telling this joke: Once a man was asked who the owner of the house is, and the man replied saying he would ask his wife!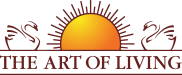 Founded in 1981 by Sri Sri Ravi Shankar,The Art of Living is an educational and humanitarian movement engaged in stress-management and service initiatives.
Read More