Question & Answers with Sri Sri Ravi Shankar

Q: Gurudev, How does one balance work and life?
Sri Sri Ravi Shankar:
How do you balance on a bicycle? There is no "how." You just do it.
Q: Gurudev, What happens between the time of death and next birth?
Sri Sri Ravi Shankar:
What happens between the time when you are awake and asleep? Same thing happens – you are dormant. When the consciousness is back, when the time comes, it will come back.
Q: Gurudev, Dear Guruji, is it possible to love and stay strong? Is it possible to love andstay reasonable? Is it possible to be in love and stay dispassionate? Is it possible to be in love and be free from jealousy and possession?
Sri Sri Ravi Shankar:
Definitely. It is possible to stay in such a state of love without any of these negative connotations with that – if there is wisdom. Love with wisdom is bliss. Love minus wisdom is what you have mentioned; all this jealousy, greed, all this paraphernalia.
Q: Gurudev, What can we say to people in our satsangs who keep bringing in knowledge from different gurus?
Sri Sri Ravi Shankar:
Listen and let go. Don't engage in too much discussion with them. Let everyone air their own opinions. The main thing is being with your own contemplation.
Q: Gurudev, I am into a field of research where I try to figure out the reasons of chaos in the world. In one of my researches when I was finding some conflicting threads in various religious prevalent beliefs, I found both Lord Budha and Lord Shankarya Charya had spoken of Soul. Can you throw some more light on seeming different statements of the Masters as per different times?
Sri Sri Ravi Shankar:
Lord buddha said that everything is nothing. Everything dissolves into nothing. He said, I meditated to see the soul and found no soul.
Shakaracharya said: "Who searched? Who found that everything is nothing? Who said I did not find the Atma? That is Atma. That is what upanishads say. Buddha says the whole universe is empty like the space, Shankara Charya says the whole universe is full like space - everything is in space.
Q: Gurudev, Are you my Guru? But they said Gurus find their devotees!
Sri Sri Ravi Shankar:
: That you have to decide!
Yes, Gurus find their devotees, this is usually said. You know when was this said? In ancient days, when children would go to the Gurukul, the teacher would come and test the aptitude of all the children - this child is good in engineering, this child is good in music, this child will be good for this, for this, for this… Then the teachers would say, 'Okay, you come and you do Veda, you study Ayurveda, you study music'; so teacher used to pick up. That was when parents would bring their children to the Gurukul and then the Guru would pick up which student would study what.
Once you are here in the knowledge, once you are on the path, your heart will tell you," This is the place for me and I have to get here", and that is when you accept someone as your teacher. Not that someone comes to you and says 'I am your teacher, I am your Guru'. If so happens then don't believe that, okay! Nobody can impose that; it should come from within. Your heart tells you that this is genuine, this is right, this is good. So once you accept someone as your Guru or teacher then this anguish disappears to a great extent, and know that you are not alone!
Q: Gurudev, You have a very big dream in bringing world peace. If, in our lives, we meetpeople who follow orthodox and rigid ideas and are ready to die and harm otherpeople, how should we deal with it?
Sri Sri Ravi Shankar:
We need to deal with suchpeople with patience and we have to educate them, it's not an easy task. First,we should begin from prisons. When one amongst them joins us in spreading peace,it is much easier.
Q: Gurudev, Human beings live in a state where everything is not under our control. It is not possible to relax or meditate or even take deep breaths. Is there any other way to handle things smoothly?
Sri Sri Ravi Shankar:
There is a saying "You can't learn archery in the war field". You have to learn archery before you get into that position. So, at that moment when you are stressed, you can't do, but you have to do something before so that you don't go to that level at all, you don't get stressed. You can't learn a new tune on the stage, though I don't believe in this, this is a saying, actually nothing is impossible. I would say change in the way you behave, change in the food habits, and change in the way you perceive things in life, your communication ability, your ability to withstand criticism and take criticism… Generally, the outlook towards life itself makes a difference.
Your getting connected to the universal spirit, how much you are connected to the universal spirit, that much more is your ability to function.
So, I would give you number of things that you can do. Small techniques like head massage, eye exercise, taking proper food, taking a walk, sitting and observing sunset…maybe in KL, you don't get to see the sunset because of tall buildings all around! Being with nature, playing with kids etc will also help. Unfortunately, we simply sit on the couch, watch television and keep popping all the junk food. This has taken a toll on the health of the society.
We need to change our ways for a healthy society.
Q: Gurudev, Guruji, you asked us to be dispassionate and you also say that dispassion is a happening. I really want to be dispassionate but I am confused how can I create a happening in my life? Please guide
Sri Sri Ravi Shankar:
Dispassion is not a happening; I would say dispassion is what you invoke in yourself. When you widen your awareness, when you see everything is going to disappear and death is imminent, we are all going to die and everything is changing; when this knowledge comes - then dispassion is spontaneous. You need to understand and see life from a broader perspective and then automatically dispassion comes within you; but there is some effort. A little effort from you and then it will happen.
Q: Gurudev, could you please comment a little bit on your concept of love. Love for parents, sex, children, your surroundings, friends etc.
Sri Sri Ravi Shankar:
I tell you, love..you are made up of love. You are made up of a substance called love. Your spirit is all love. And there are various types of love. Parental love, love of the siblings. Then love for the children, love for the spouse. They are little flavors. Different, but underneath that, I don't see love as only an emotion, it is our very existence. Because all the atoms in your body love each other and that's why you are a human being. That's why there is a boss. You know the moment the love that is the bond, binding force between the atoms is gone, our body disintegrates. So, I see love more as the very existence not just as an emotion. I would say Love with wisdom leads you to bliss.

Love without wisdom or with ignorance leads you to jealousy, greed, anger, frustration and everything else. All these negative emotions are just an offspring of love. See you can't be jealous of somebody if there is no love. Right? Greed is because you love certain things more than people, that is called greed. You love somebody more than you should and that is called possessiveness. And you love perfection so much that you can't stand imperfection, and you show it as anger. Right? Love needs to be harnessed with a little wisdom.
There are around 20 CD's on Bhakti sutra - The aphorisms of love. You can just go into that. I have discussed different types of love and how they all affect our lives.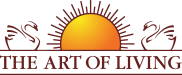 Founded in 1981 by Sri Sri Ravi Shankar,The Art of Living is an educational and humanitarian movement engaged in stress-management and service initiatives.
Read More