Question & Answers with Sri Sri Ravi Shankar

Q: In the Bhagwad Geeta, there are two ways described for liberation. Bhakti Marg- the way of devotion and Gyan Marg- the way of knowledge. Which one is better?
Sri Sri Ravi Shankar:
They are not two different paths. Suppose, you like rice pudding. How do you like rice pudding without knowing what is rice pudding. The knowledge of it will kindle a liking for it. Love and knowledge go hand in hand. Once you know about something, you go and buy it. Bhakti, Gyan and Karma are three legs of the same table.
Krishna tells Arjuna all those steps and finally says drop all and just relax. For you everything is done. Shama jali hai tere liye tujhko kuch nahi karna hai, the lamp is lit for you, you don't have to do anything.
Q: I see lots of people around me and I do not know why they have come here. Even I am sitting here and I have no clue why I am here. Is it because of some hollowness within me?
Sri Sri Ravi Shankar:
This is more of a wonder then a question. I leave that wonder with you. Life should be full of wonders and it's good to wonder.
Every wonder is nothing but a question which is not looking for an answer. Life is a journey where you turn question in to wonder.
Q: In Sanskrit, each word has the meaning hidden in itself. So what is the meaning of Akshar?
Sri Sri Ravi Shankar:
Akshar means something that cannot be destroyed. Rice is also called Akshat because it cannot be destroyed. You eat rice and it transforms into the life energy and that leads to jeev (being) which again leads to life energy. It is always there in the body. That is why even a grain of rice is not destroyed.
In physics it is said that an atom can never be destroyed. Our ancestors brought this truth to light millions of years ago. Then they said that not even a grain is destroyed. It may lose its form but is never destroyed. Shar means destruction. Akshar means that which cannot be destroyed. Like a seed we sow is never destroyed, it takes different forms and exists in space. Its vibrations are never destroyed.
Q: What is the benefit of Mantra japa?
Sri Sri Ravi Shankar:
Mantra japa definitely benefits you. Mantra increases mental power and energy. The seed mantra 'Omkar' is common in all Indian religions- whether it is Jainism, Buddhism, Hinduism, Zoroastrianism or Sikhism. You may chant Om Namah Shivaye.
Q: Is there life after death?
Sri Sri Ravi Shankar:
Yes.
Q: Can we achieve a goal within time? Please tell a way so that we may achieve a hundred percent result.
Sri Sri Ravi Shankar:
There is a sukti in Sanskrit - Kriya siddi bhavati mahta, kriya siddhi bhavati satve mahta . An act is perfected by satva. The higher the satvaguna rises in us, an act is achieved easily and without hurdles. When rajoguna and tamoguna are increased, then it takes longer to complete a work.
Thus, to increase the satva, follow a satvic diet, meditate, do satsang, pranayama and yoga. With all this, sadbuddhi (good sense) is developed.
Q: My wish and will for my spiritual growth is not consistent. Sometimes it is not very strong? How to be more aware of myself; how to see more and stop the chattering in my head for longer periods?
Sri Sri Ravi Shankar:
Just drop this more. I want to be more; I want to be more… Relax. Love for growth in the field of spirituality and mind is deep relaxation. All positive qualities are already within you. When you go deep in meditation, they unfold naturally. We can't say: 'I want this flower to blossom quickly. What do I do? Should I open the petal?'
If I want the flower to blossom, just allow, let it be. Pour some water; in time it will blossom.
Q: Guruji how come you have so many disciples?
Sri Sri Ravi Shankar:
Somebody asked me, 'How come you have so many followers?', I replied, 'I keep on running ahead of everybody.'(Laughter) People continue to come behind me. Then he asked, 'How do you do it?' to which I replied, 'It's very easy. You keep running ahead.'(Huge laughter)
Q: What was your purpose in beginning this organization?
Sri Sri Ravi Shankar:
To see a smile on every face. I couldn't stand tears running down anyone's face.
Q: Guruji, man is always fighting. Will there ever be a world free of violence and which is all peace?
Sri Sri Ravi Shankar:
Yes, that is what we should dream and work for. The whole world is one family.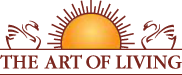 Founded in 1981 by Sri Sri Ravi Shankar,The Art of Living is an educational and humanitarian movement engaged in stress-management and service initiatives.
Read More