Question & Answers with Sri Sri Ravi Shankar

Q: Gurudev, What are the qualities that the Master wants to see in an ideal devotee?
Sri Sri Ravi Shankar:
None. If I name a quality, you will all try to emulate that quality. Just be your natural self. Be honest. Even if you miss a meditation one day, don't feel guilty about it. Time is carrying you. All the good qualities you aspire for, you have them anyway. You are here and you are doing the right thing.
You can purify your body by following a proper diet. It's good to fast for two-three days in a year. Fast on only juices. But if your system disagrees with it, don't do it. You should listen to your body.
Mind is purified through pranayama and Sudarshan Kriya.
Intellect is purified through knowledge.
Emotions are purified through bhajans.
Actions are purified through seva.
Money is purified through charity.
You should donate at least two to three percent of your income.
Q: Gurudev, Can the soul come to the same world or can we born in other worlds too?
Sri Sri Ravi Shankar:
All possibilities are open.
Q: Gurudev, Can you talk a little about the Soul - the self or Atma?
Sri Sri Ravi Shankar:
It is step by step experiential understanding. Before going to atma, the self, you have to know the five elements of creation. What are the tatvas? Prithvi, ap, tej, vayu, and akash - Earth, water, fire, air and ether. Then comes the mind, buddhi (intellect), memory, ego, and maha tattva (self).
Q: Gurudev, Why swamis have beard and long hair?
Sri Sri Ravi Shankar:
We do 100%, either we take everything off or keep everything. But it is no sign to get beard or long hair to get enlightened. Anyone can get enlightened, anyone can meditate.
Outer appearance is immaterial. This is just a uniform.
Q: Gurudev, Is there something like a good or bad being? If someone is bound by an outer problem, does the negative path follow him? How to get rid of that?
Sri Sri Ravi Shankar:
There is no good or bad soul. There are strong and weak souls. Strong souls are happy, and weak ones are sad. Now, how does a soul become strong? Devotion strengthens the soul. Love strengthens the soul, hatred and sorrow weakens the soul.
Q: Gurudev, Could you please explain how consciousness is stronger thanmatter?
Sri Sri Ravi Shankar:
Well, in the pressure cooker, when youare cooking, when there is more pressure – how is it built up? Water vapor! Andis that more powerful than water or not? So, subtler you go, the more powerfulthe things are. Now, this thing (Guruji shows the small silver cymbals in thehands) has silver molecules. When you break the silver molecules down, you getinto atomic particles, and, when you break them you get sub-atomic molecules,which is minuter than the minutest. Are they not powerful? Which is powerful –this cymbal is powerful or the atom is powerful? Atom is powerful.
The subtler we go, it becomes more and more powerful.Though, everything is made up of consciousness. This entire universe is made upof consciousness, when you become subtler and subtler, they become morepowerful.
Today I was watching a research done with water in Japan bya gentleman. He kept a little water in a bottle and took a photograph. Later hehas used the same water for prayer and then after prayer he has took aphotograph. You can see the impact of prayer - the subtle thought vibration hasgone into the water. It's obviously visible.
He took a bottle of water and kept blaming it and then tooka microscopic picture of it. With another bottle, he said some pleasing wordsand you can see the difference.
In India, this process is called Abhimantra. You takea pot of water, place your hand on top and then chant mantras. The mantras aresupposed to be absorbed into the water. It is an old tradition in India. Whenyou go to any holy man or saint, you take a pot of water and ask them to blessthe water. Among the sindhi community, they do this a lot.
This Abhimantra - mantra chanting on the water - hasa huge impact on the water, because 70% of our body is water. In the Rudrabhisheka,water is made to fall on a crystal lingam while a particular chanting is beingdone and then it flows down. That water is very charged and it helps to upliftthe atmosphere.
Now it is visible in the microscopic images, the changesthat happen by these practices.
Similarly a gentleman from Russia came and conducted anexperiment in Mahabalipuram, Tamil Nadu when they were doing the Aarti.He took the pictures and found that all the negative ions in the atmospheresuddenly disappeared; they turned into positive ions. It is the positive ionswhich bring changes. All these things are meant to create the positive ions; tobring the required changes. The same is the case with the use of fire. Duringfire ceremonies, when they put the mantra with the intention, there is aqualitative change that happens in the atmosphere.
Q: Gurudev, Dear Guruji, could you please give me an answer? Is the man I'm in love with since one year is the right one for me?

Sri Sri Ravi Shankar:
Well! You are in deep love with somebody, so that person must be right for now. But whether he continues to be right in future, no body can say. It depends on you! How you handle. You are in love with some body, but is he in love with you or not? First you find that out! If that man is also in love with you, then see how you both preserve your love with a dose of wisdom and how you carry on, how you conduct yourself – all these factors are there. Correct? It's very easy to fall in love, but many don't know how to maintain that. Someone falls in love with you and you don't know how to receive and nurture that love.

We loose other's love for us too. So these skills, I have spoken about these skills in the knowledge facets, in Celebrating Love, you read it.
Q: Gurudev, How would you make Indian political leadership honest?
Sri Sri Ravi Shankar:
You know a question has got a single answer. But certain questions should not be answered. It should be made as a path. A road can be tread many a times. Like this question, we will have to ask again and again in various circumstances. Why someone is not honest? Basically, it is lack of sense of belonging. You know what; corruption begins outside the purview of sense of belonging. No one can be corrupt with their own family, and if you extend it a little bit, to the near and dear ones. They're not corrupt with their friend circle, but when they put a boundary beyond that friend circle, when one thinks that only these people belong to me, then the people are no longer mine. Then the corruption begins. We have to educate people to expand a sense of belonging. Second aspect of corruption is insecurity. People who don't have friends try to find the security in money. Gosh, they don't know money is not going to bring them security. It's the company of right people who will bring more security in their life. You know if you go and ask a school boy or a girl how many friends he/she has, they will count on their fingers - 2,3,4,5. And I ask them, "hey, look you are spending 5 - 8 hours every day in a classroom of 50 - 100 kids, and you can't be friendly with everybody? And how are you going to live your life when you come out of the schools and colleges with the billion people, 6 billion people in the world? So, the basic quality of being friendly is sort of foreign, sort of alien to our kids. Then what happens? Insecurity creeps in. And to manage this insecurity, the only idea one gets is ok I should have more money. So, then by somehow you amass money, be corrupt. So, first of all we have to spiritualize the politics, socialize the business and secularize the religions. If we can do these three things, society will be a better place to live in.
Every leader should see beyond his/her community and people. They should have a vision for the entire human race. You know, the Hindu priest, he should not only pray for Hindus. He should pray for every human being. Similarly a Muslim or Christian priest, he should feel for the entire humanity then we have achieved the purpose of religion.
So, I would say secularize the religion, socialize the business. If every business undertakes corporate social responsibility of investing 1, 2, 3, 10 or whatever 10 percent of their profit in developing rural areas, I tell you this planet will have no hunger, will have no disease, will have no illiteracy. Because governments alone cannot do this, it is a social partnership with the NGOs and business organizations. They can do much more. So, socialize the business, bring social corporate responsibility and then spiritualize the politics. Now politicians, they had such integrity in the time of Mahatma Gandhi, they were respected highly.Today the situation is completely opposite.
You Know, we need to spiritualize the politics. Politicians should care for people. I just want to share with you a particular story with my grandfather. You know, when my grandfather met Mahatma Gandhi, he went and stayed with him in sevagram for 20 years. My grandmother gave 10.5 kilos of gold. My grandmother was a beautiful lady. Those days the women used to don a lot of gold, dipped from head to toe is all gold. Except the mangalsutra and a set of bangles, she willingly gave all her gold and she said, "I will take care of the kids, you go and serve for the country". So he went and stayed in Mahatma Gandhi ashram.
You know, that sense of contributing and giving, taking pride in giving is missing today. If that comes up, there will be a big difference. Pride in giving, pride in non-violence are two things which are missing in today's education. If you see movies, one who is aggressive and loses his temper, is shown as hero. One who is calm, accepts everything and turns other cheek around, they are not considered heroes. This value shift has to happen. I'm just now coming from America where in Chicago we had a program for school district children.
That was the most notorious school, 268 crimes happened in the previous year. And when we introduced meditations, simple pranayama and simple values like making one new friend every day, and stand up and be compassionate, the crime incident rate this year dropped down to 60 from 268. They were amazed and the school district councilors came to thank me. 50 top officials of education said the techniques that we have introduced have brought real transformation. Otherwise, people there don't feel safe, you don't know what will happen there tomorrow, whether the child will come back with all the limbs intact. We need to bring this back. Sense of belonging, sense of caring and sharing, and pride in giving.
Q: Gurudev, Dear Guruji I doubt myself a lot, I doubt my skills, abilities and decisions. How do you deal with self-doubt?
Sri Sri Ravi Shankar:
How does one deal with self-doubt? Understand doubt: doubt is always about something that is good. Someone tells you 'I love you', you ask them 'Really?', and they say 'I hate you', you never ask 'Really?' So, a doubt is always about something good. You doubt your abilities; you never doubt your weaknesses. You doubt happiness, you never doubt misery. Isn't it? Nobody doubts their depression. 'But well, I'm not sure if I'm happy or not, well I'm not sure'. So when you understand that the doubt is always about something that's positive, your mind shifts to a level, a different level altogether.
Doubt is simply low prana. If you do more pranayams you will see that you have come about that.
Q: Gurudev, Dearest Guruji, if Shiva is the potential of this universe, then what is Narayana Tatva?
Sri Sri Ravi Shankar:
Narayana is the manifestation of Shiva tatva in the human system. Shiva tatva is the un-manifest absolute; Narayana is the manifestation of it. Like water vapor or humidity in the atmosphere, you don't see it but when the clouds pour you see the rain. So water is Narayana and the water vapor is Shiva tatva. That is why when you see Swamis and Sanyasis or Yogis you say, 'Om Namo Narayana'.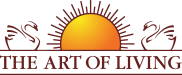 Founded in 1981 by Sri Sri Ravi Shankar,The Art of Living is an educational and humanitarian movement engaged in stress-management and service initiatives.
Read More