Question & Answers with Sri Sri Ravi Shankar

Q: Gurudev, When everything is God's will, why is there a need for spirituality?
Sri Sri Ravi Shankar:
We are made up of both, matter and spirit. The spirit needs spirituality, the body (matter) has some material needs and our spirit is nourished by spirituality. You cannot live life without spirituality. Do you want peace? Do you want joy? Do you want happiness? We think spirituality means going to a temple, church or a mosque. Spirituality is human values. Without human values, life is meaningless. If someone asks, why do you need human values, you would say, it is a silly question. There is no point in living like an animal, when you are a human being. Living with human values is being human.
Man has some needs and takes responsibilities. When needs are less and responsibilities are more, life is good. When needs are more and responsibilities are few, life is not so good. Some needs could be there but if you take very few responsibilities, then you are unhappy. It is not a spiritual life. Bharathiyaar, Kamraj and Gandhi took responsibility for the whole country and see the way they lived - their needs were minimum.
Take more responsibility. If the father does not take responsibility for the children and their needs, will they listen to him? Only those who take responsibility, gain authority. People in politics ought to take responsibility for the whole nation. But if they rise in power by corrupt means, the fall is certain.
When we take more responsibility, how do we manage them? The ability to take responsibility beyond our capacity and manage it comes from spirituality.
Q: Gurudev, You travel so much… Ifeel at home with everyone and everywhere. I don't find anyone a stranger. Ioften say that I am a child who refuses to grow up.
Q:I am running after a dream since long. How to get that fulfilled?
Sri Sri Ravi Shankar:
Be practical in taking care of your daily needs and see whatthe reality is at that point. You have a dream and you want to achievesomething. But that dream or idea may not match the reality that is right now.So understand the present reality and match it with your dream. This is whateverybody has to do.
See,suppose you are teaching mathematics to a student. First you should know thepresent state of the child's mind. If the child can't count two plus two isfour, there is no point in teaching the multiplication table. Do you see thepracticality now?
Q: Gurudev, Why have miracles stopped happening in my life?
Sri Sri Ravi Shankar:
It is taking a little nap for you to exp the contrast.
Q: Gurudev, Do you have some special diet and do you exercise?
Sri Sri Ravi Shankar:
I do exercise for 20 minutes and follow a vegetarian diet.
Q: Gurudev, How do you do that?
Sri Sri Ravi Shankar:
It comes by practice and by having a broader vision that things are going to be resolved in a very positive manner. See, we have very little time and we have lots of things to do. How can we do all this with low energy? So, we have to increase our energy, be efficient in our work and good time management. For all this, we teach this course called the 'Art of Living'. It helps in all these three dimensions. It adds more time to your life-Quality time- and increases your energy level and improves intuition.
Q: Gurudev, We have a small group of youth belonging to a church. We have social work going on. We find our youth group lacks leaders. We find we lack leaders among youth. Nobody is coming forward to take responsibility. So what is your idea about how a leader should be and what could be done to take the youth forward towards leadership?
Sri Sri Ravi Shankar:
First of all, I feel that leaders should create leaders. And also leaders should not be imposing, they should be in the background, and they should be caring and compassionate. Why someone is not doing some service activity? Maybe they are stressed, they are tensed. So, if you are unhappy yourself, you won't be motivated to do something for someone else. So, first you have to find the peace.

That's why I would say smile and then serve. If there is no smile in your service, it will be short-lived. You may do it 2-3 days, 5 days and then you can't do anymore because you don't have energy. So, that inner peace and a sense of belonging in people. When that dawns in you then you can't but serve. Service becomes your natural..your second nature.
Q: Gurudev, Is it very important for a woman to marry? Is it not ok to let God be her care taker? Can she still be complete even if she is not a mother?
Sri Sri Ravi Shankar:
You can feel you are a mother to the whole world. Being a mother is in the very nature of a woman. That compassion, that love and caring will be there.
Whether she should marry or not, that is your decision. Most important is to be happy. That is my opinion. There are many who are single and happy, and there are many who are married and not happy, and vice versa! Choice is yours, blessings are mine.
Q: Gurudev, What does one do when knowledge becomes a barrier and turns to arrogance and jealousy? How does one free from this?
Sri Sri Ravi Shankar:
Be like a child, unassuming, knowing the more you know there is so much more to be known. Knowing only leads to awareness that you do not know so much more. That brings humility. Do you see what I'm saying?
Q: Gurudev, Guruji, you say the love is great and fearless. Then why is it that the person I am in love with is so fearful?
Sri Sri Ravi Shankar:
The one you are in love with is fearful? Okay! That we don't know how much you have scared him that he has become so fearful. First see whether the person you are in love with is also in love with you.
See, sometimes we think we love someone but we don't even know how to properly express our love to another. It is very hard to express how much love you are feeling in your heart to someone else. How are you going the express? With words you will not be able to express. Something as deep as love does not come in the realm of expression. It is very difficult to express and sometimes when you try very hard and with a lot of effort to express this love people get scared. The other person should also know how to accept and receive your love isn't it? That's why it is important to know to how to express and how much of our love to express to each person, yeah!
Just imagine you have someone day and night calling you again and again and telling you, 'I love you, I love you, I love you', then what you will say, okay, yes, you love me, fine what next, right?!
So until we do not turn towards wisdom we are not able to properly express or receive love, for that also there is some eligibility. With wisdom one is so full of love that love exudes from every action. In life when we embrace the divinity then all our relationships blossom by themselves but if you try to fix your relationships one by one it does not work. From one side things will get better and from the other side it will get worse, so you be centered in yourself, be in devotion and everything else will be taken care of.
Q: Gurudev, People around the world need these stress relieving techniques. How canwe contribute?
Sri Sri Ravi Shankar:
That is why I keep traveling. So, we have to keep practicing,have to sit in groups and do some pranayamaand some meditation. We have to renew our energy time to time. When you eat,your stomach becomes empty again, it is quite natural. Like that when you arehappy and joyful, sometime when being so busy and engaged in so manyactivities, you seem to collect all that dust and your energy seems to go down.Then it is the time to recharge again. So we will meditate now for few minutes.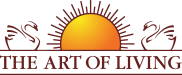 Founded in 1981 by Sri Sri Ravi Shankar,The Art of Living is an educational and humanitarian movement engaged in stress-management and service initiatives.
Read More