Question & Answers with Sri Sri Ravi Shankar

Q: Gurudev, Life is so complex. How to stay simple like you?
Sri Sri Ravi Shankar:
Don't recognize complexity. Keep your sight on the One. In Sanskrit it is said, "Antarmukhi sada sukhi".If your mind is turned inwards, it will always be happy. What iscomplex? People's mind! They are bothered about their complexity, whyshould you be bothered about the same? People are complex, and theywill come down. Have patience and compassion.
Q: Gurudev, How much importance should we give to Vaastu Shastra in our life?
Sri Sri Ravi Shankar:
It is an ancient scripture which has scientific basis. It says which direction the wind blows, which direction the cosmic energies are moving. Unfortunately, we don't have the whole of Vaastu Shastra. Lot of it is lost, destroyed. So whatever we think we have and our Vaastu people have, we are making use of it. Take it with a pinch of salt. There is something interesting about it, there are scientific validations to that. There are scientific validations to ancient thoughts. Just that not explained scientifically. We need to understand some of the customs properly. More research is to be done.
Q: Gurudev, I keep on asking the Divine for something or the other all the time. I don't like this sometimes.
Sri Sri Ravi Shankar:
When you get something after asking, your faith gets developed. And then even without asking you get what you need.
Q: Gurudev, Guruji, how come you radiate so much peace and serene beauty?
Sri Sri Ravi Shankar:
Because you are beautiful too, that's why I appear peaceful to you. If you were not beautiful then you would know nothing about my beauty. Whatever quality you have, only that gets projected onto the world outside. So, what you see in me, take that as your own. If you don't feel beautiful, become beautiful. What is stopping you? Become that.
Q: Gurudev, Please talk about karma.
Sri Sri Ravi Shankar:
Some karma we have to experience, and some we can change. E.g. when wecook some sweet, if there is too much sweet, we add some rava, if it is less wecan add sweetening agent. But once you have put the rava on the fire, you can'tturn it back. In the same way, some karma can be changed, some can't.
Q: Gurudev, Dear Guruji, I would love to ask you why is the song 'Om Namah Shivaya' so special and intense and how does it help in situations like you explained this morning? I remember that last year we had a very rare combination of some bhajans and you advised us to sing this song there also. Thank you so much.
Sri Sri Ravi Shankar:
Yes! 'Om Namah Shivaya' is one of the very powerful mantras. Mantras are those energizing sounds which help to uplift the consciousness, which help to uplift the subtle. So 'Om Namah Shivaya', these words are very important because 'Na', 'Ma', 'Shi', 'Va', 'Ya', these five letters represent the five elements Earth, water, fire, air and ether. 'OM' is the sound of the universe; 'OM' is the symbol of life force. 'OM' means peace and love, so when there is peace, love and harmony in all the five elements, there is bliss, there is joy. yeah! So, 'Om Namah Shivaya' indicates the transcendental universal one consciousness and energizes that subtle aspect of the universe.
Q: Gurudev, Why did God create so many galaxies, universes, people etc? What was His purpose?
Sri Sri Ravi Shankar:
Well, he couldn't find a better job to do (smiles)!
It's obvious - you ask someone who is playing soccer. When so many people are fighting over that little ball, if an alien comes and watches 22 people fighting over one ball, he will ask, "This world has so many things, why don't you just give a ball to each player? They are busy falling over each other and kicking that one ball into the net, and so many people are happy about this. Why cause such a commotion? Just give them a ball and let them put it through the net."
For an alien, this appears unintelligent and purposeless. But fans of soccer will say, "Oh we had such a fantastic time!" The one purpose of everything that man created is happiness. It is for the same purpose that God created all this. And He is enjoying it like He is watching a soccer game. No other purpose.
Q: Gurudev, What is Swara Yoga, could you please articulate on that?
Sri Sri Ravi Shankar:
First do alternative nostril prayanama and then go more deep into pranayama then you will see how the breath in the nostrils change throughout the day.
Q: Gurudev, I did the Art of Living course to become sharp and focused but Guruji now you have become my biggest distraction but I love this distraction. I hope it is okay?
Sri Sri Ravi Shankar:
For sometime it is okay. It is said when you put alum in water it removes all the impurities. Purifies all the water and then dissolves itself, yeah!
Q: Gurudev, What should I do with this over active mind? Thoughts are painful, please guide!
Sri Sri Ravi Shankar:
Too many thoughts come because you have so much free time. Too many thoughts is a sign of imbalance between the mind and the heart. When feeling is kindled thoughts will subside. Also it could be a result of improper digestion; take care of your digestion.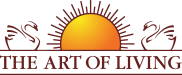 Founded in 1981 by Sri Sri Ravi Shankar,The Art of Living is an educational and humanitarian movement engaged in stress-management and service initiatives.
Read More