Question & Answers with Sri Sri Ravi Shankar

Q: Gurudev, How much importance should we give to Vaastu Shastra in our life?
Sri Sri Ravi Shankar:
It is an ancient scripture which has scientific basis. It says which direction the wind blows, which direction the cosmic energies are moving. Unfortunately, we don't have the whole of Vaastu Shastra. Lot of it is lost, destroyed. So whatever we think we have and our Vaastu people have, we are making use of it. Take it with a pinch of salt. There is something interesting about it, there are scientific validations to that. There are scientific validations to ancient thoughts. Just that not explained scientifically. We need to understand some of the customs properly. More research is to be done.
Q: Gurudev, It is difficult to control anger. What should one do so that I don't get angry?
Sri Sri Ravi Shankar:
First, anger is to be tamed. Know this: when the mind is so joyful and contented, when you arein meditation and leave room for imperfections and mistakes, you don't get angry in the first place. Know that no mistake can be corrected with anger. Only with awareness can anything be corrected.
Q: Gurudev, Are there fixed number of souls? If yes, then how come so many people are getting reborn on the planet? Why is population increasing in the world?
Sri Sri Ravi Shankar:
Hmm! There are so many animals getting extinct also!
Q: Gurudev, Do the ones who have died, feel something? Is there anything after death?
Sri Sri Ravi Shankar:
Yes, it happens for some time. At least the effect of worldly memories remain up to one year, and then it fades away slowly in next two – three years.
Q: Gurudev, How to get over bad attitude of anybody?
Sri Sri Ravi Shankar:
People are bad because there is some stress Once they get onto the path of sadhana, they can come out of it.
Q: Gurudev, Bethlehem is the birthplace of Jesus. But why is there so much violence where Jesus himself was born?
Sri Sri Ravi Shankar:
This is something very interesting. The place had violence before Jesusand it has violence after Jesus as well. This is something to bewondered about. This place has continuously seen bloodshed violence.Why? There is no answer. At least, I don't know any answer. But if yousee history, even before Moses and after Moses, thewhole region of the middle East and Egypt suffered a lot, and have beensuffering continuously. Knowledge is most needed in that region.
Q: Gurudev, People in India are getting more and more inspired to do ethical business and take on responsibility for the society. Can you talk about this?
Sri Sri Ravi Shankar:
I think this is also true in US, everywhere. Today in the globalized world, how we can turn back to the ethics? In European parliament, every year 'Art of living' conducts a seminar – 'Corporate culture and spirituality'. Business people from around the world come. And those who are doing ethical business present how they are doing, what all corporate responsibility they have undertaken, and how we can inculcate spirituality in the business. This happens every year somewhere in October or November.
Q: Gurudev, How did you know you were a Guru? Did you have aGuru? Sometimes I wonder if I'm a Guru, maybe just for myself. What would yousay to that?
Sri Sri Ravi Shankar:
You can't be a surgeon for yourself. You may be a surgeon but you can't be yourown surgeon, right? So your mother is your first Guru. A mother teaches you. Ofcourse, a Guru is one who is unconditional in his attitude and approach towardsyou. You should play a role of a Guru unconditionally. You help others or carefor someone with wisdom. Then you are playing the role of a Guru to them too.
If youhelp somebody with an attitude of 'I want nothing, I just want your progress'then you're a Guru to them. Yet don't demand them to accept you as Guru. No, areal Guru does not demand anything, not even gratitude from somebody.
Q: Gurudev, I joined the 'Art of Living' in the beginning of this year and my health improved. I feel much better doing the exercises. I was diagnosed with breast cancer five years ago and treated myself with good results.
Sri Sri Ravi Shankar:
You know what they have found through research is that we have 300 genes in the body, we have 300 DNA genes in the body which are responsible for heart problem, cancer, diabetes and all this, and when we do Sudarshan Kriya and pranayama, this suppresses those genes from being active.
The scientists have come out with this. Just before coming here, I went through an article that somebody has sent. In a hospital in New York, they have asked to chant 'OM'. They'll make you chant 'OM', make you relax and do some meditation before they treat anybody for heart problem.
Q: Gurudev, Doyou have any special courses or programs to help the people working honestly inmass media to reduce the stress?
Sri Sri Ravi Shankar:
Yes. You know, this program that we teach is very useful inreducing stress, irrespective of whether you are in a media company or in the corporatesector or in aviation. Stress is a common factor in any work place and thiswill definitely help people get out of stress. Mainly, what we need to see inthe world today is a violence-free society, a disease-free body, a confusion-freemind, an inhibition-free intellect and trauma-free memory. You know, we nurtureso many types of inhibitions; if ten compliments are given to you and only oneinsult is given, your mind locks onto the one insult. So we need to bring achange to that - a trauma-free memory and a sorrow-free soul. This is the birthright of every individual and this is what these practices bring to you.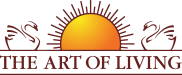 Founded in 1981 by Sri Sri Ravi Shankar,The Art of Living is an educational and humanitarian movement engaged in stress-management and service initiatives.
Read More