Question & Answers with Sri Sri Ravi Shankar

Q: Gurudev, Do the ones who have died, feel something? Is there anything after death?
Sri Sri Ravi Shankar:
Yes, it happens for some time. At least the effect of worldly memories remain up to one year, and then it fades away slowly in next two – three years.
Q: Gurudev, What should I do with this over active mind? Thoughts are painful, please guide!
Sri Sri Ravi Shankar:
Too many thoughts come because you have so much free time. Too many thoughts is a sign of imbalance between the mind and the heart. When feeling is kindled thoughts will subside. Also it could be a result of improper digestion; take care of your digestion.
Q: Gurudev, You always say we should be likechildren. I was careless and fearless as a child. Now as an adult a newfear has come.
Sri Sri Ravi Shankar:
Just relax and keep doing sadhana. Don't worry.
Q: Gurudev, Guruji, you say the love is great and fearless. Then why is it that the person I am in love with is so fearful?
Sri Sri Ravi Shankar:
The one you are in love with is fearful? Okay! That we don't know how much you have scared him that he has become so fearful. First see whether the person you are in love with is also in love with you.
See, sometimes we think we love someone but we don't even know how to properly express our love to another. It is very hard to express how much love you are feeling in your heart to someone else. How are you going the express? With words you will not be able to express. Something as deep as love does not come in the realm of expression. It is very difficult to express and sometimes when you try very hard and with a lot of effort to express this love people get scared. The other person should also know how to accept and receive your love isn't it? That's why it is important to know to how to express and how much of our love to express to each person, yeah!
Just imagine you have someone day and night calling you again and again and telling you, 'I love you, I love you, I love you', then what you will say, okay, yes, you love me, fine what next, right?!
So until we do not turn towards wisdom we are not able to properly express or receive love, for that also there is some eligibility. With wisdom one is so full of love that love exudes from every action. In life when we embrace the divinity then all our relationships blossom by themselves but if you try to fix your relationships one by one it does not work. From one side things will get better and from the other side it will get worse, so you be centered in yourself, be in devotion and everything else will be taken care of.
Q: Gurudev, I am from Rajasthan, there are many ashrams in Rajasthan and I was thinking that if a small ashram of The Art of Living is built there, that would be a very nice thing. What are your thoughts?
Sri Sri Ravi Shankar:
Alright, build an Ashram, all of you get together and make one. I make people, you make the Ashram. Just yesterday we were discussing that there are so many ashrams but there are no people. In the ashrams, there are no Yogis. So that is why I thought first, let's make strong people and that is why I called this 'Vyakti Vikas' not 'Ashram Vikas'. So now this work you do, the other work I have already started.
Q: Gurudev, How to deal with craving for attention?
Sri Sri Ravi Shankar:
Next :)
Q: Gurudev, What advice would you give to a skeptical non-believer?
Sri Sri Ravi Shankar:
A very good beginning point. See that you don't become cynical and frustrated. Skepticism is perfectly alright, but not cynicism. That drains your energy. One can be skeptical to begin one's journey and I would very much appreciate and welcome that. Because you would have gone through skepticism, the faith will be strongly built.
Q: Gurudev, What should one do when one is faced with conflicting choices?
Sri Sri Ravi Shankar:
Every confusion is a sign of growth, every time a pattern is broken. In such case, just relax. Inrelaxation your intuition works. Rely on it.
Q: Gurudev, Guruji, there are so many schools of Yoga, so many teachers who advocate different forms of Yoga, what exactly is Yoga, for layman who knows nothing about Yoga, what is it exactly?
Sri Sri Ravi Shankar:
Yoga is a study of life, study of your body, breath, mind, intellect, memory, and ego. Study of your inner faculties!
Q: Gurudev, Guruji, telling the truth causes problems outside and telling lie creates problems inside? What to do?
Sri Sri Ravi Shankar:
Solve the problem. Problems are to be seen as challenges. Someone who is brave like challenges and you are brave, I tell you.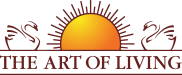 Founded in 1981 by Sri Sri Ravi Shankar,The Art of Living is an educational and humanitarian movement engaged in stress-management and service initiatives.
Read More