Question & Answers with Sri Sri Ravi Shankar

Q: Gurudev, In the Part 1 course they have explained the three sounds and when they are put together they sound 'Om', 'Amen' and 'Ameen'. I don't understand how the three sounds form 'Amen' and 'Ameen'.
Sri Sri Ravi Shankar:
No it's similar, 'Aa' and 'Ma', two sounds are definitely there, it's very similar.
If you see, English is a distortion of Sanskrit. Lots of words in English are derived from Sanskrit; I would say nearly 50 percent; brother: bhratru, sister: svasa, mother: mata, etc.
When the language changes usually distortion happens.
In Bengali, there are a lot of changes that have happened, 'Vishnu' become 'Bishnu'; 'Vishwas' becomes 'Bishwas'. The Bengalis say 'eat water', 'jal khabe'; 'khabe' means eating but they say 'jal khabe'. 'Jal' becomes 'jol'; 'jol khabe'. Every language has got its own characteristics, isn't it?
In English also they change the pronunciation; instead of 'West Bengal' they say 'Best Bengal'. Don't 'baste' food; for 'waste' they say 'baste'. That is how it is. You have to accept it.
'You like bhite, you always bear bhites'; they are actually saying you always wear whites. 'Guruji always bears bhites' - that is the typical pronunciation. In Gujarat 'lawn' becomes 'loan' and 'hall' becomes 'hole'; 'the loan is in front of the hole.'
Q: Gurudev, Please talk about karma.
Sri Sri Ravi Shankar:
Some karma we have to experience, and some we can change. E.g. when wecook some sweet, if there is too much sweet, we add some rava, if it is less wecan add sweetening agent. But once you have put the rava on the fire, you can'tturn it back. In the same way, some karma can be changed, some can't.
Q: Gurudev, How do I come out of the victim consciousness, esp. when past memories refuse to leave?
Sri Sri Ravi Shankar:
The fact that you have realized this itself means you have come out of it. This is where the karma comes into the picture. Something happened in the past, it was to happen and so it happened. Accept the past and don't brood over it, move on. Suppose you have committed some mistake, you have insulted somebody and that person holds on to it for so long, even after you have asked for forgiveness from them a million times, what do you do if that person still doesn't forgive you? Somebody has been wrong to you and you also have been wrong to someone. Don't you seek forgiveness and move on? You don't want someone to hold on to your mistakes for your whole life, isn't it? If the person forgives you, moves on, understands your position, how do you feel? See the other person in the same way.
Q: Gurudev, What are things that make you enjoy?
Sri Sri Ravi Shankar:
I enjoy when every tear turns into smile! And it happens all the time.
Q: Gurudev, How do I gain more and more knowledge in the world?
Sri Sri Ravi Shankar:
Every instant we are getting something to learn from the whole world. All that is needed is awareness!
Each individual is a beautiful Scripture designed by God. Study your own mind and then observe the minds of people around. What do we do? We don't observe our own mind but we keep on wasting efforts in judging others' mind. First, understand your own mind and then you will be able to understand what's happening in the big mind, in the minds of all.
You know, whomsoever I meet in the world, I feel that belongingness. I never feel I am meeting someone for the first time. So many times we have come to this World. I know a little bit, but you have forgotten. Keep smiling this time.
Q: Gurudev, I keep on asking the Divine for something or the other all the time. I don't like this sometimes.
Sri Sri Ravi Shankar:
When you get something after asking, your faith gets developed. And then even without asking you get what you need.
Q: Gurudev, My mind keeps having conversations with me, how can I deal with that?
Sri Sri Ravi Shankar:
At last you became aware of this; it was happening the entire time but now you have achieved the first step by becoming aware of it. That's why in these courses you don't have just knowledge, you have singing as well. Sing, dance and do all these techniques just like a child. As these techniques are taught, just keep doing them and you know in between there are moments the mind has become quiet. That's why what you are doing now, this advanced course, and this silence program is so valuable, you know; it won't happen in the very first sitting, I know all sorts of thoughts will come up.
It's like suppose you are cleaning this room after a long gap, there is so much dust and the dust will rise, similarly you have to continue doing advanced courses many times. Those of you who are doing the course for the second time, third time, fourth time, did you notice it is becoming quieter quickly. So it takes quite a while to gain mastery over the silence, right! So we have to keep doing, keep doing it and you will achieve that, no doubt.
Q: Gurudev, We have a small group of youth belonging to a church. We have social work going on. We find our youth group lacks leaders. We find we lack leaders among youth. Nobody is coming forward to take responsibility. So what is your idea about how a leader should be and what could be done to take the youth forward towards leadership?
Sri Sri Ravi Shankar:
First of all, I feel that leaders should create leaders. And also leaders should not be imposing, they should be in the background, and they should be caring and compassionate. Why someone is not doing some service activity? Maybe they are stressed, they are tensed. So, if you are unhappy yourself, you won't be motivated to do something for someone else. So, first you have to find the peace.

That's why I would say smile and then serve. If there is no smile in your service, it will be short-lived. You may do it 2-3 days, 5 days and then you can't do anymore because you don't have energy. So, that inner peace and a sense of belonging in people. When that dawns in you then you can't but serve. Service becomes your natural..your second nature.
Q: Gurudev, I feel sick, weak and tired. What's happening?
Sri Sri Ravi Shankar:
What you said is exactly what is happening! You have said it! It will pass, it will pass definitely.
You know, if you are tired, either you have not taken enough water or too little sugar. Either too little energy or too much energy, or your system has some bugs or not any stress release. Any one of these can cause that. When you go deep in meditation, what happens? The stresses come out. When they come out, either you feel tired or feel like running away. All this is possible. If you take a few breaths or walk in the fresh snow, it will help. And take plenty of water, fluids, fruits, vegetables. All this would help.
Q: Gurudev, Guruji, if our nearest and dearest ones don't understand the feelings that we have towards you and they logically try to analyze and this hurts us. How do we handle this situation, this often comes in our life.
Sri Sri Ravi Shankar:
Why do you want to explain everything to everybody? Feelings are such that people don't understand. You don't have to express all your feelings like that. They could be insecure and think that you will leave home and go to the Ashram and be there. So see that people don't get into that fear. Your love and devotion should be expressed only as much as they can understand. Same with joy, sometimes you don't know how to express your happiness; if you express too much people don't understand.
One devotee went to a funeral of somebody, a mourning meeting and there were bhajans and he started dancing and the people didn't understand. There is satsang and bhajans, of course you dance when you are in joy and he said that anyways everything should be a celebration. But if you dance there people can get annoyed. So you should see what a person can understand; how much they can understand and how to convey what you want to convey. Be skillful in conveying so that your expression doesn't bring fear and anger in others as much as possible. And then ignore. Beyond a level you should simply ignore.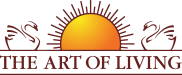 Founded in 1981 by Sri Sri Ravi Shankar,The Art of Living is an educational and humanitarian movement engaged in stress-management and service initiatives.
Read More